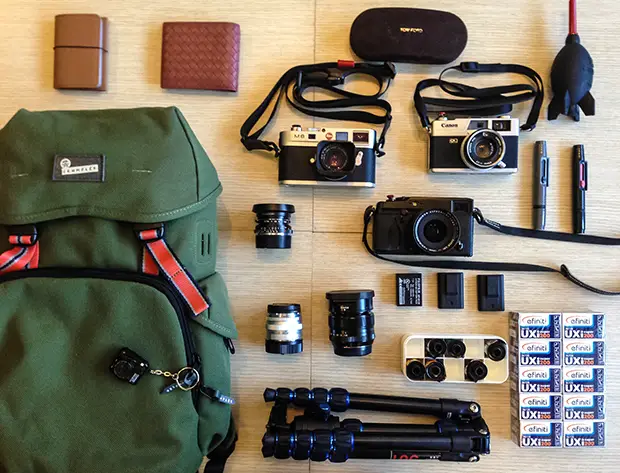 In your bag 770, Jimmy Yang
Not one, but two bags for your enjoyment today. Jimmy shares his bags with us from Taipei. Check it out.

My name is Jimmy Yang, and I am a 23 years old photographer from Taipei, Taiwan.
I started photography with a Sony DSLR back in 2008, and then I began my journey in street photography with my Fujifilm x100.
It's a lovely camera, and it was also my teacher in street photography. In the summer of 2013, I finally moved into rangefinder camera (Leica M8), and I'm in love with rangefinders ever since.
I shoot digital most of the time, but I like to carry a film camera with me just for the special moments.
I have two bags and few different setups to share.
The First Bag: Crumpler Karachi Outpost
It's  a nice light weighted backpack combines the look and function. I usually go with this bag for longer trips.
In the bag:
-Leica M8 with Summicron 35/2 IV aka "king of bokeh"
This is my "go to" kit
-Zeiss Biogon 28/2.8
I use this lens when I need something wider than a 35 on the M8.
-Viogtlander 35/2.5
-Fujifilm X-Pro1 with Fujinon 14mm f2.8
the 14mm is a nice lens for wide angle.
-Fujinon 35mm f1.4 (For low light situations)
this lens and X-Pro 1 makes the perfect combo in  low light for me
-Canon canonet QL17
-small travel tripod
-spare batteries for my cameras
-rocket air blower
-Lens and Filter cleaning pen
-Film case (I need to get a JCH film case lol) and some films
-My card case, wallet, and sunglass.
Second Bag: ONA Bowery
Nice little bag for two compact cameras. This is what I take when I'm out for a walk.
In this Bag:
-Fujifilm X100
-Fujifilm X-Pro1 with Fuji 14mm or 35mm or pentax m42 50mm f1.4
-spare batteries and SD cards
-wallet and sunglass
So here are my bags, thanks for watching.
You can find most of my work at:
http://www.flickr.com/photos/yang1219/
and
http://jimmyyangphotography.wordpress.com
Thanks for sharing your bags with us, Jimmy. Two very cool setups.
Check out the links and make sure you come and comment.
Keep them coming folks, we need more submissions, so get your bag on Japancamerahunter.com. Send me a hi resolution image of the bag (please make sure it is horizontal) and its contents, with some details about yourself and what you shoot. Oh and don't forget your contact details (twitter, flickr, tumbler et al). Send the bag shots here. Please understand that there is a long wait now as there is a backlog of submissions. Not all make the cut, so make sure yours is funny/interesting/quirky. And please make sure the shot is of good quality, as the ones that are not do not go up.
Cheers
Japancamerahunter