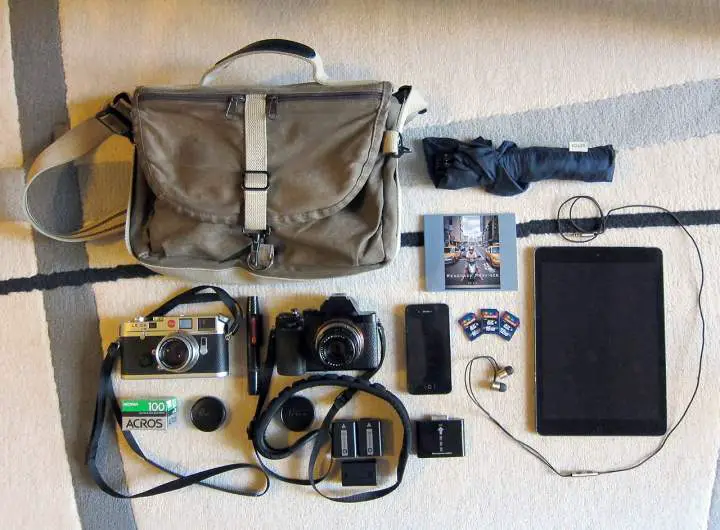 In your bag No: 1212, TC Lin
TC not only has a wicked cool bag for us, but the most links I have ever seen. Seriously, like all of the links. Which are worth following to see the books that he has produced. Always nice to have a BME member on here. Come and check out this great bag.
My name is TC Lin, and I live in Taipei, Taiwan, though I grew up in the U.S. I've been into photography since I was a kid. My first camera was a Pentax K1000 that I got when I was 16, and I later obtained a Minolta Maxxum 7 and a Nikon FM2, followed by a Leica M6 that I still have. I never seriously studied photography, though I studied filmmaking in New York City in 1999-2000. I've been active on flickr, mainly in administering the Hardcore Street Photography group for the past several years. I've also been a member of the Burn My Eye photography collective since its founding in 2011. My photos have been exhibited at Format and at the London Festival of Photography, the Third Floor Gallery in Cardiff, the Brighton Biennial, MAP in Toulouse, Hangzhou Photography Festival, Taipei Photo Festival, and most recently at the Mois de la Photo in Paris. My work has also been published in ads and magazines such as the New Yorker, TIME, World Literature Today, and others.
I am not a professional photographer, nor am I much good at self promotion. I give occasional talks on photography in Chinese at local institutions, but I don't generally hold workshops, and I don't sell prints unless someone specifically wants to buy something. The only reason my work has appeared in publications is that they somehow heard of me and asked if they could include it. As for my "real" job, I have held a couple of rather staid part-time office jobs for the last few years, though one of the projects I was working on has been cancelled, so now I'm down to just one staid office job, which theoretically should be enough to subsist on. On the other hand, I should have a bit more time on my hands to actually go out and wander aimlessly through the city, which is my favorite thing to do. I also enjoy a nice lunch and a good book.
I've published two books so far, one in Chinese and one in English, an account of my time as a soldier in the Taiwanese army. I'm also a member of Taiwan's only jug band, the Muddy Basin Ramblers, and our latest album was nominated for a Grammy (in the illustrious category of Best Packaging, which I'm rather pleased about as it includes my photography). As for filmmaking, an action feature film I directed, "The Kiss of Lady X", premiered in Taipei in 2014 and has been shown at various festivals around the world.
Though my setup changes around from time to time, this is the state of things at the moment: My bag, a canvas Domke F-803 (I think), is my everyday bag, not only a camera bag. Inside it (generally):
Sony A7r with Canadian Leica Summicron 35mm f2
3 extra batteries
Extra SD cards
Leica M6 classic with collapsible Leica Summicron 50mm f2
A roll of extra film (varies, but mostly 400 ASA and mostly color)
Lens pen
Small sample book of my photography
iPad Air
Xiaomi headphones
iPhone 4 and extra battery
compact umbrella
A book (not shown)
I switch off various films and the two lenses (35mm and 50mm) depending on my mood. Sometimes I take either the Sony or the Leica. I find that I like to shoot wider in bright light and closer on grey days. The Sony eats batteries because I keep it on all the time with the EVF on constantly, so that it is always ready. Of course, this means changing batteries more often than I would change film. I never use the screen on the back for anything (except if I somehow need to see over a wall or something). I stuck some leatherette skin on it to make it grippier as the shiny metal is hard to hold, and I taped over the branding because I think it looks better without it. The shutter is horrible but the files are nice. The Leica is, of course, fine as is, and it's always ready. I used to have an M3, which felt better with its brass innards, but the .91 finder wasn't helping me with wider angles.
I'm not particularly fond of the term "street photography" as a genre. To me, it's just "photography". Though I am working on long-term projects, I generally shoot what I encounter in the course of my life rather than going out to "shoot to be shooting," so to speak. I photograph things that interest me photographically; that is, there are interesting scenes and interesting photographs, and in my experience it is mostly when the two are separated that the best things about photography come into play.
Inspired by my friend Richard Bram, I also keep a small booklet of my photography on me, in case I encounter anyone who is interested in what I'm doing. This was instrumental during the historic occupation of Taiwan's Legislature last year when I wanted to access the student-held chamber, as I have no press credentials; only after showing the students my work was I able to be granted entry and the opportunity to photograph the event from the inside.
Some links:
http://www.burnmyeye.org/tc-lin/#
http://poagao.tumblr.com/
http://poagaosnaps.tumblr.com/
http://www.flickr.com/photos/poagao/
http://instagram.com/thepoagao/
http://twitter.com/poagao
http://www.facebook.com/tc.lin
http://www.facebook.com/the.poagao
poagao.org
poagao.com
http://www.imdb.com/name/nm0510958
http://en.wikipedia.org/wiki/TC_Lin
http://www.amazon.com/Barbarian-Gate-American-Suburbs-Taiwanese-ebook/dp/B00K5ASP1Q/ref=pd_rhf_gw_p_img_1
http://www.muddybasin.com/
Hope this is useful.
Check out the links and please make sure you come and comment.
Keep them coming folks, we need more submissions, so get your bag on Japancamerahunter.com.
Send me a hi resolution image of the bag. Optimum size is 1500 across. Please ensure there is a bag in the shot, unless you don't use one. The more you can write about yourself the better, make it appealing and tell us a story.
Oh and don't forget your contact details (twitter, flickr, tumbler et al). Send the bag shots here. Please understand that there is a long wait now as there is a backlog of submissions. Not all make the cut, so make sure yours is funny/interesting/quirky. And please make sure the shot is of good quality, as the ones that are not do not go up.
Cheers
Japancamerahunter