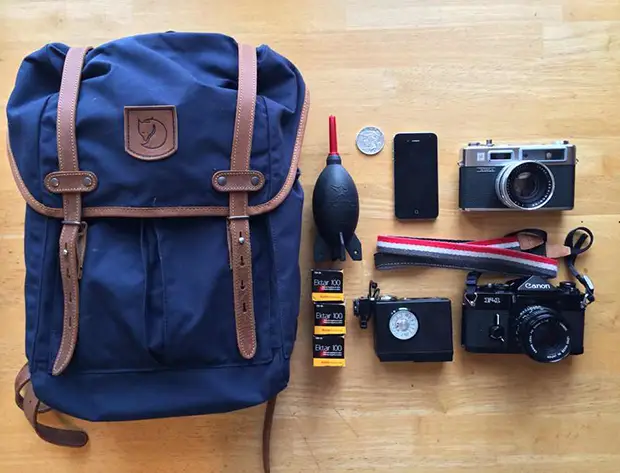 In your bag 765, Sam Godin
Sam shares with us a lovely simple film shooters bag today. Simple and to the point. Come and check it out. 
This is a shot of what is (usually) in my bag. I'm Sam Godin, a 23 year old graduate student attending UIUC, born and raised in Illinois, but have traveled around Asia to China, Taiwan and Japan (for study and work).
I got into film photography about 3 years ago, when I made a trade, that in hindsight, isn't as bad as it sounds. My photography savvy friend offered to trade me his Olympus OMPC as well as a couple of lenses for a Wacom Tablet I hadn't been using so that he could use it for his photoshop endeavors, and while it may seem like a bad deal (a $400 Wacom tablet for a camera that can be bought for $50 on eBay), I have never regretted the decision.
It's what sparked my pursuit of film photography. I had never shot a film camera before, and had no prior knowledge of how to shoot. None-the-less, I quickly developed a love for film photography and I could tell there was a distinct difference between film and digital, one that I liked. Film had a feel, a physical/natural feel that you don't get with digital photography. I've made the analogy that film is to digital as vinyl is to mp3, both have their advantages and disadvantages, but one is just a bit more timeless. I try to shoot anything that catches my eye, and can't really think of any one particular forte that I might have. Recently, a big influence on me has been Rinko Kawauchi. Her style really resonates with me, and I've wanted to get into medium format because of her.
So since that first OMPC, I've expanded by camera collection by a few more cameras, all with a story.
– Bag: A Fjallraven No. 21 bag. When I traveled to Japan and China I had an old Kanken (wonderful for toting around camera gear if you have the camera insert), but have since moved to this. Waterproof G-1000 material makes me worry less about my camera's safety.
– Yashika Electro: This is my only rangefinder, and a great camera. It was my grandfather's camera, who passed away before I could meet him, he bought it in Japan. It felt nice brining it back to where it came from when I was over there.
– Canon F-1 with 50mm: This was given to me recently actually, while I was in Japan. My host family kindly gave it to me as the pawn shop would only take ¥500 ($5.00!) for the camera. I've fallen in love with 50mm lenses from when I used OMPC, and a 50mm on this beast is great. Really a heavy duty body, but I don't mind lugging it around. As well as the camera, I have a flash unit with it.
– Kodak Ektar 100: My current favorite film. Not as versatile as 400, but I'm a big fan of the blues and reds in Ektar film.
– Lens Cleaner/ Blower off'er
– iPhone 4: Good for those shots that don't really need to be taken with your film camera! Nifty little things, they are.
– 1926 Silver Dollar: My dad gave me this before I had gone to China 2 years ago, he told me to sell it if I ever get stuck without money since silver doesn't really change value from country to country. I keep it more as a memento of my father though now, and consider it lucky.
(Not pictured)
Ricoh GR1s: Absolutely loved this camera, but out of commission! Got hit by a wave in Kamakura and salt water did'er in…
Olympus OMPC: on loan to my brother, as I love to spread the love of film around, and he  is just starting into photography, so I figured why not give him my starter!
Film photography, while expensive, definitely isn't dead, and won't be going anywhere anytime soon, that is for me at least!
My Flickr is: http://www.flickr.com/photos/coffee_boots/
Thanks for reading,
Sam
Thanks for sharing your bag with us Sam. Sorry to hear that your GR got killed, but it was killed in its motherland.
Check out the links and make sure you come and comment.
Keep them coming folks, we need more submissions, so get your bag on Japancamerahunter.com. Send me a hi resolution image of the bag (please make sure it is horizontal) and its contents, with some details about yourself and what you shoot. Oh and don't forget your contact details (twitter, flickr, tumbler et al). Send the bag shots here. Please understand that there is a long wait now as there is a backlog of submissions. Not all make the cut, so make sure yours is funny/interesting/quirky. And please make sure the shot is of good quality, as the ones that are not do not go up.
Cheers
Japancamerahunter