In your bag No: 515, Daniel Sawyer Schaefer
Todays bay is epic. Not only because of the cool selfie, but dat camera! Oh my, I wish I had been able to have a Makina when I was 19. Good lord! Check out Daniel's super sweet setup.

My name is Daniel Sawyer Schaefer, Nineteen years old, currently living, working, and learning in New York city. Originally from Los Angeles, I got my start as a street photographer, with my fathers old Nikon D70 slung at my side. Over time I branched out and now work mainly in portraiture, but I dip my toes into just about every genre of photography I come across.
I'm currently studying at Parsons in the photography program, as well as working as a freelance photographer, videographer and photo assistant for a few commercial and editorial photographers around the city, but to make some extra cash on the side, for about two years now I've been doing vintage equipment maintenance and acquisition, finding beautiful old pieces in every kind of shape from museum quality to trash bin beauties, repairing and refurbishing them, and then selling them to a few clients in New York and LA.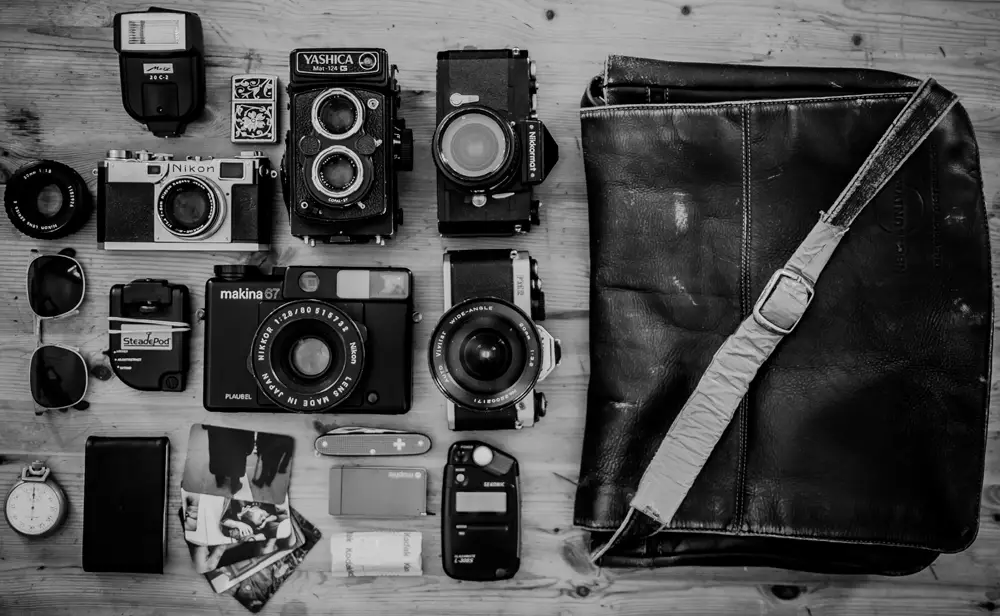 The contents of my bag, a fantastically ragtag brandless leather messenger given as a crew gift to my father a few years ago (now held together mostly by duct tape and medical thread) change almost every time I leave the house, but a few mainstays are-
My Sekonic L-308s Light meter (heavily used and deeply loved, fantastically accurate and compact, i've literally used it every day since I bought it.)
Ricoh GRDIII w/ external viewfinder (not pictured, this camera never leaves my side, its the perfect backup and more often than not my primary street camera.)
Nikon 50mm F/1.8 E series (a fantastically sharp little pancake lens for only $30 used, it lives in my bag in case i'm ever at school and want to just grab a studio slot and one of the cages D3's and take some pretty pictures)
Victorinox ALOX Pioneer or Leatherman skeletool (not pictured)
Mophie Iphone battery booster
Moo business cards and holder
Steadepod cable stabilizer (fantastic for both stills and video, I've been able to hand hold a razor sharp shot down to half a second with this thing)
Vintage Carl Zeiss sunglasses
1940's navy stopwatch (used for long exposure timing)
Metz C220 flash w/ short and extended sync cables.
Vintage brass and leather Zippo lighter (bought this at age 13, it has not left my pocket a day since)
The cameras however, change every time I go out to shoot, I consider what my main goal for the day might be, and sling whatever the most appropriate camera might be. Currently in order of use-
Plaubel Makina 67 w/ 80mm f/2.8 lens (on loan from a very generous teacher of mine, this camera has barely left my side in the past month, it is truly one of the best cameras I've ever used. mainly grabbed for portrait work, or night time long exposure work.)
Yashicamat 124g w/ 80mm f/3.5 lens (overall my most used camera by far, a gift from a family friend when going away to college, this was the first camera I ever overhauled completely on my own, it was a paperweight when I received it, but after six months of tender love and care, and two 3d printed gears, its smoother than any other model i've handled to date! mainly used for portrait and street work)
Nikon S2 rangefinder w/ Nikkor 50mm f/1.4 lens (this is my latest acquisition, the S2 has long been my holy grail camera, and about a week ago, my aunt posted a picture of it on facebook after finding it in a box with my great grandfathers possessions, my jaw hit the floor when a few days ago, it showed up in the mail with a note to use it well, it's in literally mint condition, not a scratch or bump on it at all! this camera will not leave my side for a good long time. mainly used for portrait work)
Nikon FM2 titanium shutter w/ Vivitar 20mm F/3.8 ( my favorite SLR this particular model was bought for $25 broken and restored to perfect working order, its still ugly looking, but thats how I like my cameras, I have no shelf queens, if I own it, I use it. the lens is an odd piece a family friend gave me, sharper than any other wide i've ever handled, but still very odd but I love it. mainly used for street and reportage work)
Nikon Black paint Nikkormat w/ Nikkor 35mm F/2 (This was my fathers camera, he used it to the point of brassing during the 70's and 80's and after finding it in our storage unit a few years ago, this has been a mainstay of my kit. the lens was found broken and restored, thus the lack of front plate. mainly used for street and reportage work.)
There are a large number of cameras and lenses I use less often that are not pictured my digital mainstay is a Nikon D7000 usually with a 35mm 1.8G lens on it.
Not pictured but worth noting
Nikon N90s (fantastic semi auto film camera with the best auto exposure i've ever seen, anytime I shoot slide film and need perfect exposure, this is my go to camera.)
Nikon D3 w/ Nikkor 55mm 2.8 macro ( this is my main studio setup when working at the school facilities I have at my disposal, the camera is checked out from the cage, but the lens is mine, a beautiful piece I bought from a friend for $60, it is the sharpest lens I have ever seen on any of my cameras.)
Fuji GX680 (my studio king, fully loaded at 19lbs it's a tripod only user, but takes the sharpest portraits and landscapes i've ever seen)
Lomo LCA+ (my go to camera whenever a camera might not be apropriate in a setting and I need something to slide slyly into a jacket pocket)
Nikon 12-24mm F4 (the only zoom I own this lens practically lives on my D7000, its fantastically sharp through the range, and great for video.)
Nikon 24mm F/2.8 (my most used lens, beautiful DOF at 2.8 I consider this the perfect reportage lens for any crop chip user and even better for anyone who shoots full format if you know how to handle something that wide. it is currently on loan to a friend)
Nikon 50mm F/1.4 pre AI (used mostly for video, I tend only to use it when DOF is more important than sharpness)
All the film cameras are currently loaded with Portra 400VC but my most used films are in descending order Portra 400VC, Delta 3200, Tri-X pushed to 1600 and Provia 400x(when i can afford it, or feel like missing a meal)
All of my work and contact info can be found currently at either my blog, or my flickr, or on Instagram
Insta @Outlierimagery
Cheers!
Daniel Sawyer Schaefer
Thanks for sharing your bag and your thoughts with us Daniel. I am very much looking forward to your upcoming article (Daniel has been doing a spot of writing for JCH).
Check out the links and make sure you come and comment.
Keep them coming folks, we need more submissions, so get your bag on Japancamerahunter.com. Send me a hi resolution image of the bag (please make sure it is horizontal) and its contents, with some details about yourself and what you shoot. Oh and don't forget your contact details (twitter, flickr, tumbler et al). Send the bag shots here.
Cheers
Japancamerahunter