In your bag 766, Tapu Chen
Very cool. Today we get to look inside the bag of a film director. And well worth a look it is too. Come and check it out. 
My name is Tapu Chen, a Taiwanese film director and cinematographer. I always have chances to visit different places and and meet different people. When making film, I have to communicate with clients and the crews during the shooting. It's tough to me sometimes.
I like taking photographs when I am not at work. By doing it, I can capture the moment that represents my feeling of the world. The most fantastic thing is that I can take photographs myself without any communication.
Usually , here is my bag and set up when I am not at work.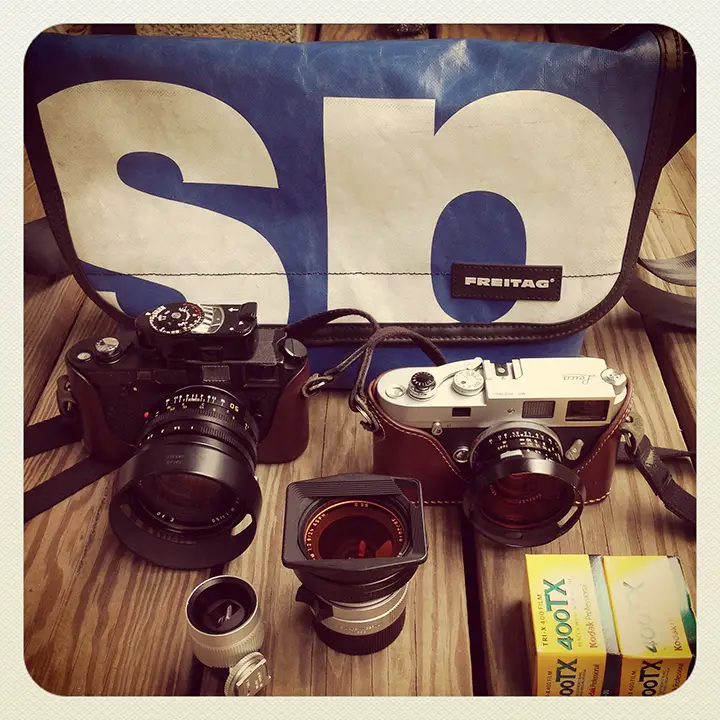 Freitag F42 / Leica MP / Summilux 35mm f1.4 / Leica M4-2 / Noctilux 50mm f1 / Elmarit 24mm f2.8 ASPH & 21-24-28mm view finder / Tri-X
JCH is a great website and I am following for a long time . thanks JCH !
And welcome to my blog  http://tpchen.tumblr.com/
陳 大璞  tapuchen
https://vimeo.com/tapuchen
http://tpchen.tumblr.com/
Thanks for sharing your bag with us Tapu. It is a lovely setup you have there.
Check out the links and make sure you come and comment.
Keep them coming folks, we need more submissions, so get your bag on Japancamerahunter.com. Send me a hi resolution image of the bag (please make sure it is horizontal) and its contents, with some details about yourself and what you shoot. Oh and don't forget your contact details (twitter, flickr, tumbler et al). Send the bag shots here. Please understand that there is a long wait now as there is a backlog of submissions. Not all make the cut, so make sure yours is funny/interesting/quirky. And please make sure the shot is of good quality, as the ones that are not do not go up.
Cheers
Japancamerahunter