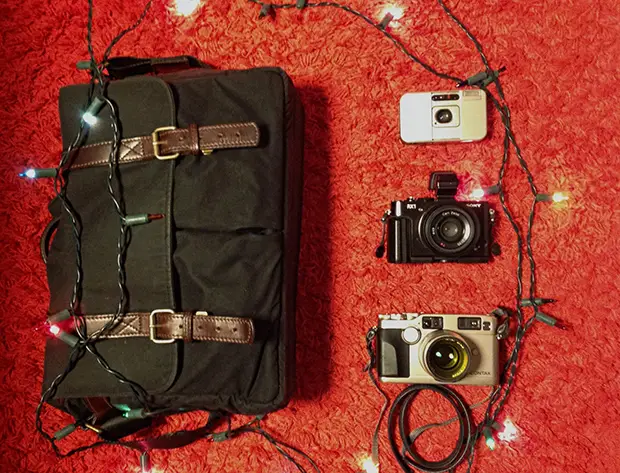 In your bag 762, Giovanni Pascarella
Well, Xmas might be over, but this bag still has the spirit. It was actually sent to me in time for xmas, but the backlog (or perhaps baglog) is so big that I have only been able to feature it now. Giovanni has shared his bag with us before (link) but it was certainly not like this one.
hello again! I am still Giovanni and I still live in Yokohama but many things have changed in my photographic life since my last submission a few months ago: the film bug has taken over, I've started to develop black and white film in my ofuro (i.e. the japanese bath room) thanks also to the great suggestions I've found on JCH pages. Ah, the smell of the chemicals…The first roll I've developed has been like a time machine! All of a sudden I was a kid again, in the old apartment where I was living with my family, in front of the closet that my father was using as a darkroom. At that time I was not aware of what he was doing, I could not understand the magic that was going on in that tiny room. The big fun for me and my brother was not in photography, but to dig in our parents' wardrobe where in a secret corner my father was storing all of his magic, strange photographic equipment and the chemicals for developing b&w.
A few years have passed (…) and now apparently it's my turn :)!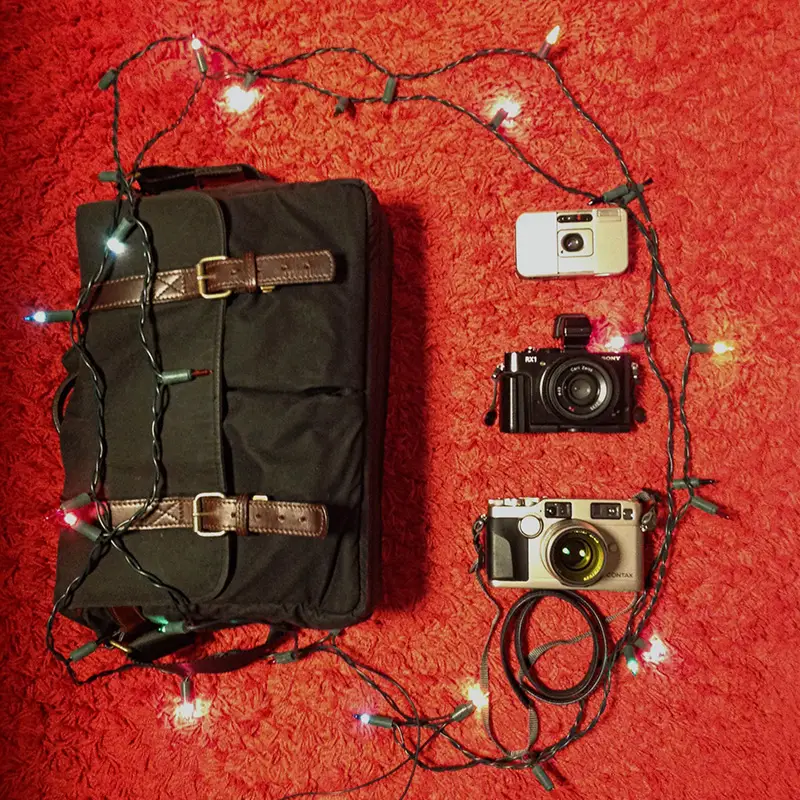 The set-up in the attached picture is the one that accompanied me to a recent one-week trip to Myanmar. What a country, what an experience! My heart is still resonating will all those indescribable colors, tastes and smiles and this trip would require too much space to be rightfully described, so for the sake of convenience I will let the pictures do the talking and provide a link to the set on my Flickr page. I brought with me 3 cameras, each one for a different focal length. The film cameras were loaded with Rollei Retro 400s for b&w and Portra 400 for color.
The bag: Ona Brixton. Right before leaving I was looking for a waterproof bag that was not screaming "CAMERAS INSIDE!" and I've chosen this one, for the look but also for the well-reviewed quality. Very comfortable and it served me well, it has survived the trip but not without some scars. The "waterproofness" has been totally unnecessary since in 8 days it rained just a couple of times, in spite of the monsoon season (it was september). The sun was actually scorching in the center/north of the country.
28mm: Fujifilm Tiara. This one's a camera that Bellamy already wrote about, and for good reasons: the performance is simply amazing for the size. It's not blazingly fast but it has some interesting manual controls over focusing. I've read somewhere that it was one of the favorite cameras of Ueda Shoji, a japanese master of photography whose work I'm sure many readers of these pages know very well.
35mm: Sony RX1. I've been thinking a lot whether to leave for Myanmar just with film cameras or both film and digital and in the end I've decided to bring also my only digital camera, the RX1…and I was right, its usefulness has been undeniable as well as the quality of the files and the versatility. Since my last submission I've added the EVF and a grip, which together improved by many folds the shooting experience and the usability.
45mm: Contax G2 w/ Zeiss Planar. The story of this camera is in my previous submission, it belonged to the father of a dear Japanese friend. For this reason and also because I brought it back to life with a new shutter I believe this camera is filled with good karma and I love every single picture that comes out of it. During the trip I've used it mostly for b&w film, and it has never disappointed me.
Finally, the pictures: http://www.flickr.com/photos/giovannipascarella/sets/72157635912569855/
And my tumblr page: http://muju.tumblr.com/
Thanks a lot, Bellamy, and to you and all readers of JCH…Merry Christmas!
Thanks for sharing your bag Giovanni. Sorry it was so late, but better late than never.
Check out the links and make sure you come and comment.
Keep them coming folks, we need more submissions, so get your bag on Japancamerahunter.com. Send me a hi resolution image of the bag (please make sure it is horizontal) and its contents, with some details about yourself and what you shoot. Oh and don't forget your contact details (twitter, flickr, tumbler et al). Send the bag shots here. Please understand that there is a long wait now as there is a backlog of submissions. Not all make the cut, so make sure yours is funny/interesting/quirky. And please make sure the shot is of good quality, as the ones that are not do not go up.
Cheers
Japancamerahunter