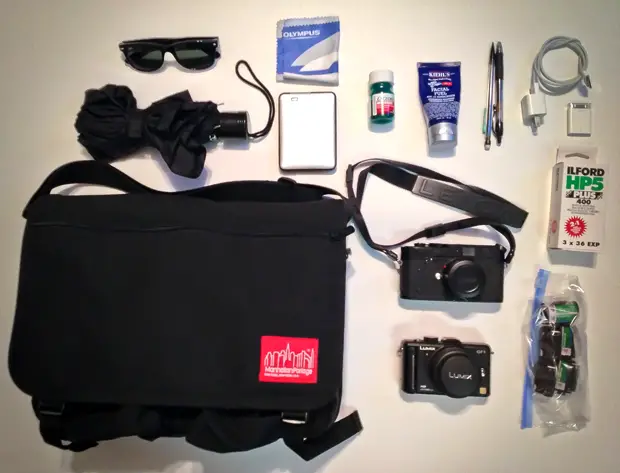 In your bag number 152, Nam Tran
A lovely mix of modern and classic in todays bag. Nam shoots the streets on New York, so lets see what he keeps in his bag when he is out shooting….

My name is Nam Tran. I am based out of Boston, Massachusetts, but will soon be relocating to Manhattan, New York! I'm excited to show you all what I carry around on a daily basis.
The camera portion of my bag is relatively tame and simple. I carry my Leica M4-2 for my street photography projects and my Panasonic GF1 is mainly for shots with friends and family. I only carry one lens for each camera to keep things as simple as possible. You will notice that most of the contents in my bag are just odd and ends that I usually need to keep myself going throughout the day. I hope you all enjoy, and please don't hesitate to get in contact me. I love making new friends!
My bag and it's interesting contents:
Manhattan Portage Europa messenger bag with an insert I got from B&H (Don't remember the brand)
Leica M4-2 with 35mm F2.5 Summarit
Panasonic with 20mm F1.7
Ilford HP5
Fujifilm superior 400
Odds and ends:
RayBan Wayfarer
Umbrella
Olympus lens cloth
Western Digital hard drive
Advil in an Excedrin bottle
Kheils face lotion with sunscreen
some pens
iphone charger and SD card kit
I usually also have various other things like a water bottle and snacks depending on the day.
Website:
www.namtranphoto.com
Blog:
http://www.namtranphoto.com/?page_id=10
Twitter:
http://twitter.com/#!/nammytsunami
Flickr:
http://www.flickr.com/photos/60538174@N08/
Thanks for sharing your bag and all of your links Nam. This is a good lesson, make sure you add plenty of lovely links. Come and comment and get yourself some Camera Karma.
Keep them coming folks, we need more submissions, so get your bag on Japancamerahunter.com. Send me a hi resolution image of the bag (please make sure it is horizontal) and its contents, with some details about yourself and what you shoot. Oh and don't forget your contact details (twitter, flickr, tumbler et al). Send the bag shots here.
Cheers
Japancamerahunter