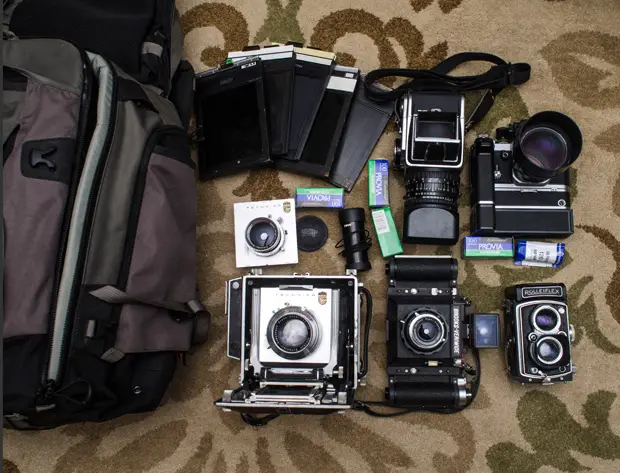 In your bag 264, Travis Mortz
Todays bag is a bit of a medium format bonanza. So many pretty cameras in one bag and so many different ways to shoot. This bag must be a lot of fun. Check it out.

Hello my name is Travis Mortz and i am from a town called Roseville , CA
I began shooting in 2006 when i purchased my first camera which was a nikon em with a 50mm 1.8 lens. I shot around 20 rolls through it once i decided to switch to digital and did that for a year or so then i started to dip my toes back into film by purchasing a hasselblad. At this point i really started appreciating photography from a film shooters standpoint and i began collecting cameras of all origins. now its been 6-7 years and i am juggling my film gear alongside my digital i have recently sold my full frame digital nikon so i am in between cameras and this is when i find myself falling in love with film all over again so here are a few of my vehicles in which i explore photography.
Starting on the bottom left hand corner i have a Linhof Technika 4×5 camera with a Schneider 135mm F3.8 lens and a Schneider 75mm F8 super-angulon this is my newest love it is just a treat to shoot.
Then on the right of that i have a Brooks Veriwide 6×9 with a schneider 47mm F8 lens this camera was a very lucky purchase for me and has opened my eyes to a whole new format that i have never had the joy to shoot.
Right above that is my Hasselblad 500 C/M with an A12 back and an 80mm F2.8 Carl Zeiss CB lens. This camera is my pride and joy and by far the most satisfying camera to shoot in my opinion.
To the right of that is my Nikon F2 AS with a motor drive. This camera was always a dream of mine when i went into the local camera store and i finally made it mine and i would argue with anybody that nikon has not made a better 35mm camera then this one it has never failed me!
Last but not least we have the Rolleiflex 3.5 Carl Zeiss. This is an interesting camera as the man i got it from received it from an old servicemen in world war two and this camera was one of the "rentals" in germany that he never returned so it has all german writing on the exposure guide on the back which is very unique and makes me love it just a little bit more.
I primarily shoot Ilford Delta 100 and i will occasionally shoot a roll of any fuji slide film i can get my hands on. i develop all my negatives myself with ilfosol 3 developer and its just the most beautiful combination in my opinion.
Thanks to everybody who read through this and if you'd like to check out my flickr the link is http://www.flickr.com/photos/photosbytravis/
Please add me lets share some film creations!
Thanks for sharing your wonderful bag with us. I love the Linhoff, what a beauty. I also think your tattoos are pretty awesome. That shows a true dedication.
Check out the link and Travis' tattoos. Oh and make sure you come and comment too.
Keep them coming folks, we need more submissions, so get your bag on Japancamerahunter.com. Send me a hi resolution image of the bag (please make sure it is horizontal) and its contents, with some details about yourself and what you shoot. Oh and don't forget your contact details (twitter, flickr, tumbler et al). Send the bag shots here.
Cheers
Japancamerahunter