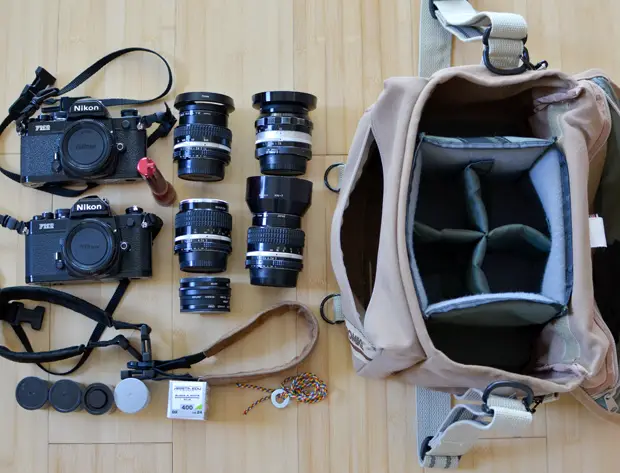 In your bag number 196, John Cornelius
Todays bag is a Nikon lovers dream. A delightful Domke bag, jam packed with a couple of lovely Nikon bodies. But wait, there is more. John has a lovely collection shot for us too. Check it out…

Hello,
I am John Cornelius, from Thousand Oaks, CA, USA.
I've been shooting since there was only film. Now I shoot black and white film but most of my color work is digital. My favorite shooting is available light portraiture and my family are my usual subjects as they are conveniently located.
In my Domke F6 today are the following:
Nikon FM2. Worn and brassed, leather replaced with Griptac, this is one of my favorites. Aluminum shutters, because Nikon replaced them with that when they broke.
Nikon FM2n. New and shiny. Nifty hexagonal titanium shutters, like the first one used to have.
Nikkor lenses:
50mm f1.4 AI
35mm f2 AI
85mm f2 AI
24mm f2.8 (non AI but brutally converted with a file.)
Some Arista film, some Ilford HP5 and some Tri-x. Mostly 400 here, but I usually keep a couple of rolls of 100 too, just not today.
Various black and white filters and a polarizer, a little flashlight and a washer on some string for replacing batteries. My straps are homegrown. I like the op/tech connectors but I don't care for the foam neck strap. I like the Tamrac leather neck straps but don't like the Tamrac connectors so I cut them off and sewed on op/tech buckles. They work great.
The contents of my bag is variable. I also included a photo of what's NOT in my bag today which may end up in there on a moment's notice.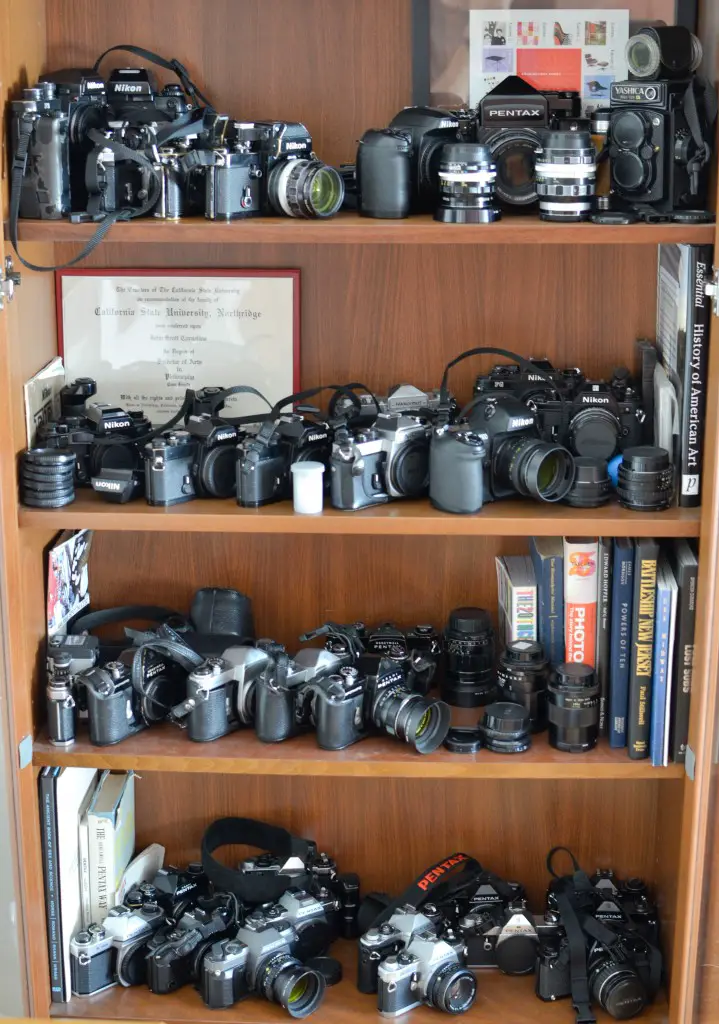 My flickr page: http://www.flickr.com/photos/jscornelius/
My blog: http://www.onlyoneeyeopen.com/
Thank you, and keep it up. I really enjoy seeing both what other people lug around and what they shoot. There are some inspirationally talented photographers out there.
John
Thanks for sharing you bag and your collection John. I am really glad that you like the feature.
Check out John's links and make sure that you comment. We love it when you do.
Keep them coming folks, we need more submissions, so get your bag on Japancamerahunter.com. Send me a hi resolution image of the bag (please make sure it is horizontal) and its contents, with some details about yourself and what you shoot. Oh and don't forget your contact details (twitter, flickr, tumbler et al). Send the bag shots here.
Cheers
Japancamerahunter