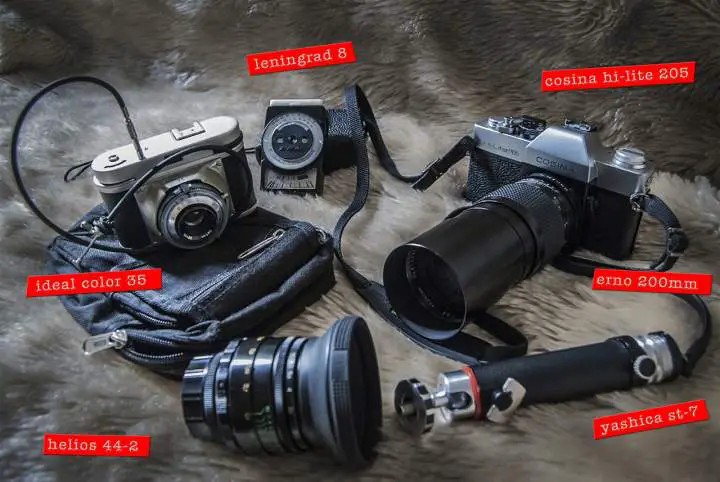 In your bag No: 1464, Alex
This might be a first. The first in your bag in Spanish. Don't worry though, there is a translation, so you have a good chance to do a spot of studying. Who said this site is just about wasting time?
IN SPANISH
Hola mi nombre es Alex.
Soy diseñador Gráfico, o lo intento. Soy español, y un mal fotógrafo que le gusta hacer fotos analógicas con un toque digital
Este es parte de mi equipo, que he utilizado ultimamente.
Cámara Cosina hi-lite 205 (la que más utilizo, pese a su aspecto aún funciona casi correctamente)
Lente Helios 44-2 (mi preferido)
Lente Erno 200mm 3.5 (raro)
Considero que lo mas importante es la lente, mas que la cámara.
Cámara Ideal Color 35
Fotómetro Leningrad 8 (no es muy fiable con poca luz)
Mini trípode Yashica st-7 (tengo otro mas grande pero entra en el encuadre)
No me gusta el Flash.
Algo de mi trabajo lo podéis ver en: 
https://www.flickr.com/photos/lamaquinadealejandro/
http://thealemachine.tumblr.com/
Como podéis imaginar viendo algunas de mis fotos me gusta utilizar photoshop.
Espero que os halla gustado, un saludo.
IN ENGLISH:
Hi, my name is Alex.
I am a graphic designer, or intent. I am Spanish, and a bad photographer who likes to analog photos with a digital touch
This is part of my photographic equipment, I have used lately.
Cosina camera hi-lite 205 (the one that I use, despite its appearance still works almost correctly)
Helios 44-2 lens (my favorite)
Erno lens 200mm 3.5 (rare)
I believe that the most important is the lens, rather than the camera.
Camera Ideal Color 35
Photometer Leningrad 8 (not very reliable with low light)
Mini tripod Yashica st-7 (I have a bigger one but enters the frame)
I do not like Flash.
Some of my work you can see it in:
https://www.flickr.com/photos/lamaquinadealejandro/
http://thealemachine.tumblr.com/
As you can imagine seeing some of my photos I like to use photoshop.
I hope you liked finds, greetings.
Thanks for sharing your bag with is, Alex. And in both languages too, which is awesome.
Keep them coming folks, we need more submissions, so get your bag on Japancamerahunter.com
Send me a high resolution image of the bag. Optimum size is 1500px across. Please ensure there is a bag in the shot, unless you don't use one. The more you can write about yourself the better, make it appealing and tell us a story. Snapshots of your gear with a camera phone and no words will not be featured.
Oh and don't forget your contact details (twitter, flickr, tumbler et al). Send the bag shots here. Please understand that there is a long wait now as there is a backlog of submissions. Not all make the cut, so make sure yours is funny/interesting/quirky. And please make sure the shot is of good quality, as the ones that are not do not go up.
Cheers
Japancamerahunter