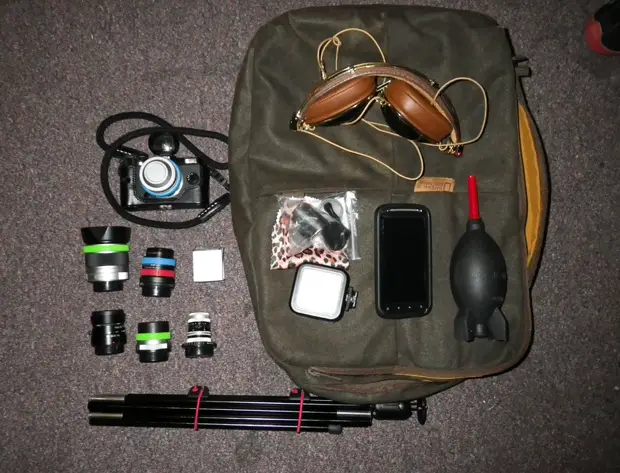 In your bag number 125, Wandering Monki
What a funky little bag we have for you today, from a chap with a very cool name…Wandering Monki. I love the description and the the interesting selection of gear. Check it out….

Whats up… They call me the Wandering Monki, I wander about urban jungles and landscapes on a never ending exploration to enlightenment. The story? Not much, recently discharged from the United States Air Force now chillin on the gov's dime waiting for school to start, what field may you ask? Not sure yet… I'm just an amateur picture taker, nothing professional here, that was lost with my uniform back in florida… Needed something light and efficient but could not be trapped into a single lens, I was a skater, a fighter, a mechanic… and… I need my tools… But I could not be bogged down as I travel on foot and seem to never stop till my feet are no longer numb and the pain starts to bare itself from the inside out.
Bag: National Geographic Africa collection, the only bag I could find that went from a two strap backpack to a messenger bag easily…
Camera: Pentax Q
Lenses: 6mm f1.8 Kern Pailard Switar D-Mount, 8.5mm f1.9 Pentax Standard Prime, 11mm f1.4 SLR Magic Toy Lens, 25mm f1.1 MS Optical Sonnetar, 5 – 15mm Standard zoom and Pentax Q Fisheye.
Other: Headphones, Rocket Blower thing for dust, LED light for low light video, Zipshot Tripod, celly, leopard skin micro fiber cloth, little bag'o goodies including gaffer tape, extra hotshoe covers, lens caps and extra 16gb XTREME!!1!1!! SD Card…
Website – www.adventuresinq.com
Flickr – www.flickr.com/monkiphoto
Thanks for the cool bag and the cool description Mr. Monki, I really appreciate you sharing it with us. Check out his site, and learn a little bit more about the interesting little Pentax Q. It is a very funny little camera.
Keep them coming folks, we need more submissions, so get your bag on Japancamerahunter.com. Send me a hi resolution image of the bag (please make sure it is horizontal) and its contents, with some details about yourself and what you shoot. Oh and don't forget your contact details (twitter, flickr, tumbler et al). Send the bag shots here.
Cheers
Japancamerahunter