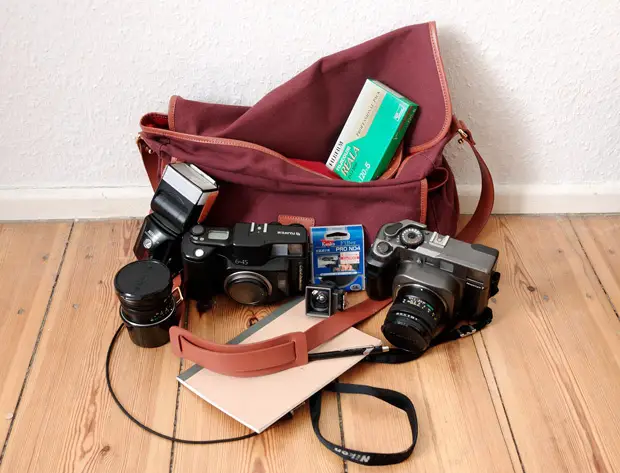 In your bag number 229, Philipp Zecher
Todays bag is medium format heaven, with a couple of stunning cameras inside. Philipp is a German who is an ex Tokyo resident, so he knows a bit about shooting on the streets here. Lets have a look at what Philipp has in his bag.

My name is Philipp Zechner, I am a German currently living in Berlin. For personal pictures, I like taking street scenes, architecture and urban objects, and I am also into night photography. This bag is pretty representative for what I usually take with me when going out to shoot.
– Shoulder bag: This is just a normal shoulder bag, pretty spacious with some front pockets for film and filters.
– Mamiya 7, with 80mm and 43mm lens: I like this camera for its simplicity of use, manual control and image quality. The wide-angle lens is great for street photography!
– Fuji GA645: I love this camera! My first and only medium format snapshot camera, fully automatic and almost pocketable. I also like its futuristic design.
– Fuji Reala 100: My standard film, though I also use Portra VC.
– ND4 filter: Helps to reduce depth of field on sunny days (the minimum exposure time being somewhat limited on medium format cameras).
– Cable release: Used for night photography.
– Notebook and pen: Always with me, as I like to take notes.
Not in the picture: Panasonic Lumix GF1 with 20mm pancake lens, Gitzo Reporter tripod (for the night shots)
Please also have a look at my website and blogs:
www.philipp-zechner.com
http://philipp-zechner.tumblr.com/#about
http://www.flickr.com/photos/zechner/
Thanks for sharing your bag, I love the medium format combo. And what is that I see? A 120 pack of Reala? Wow, I know people who would do very bad things to get their hands on some of that. Well done.
Check out Philipp's links and make sure you comment.
Keep them coming folks, we need more submissions, so get your bag on Japancamerahunter.com. Send me a hi resolution image of the bag (please make sure it is horizontal) and its contents, with some details about yourself and what you shoot. Oh and don't forget your contact details (twitter, flickr, tumbler et al). Send the bag shots here.
Cheers
Japancamerahunter