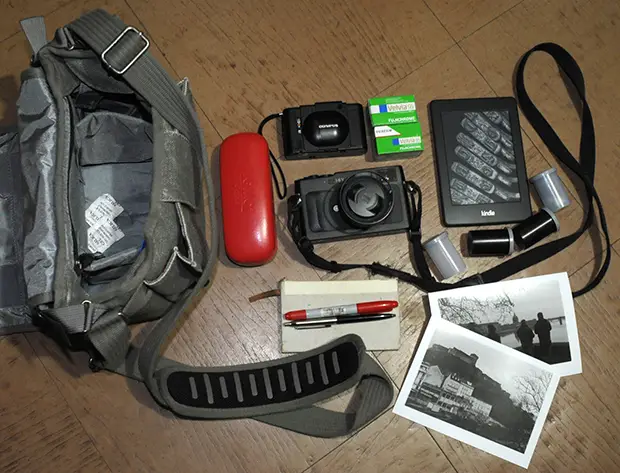 In your bag 935, Rodrigo Mansilla
A very cool bag today, from a Professor of Mathematics no less. Check it out.

Hello Japan Camera Hunter..!!
First, my english is so bad. I will try to write clearly here.
My name is Rodrigo Mansilla. I really love the photography, mainly, the darkroom. I have a lot of cameras, one of my favorites is a Contax IIa (like Capa has used),  I will show this camera in other opportunity.
Now I want show you the current equipment in my bag:
– Konica Hexar RF.
– Olympus XA
– Kindle Paperwhite
– Notebook
– Pencils
– A few pictures (in case of someone ask my what I'm doing)
– Rolls, Ilford HP5 plus, I make the charges. (someone gave me a pair of velvia, I never use it)
My bag is a Think Tank restrospective 5.
My flickr https://www.flickr.com/photos/rodrigo_mansilla/
My blog http://rodrigomansilla.wordpress.com/
thanks
best regards…!!!
Rodrigo Mansilla
Profesor de Matemática
Thanks for sharing your bag with us Rodrigo. That Hexar and XA set is great.
Check out the links and make sure you come and comment.
Keep them coming folks, we need more submissions, so get your bag on Japancamerahunter.com. Send me a hi resolution image of the bag (please make sure it is horizontal) and its contents, with some details about yourself and what you shoot. Oh and don't forget your contact details (twitter, flickr, tumbler et al). Send the bag shots here. Please understand that there is a long wait now as there is a backlog of submissions. Not all make the cut, so make sure yours is funny/interesting/quirky. And please make sure the shot is of good quality, as the ones that are not do not go up.
Cheers
Japancamerahunter