Camera Geekery: The Rollei A110
Barry Harding has been kind enough to give a little review of this often overlooked little camera from Rollei. 110 is starting to make a comeback now, so this is timely. Let's let Barry do the talking.

I have a confession to make – I am consumed by the thought and activity of purchasing vintage cameras and lenses. I can't stop buying them. A few months back I was picking up some Ilford SFX200 at the local camera shop and a 70-ish fellow walked on in with a cardboard box (old dusty boxes are good). He was brushed off and left disappointed. I approach him in the lot. "Excuse me sir, do you mind if I take a look what you have there?" "Oh, its a bunch of junk I am trying to sell for my brother". I took a peek.
-Voightland Vito Automatic R, 50mm/2.8 Lanthar. Near mint.
That piqued my interest. What else do we have here?
-Kodak Signet 50. 35mm film camera. Near Mint in box with flash bulbs.
-Argus 120 Argoflex, with nice leather case.
-Argus a-four. Near mint.
-Konica C35. Broken shutter. I'll fix it.
-Lots of old Kodak Wratten filters.
-Rollei A110. Where the hell am I going to find 110 film?
-An old selenium light meter.
I felt sorry for the guy, and offered him $80. He took it and drove off in his 1972 Olds.
Just recently I tracked down a source of expired AGFA 110 film on freeze. Thus stuff lasts forever. Lomo is also making 110 now from 16mm stock. The incomparable Dwayne's Photography of Parsons, Kansas will even develop if for you.
The Rollei A110 is a remarkable gem of a camera. I have a later model made in Singapore, but the camera is still built like a tank with steel and possibly anodized aluminum chassis. I'm no metallurgist, but this camera feels well-constructed.
Along with the Olympus XA series and the AGFA Optima cameras (awesome viewfinders), it's perhaps my favorite compact camera. The A110 is a masterful translation of design and function. It is a little metal brick. Like most 110 film cameras made in the mid-to-late 1970's, film is advanced through a sprocketing mechanism actuated mechanically when you open the camera.
The viewfinder is small, but well lit in open daylight, with sharp distinguishable brightlines. It's a zone focus camera with a bright orange slide mechanism that adjusts the lens. A prism projection in the viewfinder shows distance ranges from 1 meter to infinity. There are also little people pictagrams and a mountain range for quick viewing reference.


The 23mm 2.8 Tessar lens provides for contrasty images. The camera is a joy to use. Slip it in your pocket and off you go. My little A100 has a curious habit of sometimes failing to advance the film. I get around that flaw by popping open the back film access panel and jiggling the film cartridge a bit. Sometime I get a few surprising light leak artifacts, but I don't mind.


Here's a few shots from the zoo and other places. Have fun and keep shooting!
Long live film.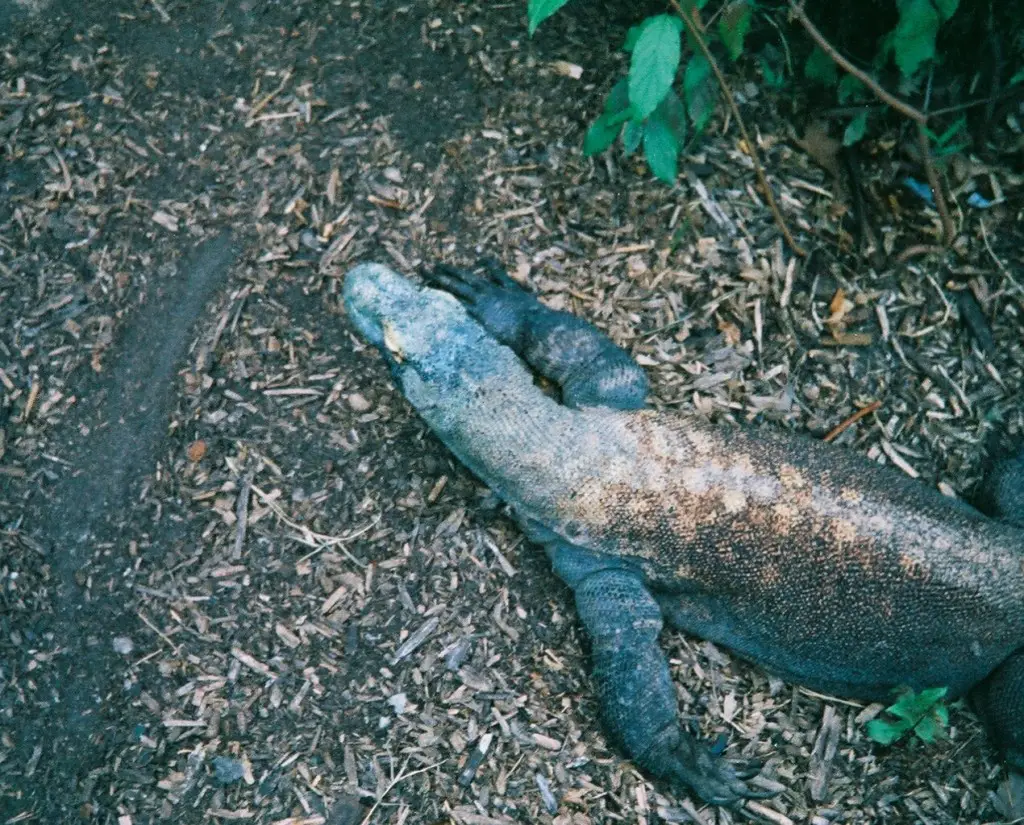 Thanks for letting us know about this interesting little camera Barry. I was not familiar with it, but I will certainly keep an eye out for it now.
Check out Barry's blog, there are some interesting little reviews on there.
Thanks
Japancamerahunter