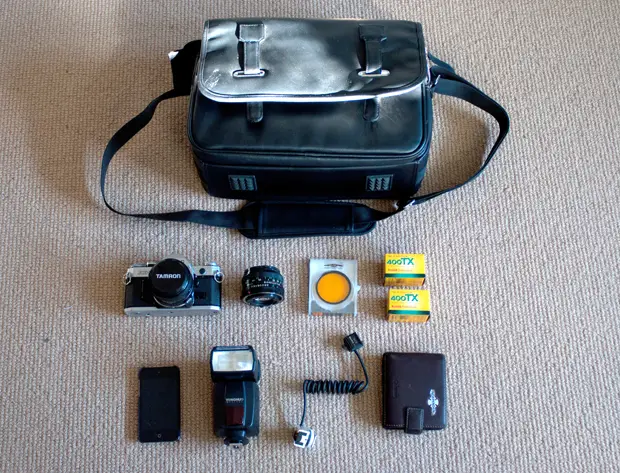 In your bag number 153, Tomas Merriman
After a glut of Leica filled bags, it is about time we had a different type of camera and bag. Have a look at this totally simple and practical bag from Australia…

Hi, I'm Tomas Merriman, I'm from the Gold Coast in Australia.
My bag is a 'Nikon Professional' bag, it's bland, but does the job I need it to, haha. I keep it simple and have only what I know I'll use in there, otherwise my shoulders won't like me after a day of shooting in the city.
I carry around a Canon AE-1 (which I love and prefer over most of the cameras I've shot previously), a Canon 28mm 2.8, and a Canon 50mm 1.8. Film wise, I shoot mostly Tri-X because I don't have to worry about going out of my way to develop it. I carry around a Hoya orange filter, Yongnuo flash, and ttl cord as well.
I love coming onto this site and looking what people carry around with them, and I find the occasional flickr with some great photos. My flickr is: http://www.flickr.com/photos/68671874@N05/
Thanks,
Tomas
Short but sweet, perfect for a Sunday. Thanks for sharing your bag and your lovely Canon with us Tomas, happy shooting to you.
Check out Thomas' flickr and make sure you comment.
Keep them coming folks, we need more submissions, so get your bag on Japancamerahunter.com. Send me a hi resolution image of the bag (please make sure it is horizontal) and its contents, with some details about yourself and what you shoot. Oh and don't forget your contact details (twitter, flickr, tumbler et al). Send the bag shots here.
Cheers
Japancamerahunter