IN YOUR BAG NO: 1706 – Daniel Reichert
Daniel shares with us his bag that is a culmination of a years long photographic journey. Cue the mists of time….
My name is Daniel Reichert. I remember taking a few snapshots on family vacations to Yellowstone National Park when I was nine or ten years old. Those trips were my first experiences taking pictures. A few years later, I entered my school's photography program and began to take photographs in earnest. At that time, digital photography was very much still in its early stages—1 GB memory cards impressed me, and I would never have dreamed of leaving film behind to become a digital photographer. That would have been an aesthetic crime tantamount to abandoning modernist theater in favor of TV soap operas.
Things changed fast, didn't they? I moved from black-and-white film, to a mix of color negative and slide films, and then wandered off to digital for several years. I focused primarily on artsy photographs. A few years ago, I was thinking about those family trips from long ago and wanted to have a better way of documenting them. That idea combined with my growing interest in black-and-white film photography and drove me to put together the bag I'm sharing today. It's a mix of digital and film and is suited for trips (big and small) and everyday photography.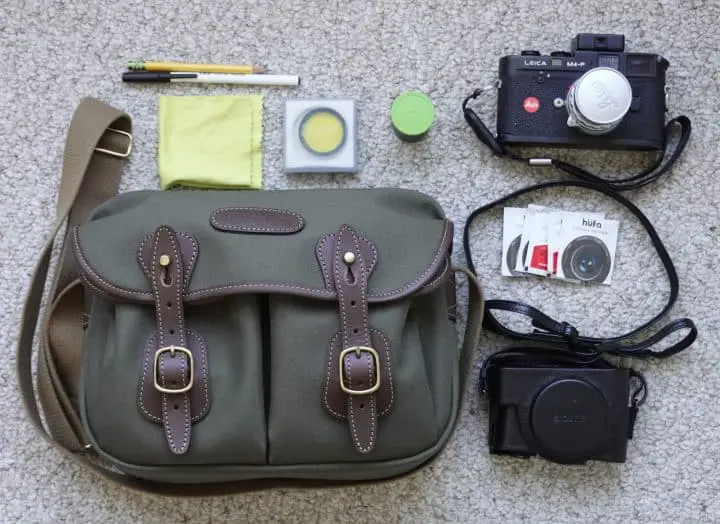 The Leica M4-P is my primary film camera, and I've paired it with the Leica 50mm Summicron known as The Rigid. After agonizing about which Leica to purchase, I went for the M4-P because it had the viewfinder magnification I wanted and because it had no light meter. The magnification works for me because I like shooting normal lenses and I wear glasses. To that end, I added a small plastic eyepiece so that I wouldn't destroy my glasses. As for the lack of lightmeter—That choice was driven by price, and I keep a Voigtlander meter on top of the camera. I purchased both the camera and lens from JCH and love them both.
The Sony RX100 mVII is the digital camera in this little bag. It gives me the flexibility to shoot wide and telephoto. Plus, it has an autofocus that keeps up with nieces, nephews, and friends. And there's a pop-up flash, which is a feature that snobs need to embrace. I took this picture with the Sony, so I've included the leather case here to stand in for the camera itself. A generous 128 GB card is in the camera right now.
Currently, I have a roll of Ilford Delta 100 in the M4-P, and you can see that I have a roll of Ilford HP5 400 in reserve. I've enjoyed playing with different black-and-white film stocks, and I haven't yet settled on one that I like best.
I recently purchased a light yellow filter for the Leica lens, and I've started to experiment with it.
The bag is a Bellingham Hadley Small in green. My wife gave me this bag as a gift, and it fits all of the gear depicted here. It's a great way to carry and maintain a light kit like this one.
I keep a microfiber cloth and a few lens wipes for when I smudge my lenses or my glasses.
This bag includes a pencil and a pen in case I need to write something down. I've never actually encountered a situation where I needed either writing instrument, but I keep them around out of pride and habit.
I've long enjoyed reading the JCH website, and I hope others may find this interesting.
Thank you for sharing your bag and your story with us, Daniel.
Keep them coming folks, we need more submissions, so get your bag on Japancamerahunter.com
Send me a high resolution image of the bag. Optimum size is 1500px across. Please ensure there is a bag in the shot, unless you don't use one. The more you can write about yourself the better, make it appealing and tell us a story. Snapshots of your gear with a camera phone and no words will not be featured.
Oh and don't forget your contact details (twitter, flickr, tumbler et al). Send the bag shots here. Not all make the cut, so make sure yours is funny/interesting/quirky. And please make sure the shot is of good quality, you are a photographer after all. 
Cheers
Japancamerahunter