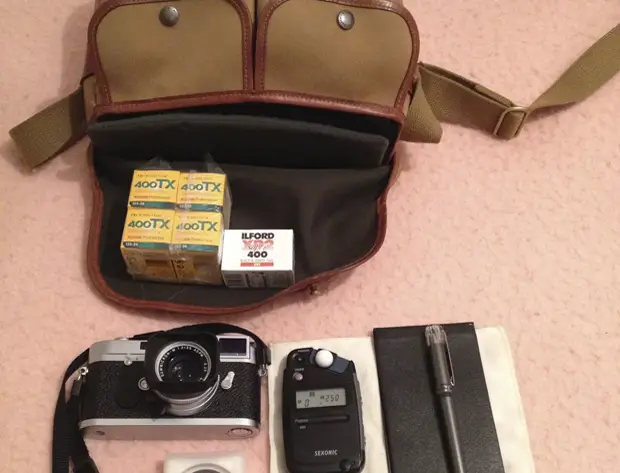 In your bag 402, Miles Peters
Todays bag is not just great because it is a simple bag, it is great because of the philosophy behind the bag. Come and have a look at Miles' bag.

Hello
I live in beautiful Derbyshire and largely travel and photograph in the UK as interest in other climed wanes. My love is film – black and white at the moment having spent years taking colour reversal (Kodachrome 25 for decades before discovering fujichrome – never quite took to velvia). Very keen to try the new silvermax and also a firm user of Ilford (the factory is on the other side of the hills and I strongly believe in supporting them). In the bag at the moment is some Tri-X which gives punchy results, but I am afraid I do not like the tonality it gives, much prefer HP5+.
In my bag is my entire collection of one:
– Billingham Hadley (small). The dealer who sold it to me said a gentleman has a brown bag and he would refuse to sell me a black one for a Leica! Brown for country, black for city I replied!
– Al-la-carte Leica MP my wife Sheila had made for me for my 50th birthday, only customisation is the vulcanite, with a 35mm Summicron-ASPH. Strangely this is my first 25, having for many years used 24, 50 and 135 on Nikon FM2 and FE2 bodies. You have to take your time preparing to shoot with an MP but the actual moment is instantaneous.
– Sekonic meter, force of habit from my reversal film days where incident readings were my norm. Not useful now and I rarely carry it, and often just guess the exposure. When I do meter, I follow Roger Hicks's advice and meter on the darkest area I want to record detail on and apply a compensation.
– Lens pen and cloth. Lovely dealer in posiest part of London, not at all fazed by my old clothes and lack of affluence! Took my Nikons in part-ex and was a total gentleman.
– B+W mid-red filter for sky shots, not at all fond of white washed out skies.
– Tri-X, see previous comment, and a roll of XP2+ to try out
– Notebook and pen, absoutely nothing to do with photography, more to remember what jobs my Sheila has given me to do. I didn't get married, rather I was taken into service!
That is it. I do not have a phone, television, games console or any other diversions at home. Happiness comes through simplicity and the enjoyment of a few simple things of quality and in the practice of a craft.
Thanks for sharing your bag and your experiences with us Miles. Nice to see someone who is not plugged in all the time in this digital age. Though I do wonder if you will actually see this bag post. I hope so.
Come and comment, as there are no links to follow.
Keep them coming folks, we need more submissions, so get your bag on Japancamerahunter.com. Send me a hi resolution image of the bag (please make sure it is horizontal) and its contents, with some details about yourself and what you shoot. Oh and don't forget your contact details (twitter, flickr, tumbler et al). Send the bag shots here.
Cheers
Japancamerahunter