IN YOUR BAG 1760 – SATYA RODRIGO
For this week's "In Your Bag" we have Satya! This will be his second he has shared with us, you can see his first here that was more for minimal everyday use. This one here is his travel bag. Check it out:
My traveling camera bag and gear from a recent trip to Hiroshima, Japan. This was the first maiden international trip for the bag. So this would be my traveling camera bag.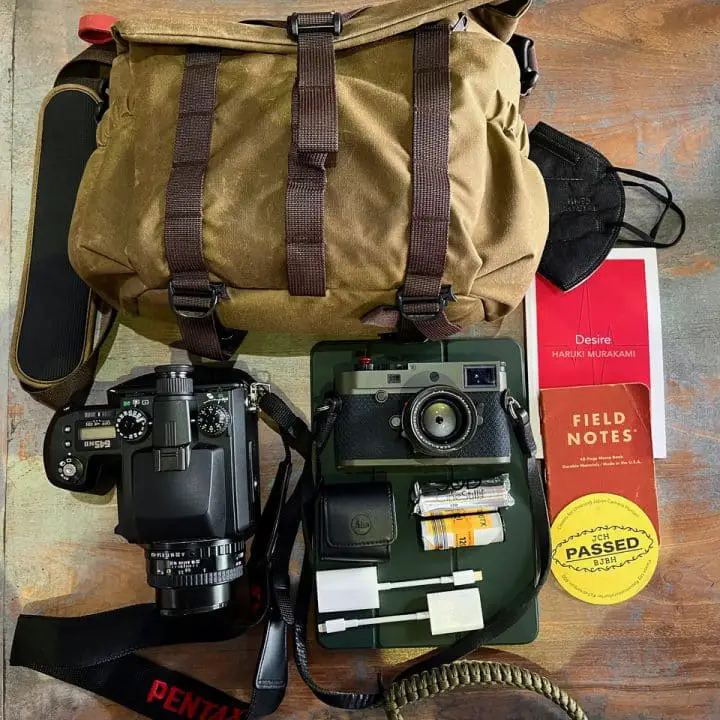 The bag
The bag is the perfect camera travel bag, and aptly named the "Pilot: Travel Camera Bag" by Wotancraft in "Khaki Brown canvas"- in a hardy Codura fabric. I got the 7 Liter version and as the 2022 models were upgraded, my bag included the Fidlock magnetic clasp and the Quick adjustable shoulder strap- just one tug on the Red Tag and the length can be extended easily.
The bag is beautiful and comfortable to use- has amazing modular inserts that can be customized to mold itself to whatever is inside the case- whether it be lens, camera body, water bottle, beer can, etc or make small shelves to protect small things. There is an inside part large enough to be able to hold an Ipad Air, safe and secure.
Contents
In the bag I have my now "seen combat"-  Leica M10-P Reporter (dropped the camera on the at the airport after clearing the X-Ray machine. Luckily it was a short distance and just one end of the base plate shows some brass traces) with a 35mm Summilux F1.4, with the Leica COOP Paracord strap in Black / Olive and a Match Technical "Red Lady Bug" Bug-O Soft Shutter release button.
Other items are Visoflex Typ 020 viewfinder in case;  iPad Air, with Green cover (trying to have a green thing going with gear ; ) Two Apple SD card readers for USB-C and Lightning to transfer images to iPad and iPhone and preview images.
On the Analog side- my newly purchased, used 645 Medium Format Film camera – Pentax 645Nii, bought on the trip to Japan, that came with a Pentax FA645 75mm F2.8  Lens and the retro stock Pentax black and red camera strap (the Japanese language manual for the Pentax camera is actually in the camera bag rear pocket).
One Roll of 120 Cinestill 50D Colour Daylight film and one Roll of 120 Kodak TriX 400 Black and White film and one "Passed" Japan Camera Hunter (JCH) Coaster, [My two JCH 120 Film Cases (in Olive green, of course) are on the way in the mail, so cant be featured- but will be going wherever the Pentax goes].
One N94 Black face mask and finally from the Kinokuniya bookshop in Hiroshima – a Vintage Mini pocketbook "Desire" a collection of short stories by Haruki Murakami, for the flight or when sitting down and not taking photographs!. One key tag of a Hiroshima anime character, inside the camera bag left pocket along with 2 Rolls of Kodak Portra 400.
The Analog and later items are literally all from Hiroshima with Love!  Some Kodak Portra 400 photos from the Pentax 645Nii in Hiroshima and Japan are on my Instagram at: https://www.instagram.com/satyarod/
どうもありがとうございます
Links
Dōmo arigatōgozaimasu!
Instagram: https://www.instagram.com/satyarod/
Black & White images at: https://www.instagram.com/grayscaledays/
LFI Gallery: https://lfi-online.de/ceemes/en/gallery/Satya-Rodrigo-724631.html
– Satya
––––––––––––––––––––––––––––––––––––
Send me a high resolution image of the bag. Optimum size is 1500px across. Please ensure there is a bag in the shot, unless you don't use one. The more you can write about yourself the better, make it appealing and tell us a story. Snapshots of your gear with a camera phone and no words will not be featured.
Oh and don't forget your contact details (Instagram, Twitter, Flickr, Grainery et al). Send the bag shots here. Not all make the cut, so make sure yours is funny/interesting/quirky. And please make sure the shot is of good quality, you are a photographer after all. 
Cheers
– JCH