In your bag No: 674, Jakub
Jakub hails from Poland, lives in Iceland and has a pug in his bag. A pug. Come and check out why he has a pug in his bag.

Yo all!
My name is Jakub and I'm from Poland but for 2 years I'm living and shooting in Reykjavik Iceland. I work as a chef but my passion is real photography. I'm making documentary pictures, trying to go to the roots as well in techniques as in tools. Basically I'm running with one camera at the time because I like to have only cigs in my pockets.
Most of my bag is eastern european and I hope You will like it!
First of all my baby – Mamyia ze-x – this girl was with me in most important moments. She's got 50mm lens with hoya UV filter. Next of my children is russian leica! Zorkij 4 – my first rangefinder camera. I've found her in my dads old things. Third camera in my bag is medium format Start 66 which is polish creation from early 70's. I'ts really simple and people saying it has crappy optics but I've never said a bat word about pictures from this camera. I also got polaroid  but not using it really often it's kind of hipster part of me. Kindle paper white is really important because as an emigrant I don't have much contact with literature from home. Timex easy reader, and notebook. Och! And of course my only friend – Aurora the pug! + some cigarette creator's set :)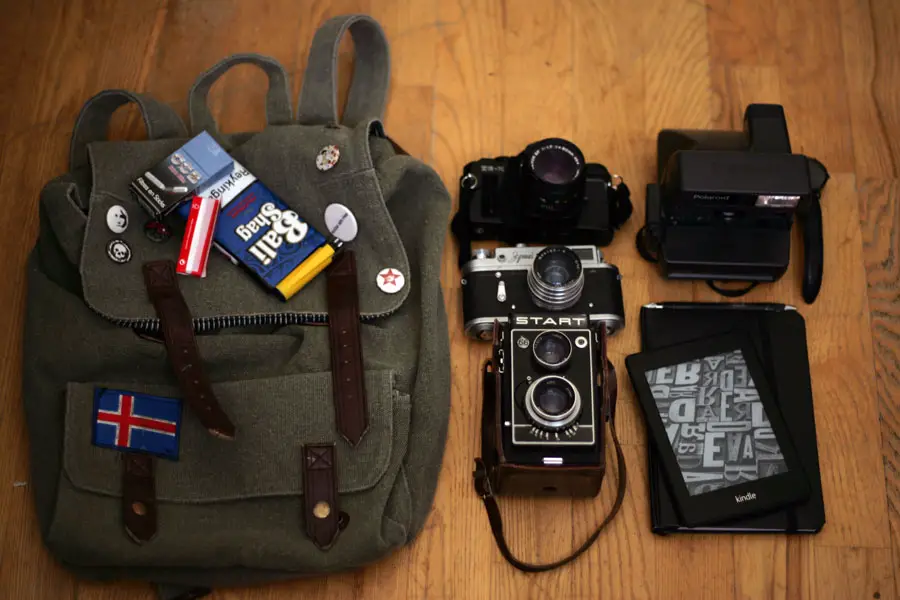 My flickr http://www.flickr.com/photos/sorterrvk/
Dziękuję!
Thanks for sharing your bag and for introducing Aurora, it is nice to see a bag with a companion.
Check out the link and make sure you come and comment.
Keep them coming folks, we need more submissions, so get your bag on Japancamerahunter.com. Send me a hi resolution image of the bag (please make sure it is horizontal) and its contents, with some details about yourself and what you shoot. Oh and don't forget your contact details (twitter, flickr, tumbler et al). Send the bag shots here. Please understand that there is a long wait now as there is a backlog of submissions. Not all make the cut, so make sure yours is funny/interesting/quirky. And please make sure the shot is of good quality, as the ones that are not do not go up.
Cheers
Japancamerahunter