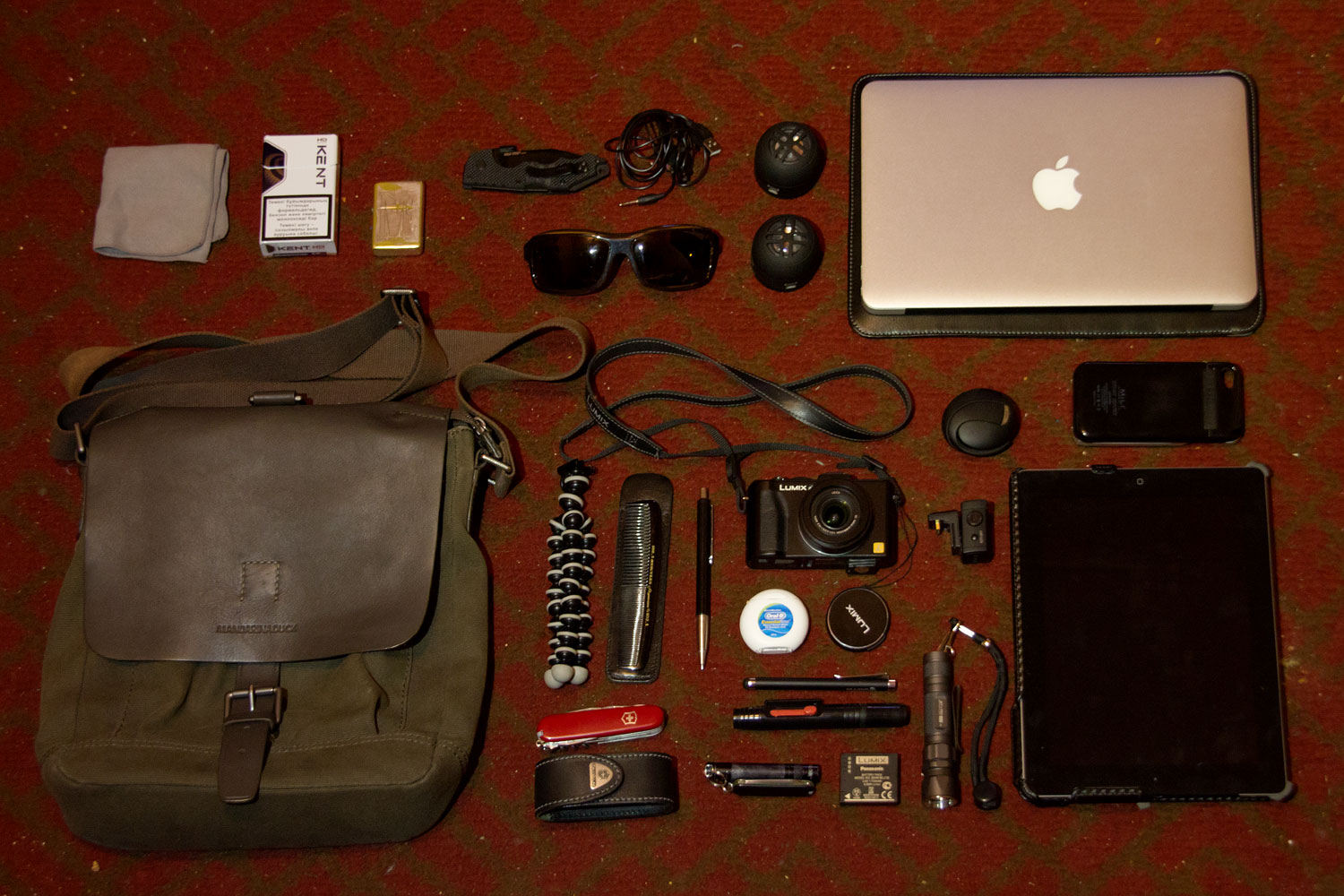 In your bag number 17, Andrey from Kazakhstan
How cool is that? Not everyday you get a bagshot from Kazakhstan, that is the power of the internet right there. It has been a bit slow on the submissions front over the last few days, so it is nice to have another one. This bag belongs to Andrey Khludeyev of Almaty in Kazakhstan.
Over to you Andrey:
Hello, my name is Andrey, I'm from Almaty, Kazakhstan.
Every day you need to carry some stuff with you. Some things you need everyday, some you never know you'll need or not. Anyway, one has to determine the necessary minimum of things you'd like to have with you. Since I used to be a color corrector and a photographer from time to time, I can't see myself without camera (Lumix LX-5, so far is my choice for walk around and trip photo), extra battery as well, external viewfinder, gorillapod, some pocket knives for whatever they would be needed to, JetBeam flashlight quite useful, parker pen etc.
Since I'm now an owner of advertising agency, some stuff for everyday life (glasses, smokings, ets..) external battery for iPhone (extremely needed when you photograph on it!), iPad, griffin stylus for it, and recently bought MacBook Air, that is my working station for now (small and powerful). And well, iHome speakers, Jabra bluetooth.
Well, for all that stuff you have to have a proper bag, and I could find better then Mandarinaduck safari series (discontinued by now which is pity), I like it's durability, materials, color and handling. I driven about 3100km of Europe with it and never regret I got one!
Andrey has a website for his agency:
www.boodoo.kz
photos
twitter
skype: in_saner
Thanks Andrey for sharing your gear and your life, it is good to see that this is being seen all over the world.
Keep them coming folks, we need more submissions, so get your bag on Japancamerahunter.com. Send me a hi resolution image of the bag (please make sure it is horizontal) and its contents, with some details about yourself and what you shoot. Oh and don't forget your contact details (twitter, flickr, tumbler et al).
Cheers
Japancamerahunter