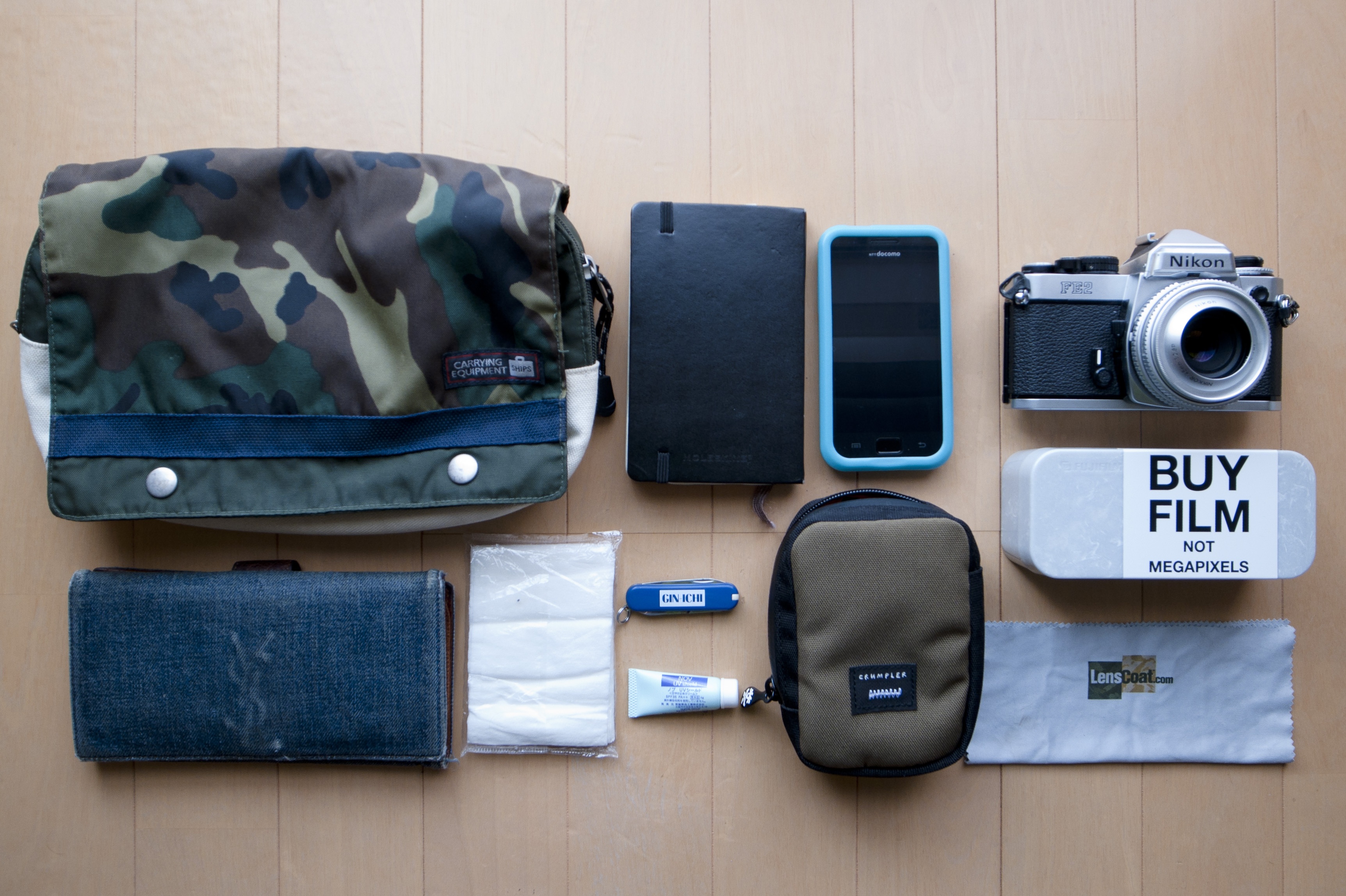 In your bag number 32, Meeeeeee from Tokyo
Hello all of you lovely bag lovers, how are you all today? Today I have a very special bag for you indeed….Mine! Yes, that is right I thought it about time that you had a look at one of my daily bags. I have a whole load of bags, but I don't like to carry a huge bag when I am just out and about with friends. So I carry a smaller daybag. Here is my bag…
Ships brand Camping Equipment bag
Ships (Ships website) is a fashion brand from Japan. Not really a camera bag this is more of a fashion shoulder pack. But I have found that it will comfortably fit film cases, wallet and a few extras without being overly heavy. Plus it looks good and didn't cost a lot. Perfect.
Moleskine smaller notebook
I need to carry a notebook around to remember what I need to buy and for if I see thinks that I think might be useful. It also has a lovely little pocket for business cards. Brilliant.
Samsung Galaxy S
Hands down the most useless phone in the world. When you are bored it works great, as soon as you actually need to do anything important it just crashes. No updates are available in Japan thanks to Docomo so it is basically a piece of dead technology. I cannot wait to change it.
Nikon FE2 w/45mm f2.8 Aip Nikkor
I have just got this camera back from the repair shop, after it seized. Now it works like a dream. Original model with the titanium 'honeycomb' shutter. The 45mm Aip is a brilliant lens, so sharp and so small, I love the way it looks on this camera. Lots of fun to use.
Fujifilm film case
This is one of the Mono Bikkuri cases. Full to the brim with mono film. I love the ease of the cases and I really love the sticker from Gradeselect . Cool stuff.
Lenscoat Micro cloth
A brilliant little cloth from the cool guys at lenscoat. Don't leave home without one.
Crumpler Tuft camera pouch
A nice little camera pouch that is weatherproof. It has a clip on the bag so I can attach it to the strap of my bag. Convenient and it looks great too. Crumpler make some great bags, check them out.
UV block hand cream
It gets really dry in Japan in the winter, but the sun still shines, so I need to have something to keep my hands from looking like the Old Man and The Sea.
Ginichi penknife
I was given this as a gift and somehow it always finds its way into my bag. One day it may come in useful, but for now I just like having it there.
Tissues
In Japan a lot of public toliets have nothing to dry your hands with, so you really need to carry some tissues or something. Fortunately they hand these out on the street for promotional purposes. Brilliant.
YSL wallet
This is not my regular wallet, this is my 'buying' wallet. I keep it handy as you never know when you might stumble across a bargain.
So, this is my bag for day to day rambling around. But the configuration changes all the time, so you never know what could be inside next time. Thanks for checking my bag out and don't forget to send your bag in. It doesn't have to be a camera bag, but it must have a camera in the picture. Any camera will do. Make them funny, make them serious, make them crazy, but be sure to make them.
Keep them coming folks, we need more submissions, so get your bag on Japancamerahunter.com. Send me a hi resolution image of the bag (please make sure it is horizontal) and its contents, with some details about yourself and what you shoot. Oh and don't forget your contact details (twitter, flickr, tumbler et al). Send the bag shots here Send the bag shots here..
Cheers
Japancamerahunter