Camera Geekery: Omnar lenses
Omnar lenses are the new kids on the block when it comes to M mount lenses, but they are brimming with skill and ideas. Hamish Gill of 35MMC fame and Chris Andreyo of Syllaney Opto Mechanics have teamed together to bring us the first of hopefully many great lenses. So, what are Omnar lenses about? Let's find out.
Omnar Lenses are excited to announce the launch of their first lens, the Omnar CN26-6, a 26mm f/6, fixed aperture, rangefinder coupled, snapshot lens. Designed, manufactured, painted and assembled in the UK.
Omnar Lenses
Omnar Lenses make unique, limited edition lenses; designed, manufactured, and hand assembled in the UK. Our lenses are made by lens enthusiasts, for lens enthusiasts. We make lenses without any compromise on mechanical build quality. With esoteric, unusual, characterful optical formulas. Omnar lenses feel the part, and work with you to create images in your very personal style.
Characterful Optics, No-Compromise Build
In the world of cinema, lenses are chosen for their image qualities and character, not the objective measures so much more commonly used by photographers. But whilst cinematographers might seek out aberrations such as lens flare, heavy vignetting, and softness to help them create a look to their moving pictures, they do this with a no-compromise approach to the mechanical build of their equipment. It is this mentality with which we have approached producing lenses at Omnar.
Omnar CN26-6
The Omnar CN26-6 is our first lens. A rangefinder coupled, m-mount, fixed aperture, 26mm f/6 lens. Mechanical build quality that's up there with the best, combined with optics repurposed from an entry level, early-2000s point & shoot camera.
Features & Specifications
26mm f/6
Wide angle, small aperture lens for quick snapshot photography.
Rangefinder Coupled
Coupled from 0.67m to infinity with a short focus throw
Close focus
Option for close focus uncoupled focusing down to 0.3m
Focus Feel
Light focus or heavy focus feel options
Finish Options
Matte Black Chrome Cerakote, Silver Chrome Cerakote, High Gloss Black Lacquer, or Custom Paint to your specification
Custom Engraving
'Omnar Lenses' engraved on the front, or custom engraving up to 12 characters of your choice
Weight & Size
100g | 10.5mm protrusion from camera
Made in the UK
Designed, manufactured, painted and assembled in the UK.
Product Description
The Omnar CN26-6 makes use of the 26mm f/6 optics from a Canon AF10 point and shoot camera, rehoused in rangefinder coupled, brass mechanics. With extremely precise manufacturing tolerances, the mechanical feel of this lens is on par with the highest build quality lenses on the market. The lens has a fixed aperture of f/6, and a focal length of 26mm, giving it broad depth of field, which combined with the short focus throw makes for a lens that's quick to focus and shoot.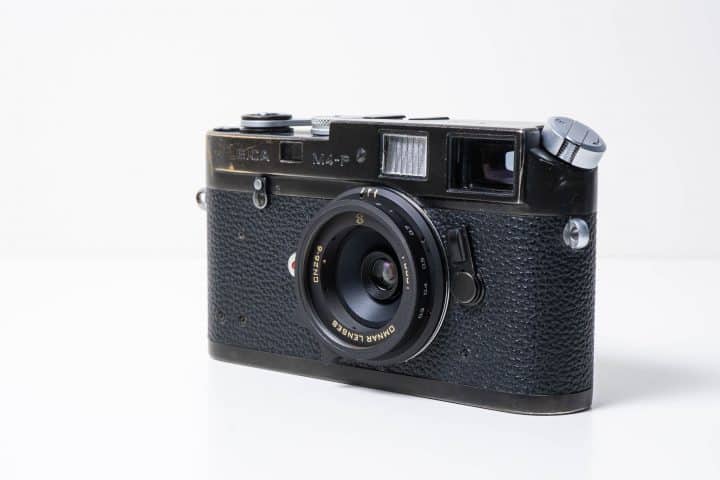 The optics were selected for their point and shoot camera aesthetic. When researching these types of cameras, we looked for an optic with medium speed that was mostly made of glass. The chosen optic is a four element in three groups, a modified derivative of the classic Tessar formula. The front doublet and middle element glass, followed by a fixed aperture disc, then a rear polycarbonate element. The coated elements help keep the contrast relatively high, with the rear polycarbonate – given the right angle of light – creating a rainbow flare the sort that is
more commonly associated with cameras such as the Vivitar UWS, but to a lesser degree. As detailed below, the image quality varies depending on whether it is used on film or digital camera due to how oblique ray angles of light are handled on a variety of digital sensors.
The Omnar CN26-6 – Shot on Film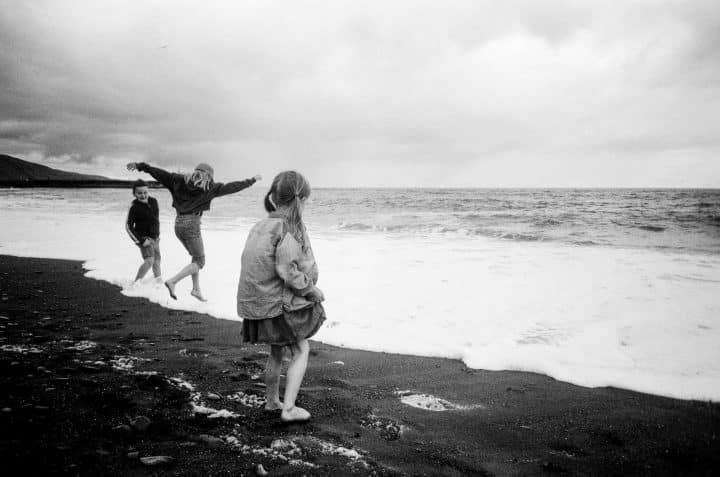 The optics used in the Omnar CN26-6 were designed to be used in film point and shoot cameras such as the Canon AF-10 and BF-10. As such, on film, this lens will create images that have a strong entry level point and shoot aesthetic. You can expect good sharpness with gentle fall off to the edges of the frame. You will also find a moderate vignette and some rainbow flaring if you catch the light just right. When close focusing, bokeh is surprisingly pleasant.
The Omnar CN26-6 – Shot on Digital
On full frame Leica M digital cameras, the image quality varies depending on the era of the camera and type of sensor cover substrate. To a large extent, the same character traits apply. The central resolution and contrast is high, but the falloff to softer corners is quicker. Edges may also suffer from colour shifts that can be combated by selecting lens profiles in-camera, or post-processed out with software such as corner fix.
Shooting on a dedicated black and white camera, or converting to black and white, of course, removes the colour shift. Enhancing contrast will also enhance the effect of the vignette which can make for dramatic black and white images.
Our Story
Omnar Lenses is the brainchild of Hamish Gill, otherwise known for the photography website 35mmc.com; and Chris Andreyo of Skyllaney Opto-Mechanics, known for their work repairing, customising and building esoteric lenses for m-mount cameras . Chris and Hamish share a passion for rangefinder lenses, but also hold the same views when it comes to the build quality of lenses and the optics found within them.
Owning a rangefinder camera need not be about owning lenses made by the same brand, nor should it need to be about shooting lenses that fit the commonly held view that sharpness is king, and abarations should be avoided at all costs. In fact, choosing a lens should be about choosing image qualities that suit the goals and needs of the photographer, whatever those needs might be.
Omnar Lenses was created to fill a niche hole in the marketplace. Unusual or otherwise difficult to mount to rangefinder camera optics, housed in no-compromise mechanics. The approach the world of cinema takes to lenses, but for photographers with rangefinder cameras.
Available to preorder now
The Omnar CN26-6 is now available to preorder off the website – omnarlenses.com. All lenses are painted and made to individual customers specifications. We expect deliveries of pre-ordered lenses to begin in December.
I cannot wait to get my hands on one of these fantastic little lenses. There are only a few of them so people should get in while they can. I look forward to seeing the next iterations of these fascinating little lenses.
JCH