In Your Bag: 1719 – Jay Daelo
In 2014, I was lucky enough to have my bag and gear posted on this site. Alot has changed in the many years that have passed, and since then I've had two children with one more due in less than a week!
As the baby will be delivered via cesarean, we are expecting to remain in the hospital for at least two or three days.  My wife rolled her eyes at me when she saw what I was packing. While she is taking one duffle bag, Ill have one bag dedicated with clothes and toiletries and another dedicated to photography/film gear. This is the way…
Pictured is my film/photography gear that I will be using to capture the 1st few days of the newest member of our family. What may stand out is that I will be using a super 8mm camera. The camera I will be using is a Braun Nizo 561 Macro. I'll have 2 cartridges of Kodak super 8mm film. Both are color negative but one is rated at 200 iso while the other is rated at 500 iso. To be honest, I have no experience filming in the super 8mm format, but I'm not afraid to experiment in this medium and look forward to the results, no matter what they are. Once the film is exposed and developed, it will be scanned to make a digital file which I can then work on via a video editing application on my PC.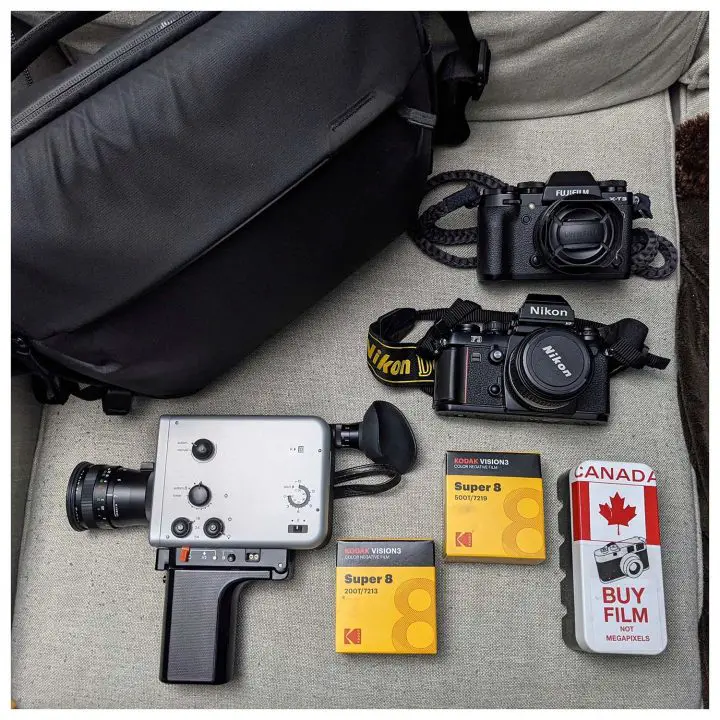 The rest of the items in the photo are:
– Peak Design bag –

 
I really like this bag as it is pretty discreet looking, has enough storage space for my needs and keeps the camera gear easily accessible.
– Nikon F3 w/ 28mm f2.8 –
This has been my main carry camera setup for the past while.  
– Fuji XT-3 w/ 35mm f1.4 –
I love this camera and lens. It's easy enough to use when the need arises for someone else to take the photo and I love the look of the photos that come out of this package
– Film!! –
I have 2 cartridges of Kodak super 8mm film. Each cartridge is 50 feet of film. At 18 frames per second, that will give me just over 3 minutes of footage…. It's not cheap but it's something I always wanted to try. 
The 35mm film container has a mix of HP5, Portra and tri-x. Pretty standard stuff. 
– not pictured-

 
The bag also contains spare batteries for the camera, the on camera flash for the XT-3, and usually a Fujifilm 50mm lens wrapped in a cloth for the XT-3. It makes for a great portrait lens and I love the results.
Thank you again for letting me share my bag and gear. I'm excited for what the future holds and I hope to keep capturing it with these tools that I love.
Jay Daelo
Keep them coming folks, we need more submissions, so get your bag on Japancamerahunter.com
Send me a high resolution image of the bag. Optimum size is 1500px across. Please ensure there is a bag in the shot, unless you don't use one. The more you can write about yourself the better, make it appealing and tell us a story. Snapshots of your gear with a camera phone and no words will not be featured.
Oh and don't forget your contact details (twitter, flickr, tumbler et al). Send the bag shots here. Not all make the cut, so make sure yours is funny/interesting/quirky. And please make sure the shot is of good quality, you are a photographer after all. 
Cheers
JCH