JCH Reviews: Artisan & Artist
I don't often do reviews, but when Artisan & Astist asked me to take one of their new bags and strap for a spin I couldn't really refuse. I used to work with these bags and I had not used on for some time. Come and read my thoughts on their latest offerings.

I have to admit, when I set out to do this review I was in a difficult position. I needed a new daily walk-around bag. My Trusty Domke had finally given up the ghost after 4 solid years of almost daily use. But, I liked my domke, so I was just going to go out and get another. I wasn't looking for something new.
Then A&A contacted me and asked me to try out their latest offering, the RRN-01C and tell them what I thought. At first I was conflicted. Whilst I like getting a new bag and this is a very nice bag indeed, it wasn't my Domke and I unfairly judged the A&A against it.
I was picky and didn't like the opening of the bag, found the strap to be annoying, didn't like the feel of it and was a general grump about the whole thing.
And then I actually used the bag and wore it for a while. During this time I travelled abroad with this bag and this is when suddenly everything slotted into place.
The RRN-01C has a silly name, but it has a wonderful feel. I have slowly but surely fallen in love with this bag. It is well made, using leather and nylon, so I know it is going to last a long time. It is also slightly weatherproof, as the nylon is water repellant, which is very suitable for Tokyo weather.
But what really sets this bag apart is the strap. You remember, the one I moaned about? Yes, well I actually love it. This bag uses the Easy Slider strap system and it is a wonder. Once you have got the hang of it you can completely adjust the length of the strap using only one hand. This is a godsend for a traveller as you are often in different situations that need your bag to be placed differently. Now I don't need to fiddle around with a buckle, fantastic.
The interior fits everything that I need to travel…My MP, film case, passport and tickets, wallet, and a few bits and pieces. It has a zippered pocket on the backside of the bag too, which means I can stash my passport and don't worry about it falling out as I run for the plane ("paging Mr. CameraHunter to gate 143").
But the best bit is, this is a presentable bag without it obviously being a camera bag. It doesn't scream "I am full of cameras, please steal me". The design is simple and clean, without any difficult (or noisy) velcro to distract you. It doesn't have branding all over it. Just pure and clean lines and simple colour. This particularly suits me as it is black and red, just like the site.
So, once I got over my old bag, I have found a new love. This bag is going to be with me every day for a good long time. I have already become quite comfortable with it. If I could find one fault with it, it would be the price. At around the equivalent of $225 it is far from cheap. It is almost double the price of my old bag in fact. But then looking at this bag, it is designed with the Leica owner in mind, so shelling out a couple of Benjamin's for a bag when you have already dropped a few K for the camera is not really a concern.
Despite this, the bag gets a definite thumbs up from JCH.
You can read more about the bag here.
http://www.artisan-n-artist.com/products_details.php?id=271
*Billy Mays voice* But wait! There is more!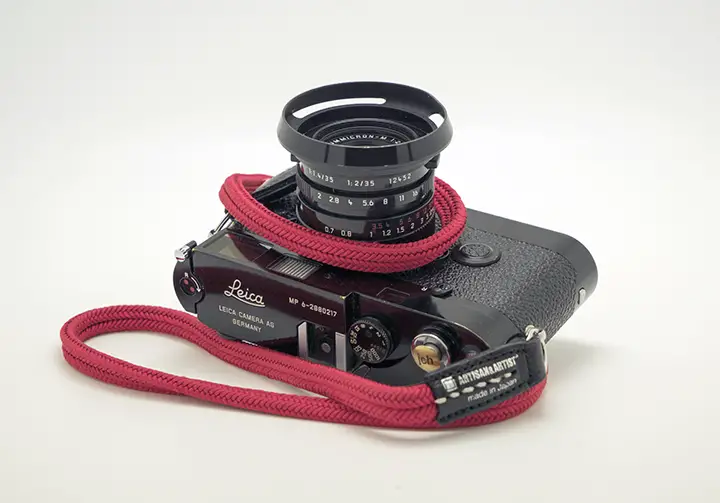 I didn't just get a bag. I got a strap too. And a very fancy strap it is.
I was given a new ACAM-310 strap to stick on the Leica. This is almost the same as the other straps that A&A is well known for, but this is a slightly wider version. The flatter silk cord strap grips a bit better than the older straps and doesn't dig into your neck quite as much (though I do prefer straps with a neck pad).
It looks very spiffy too, the red is very striking and certainly stands out.
There is not really a lot I can say though, it is a strap and it does what a strap does. I change mine so often that I barely get the chance to use one for long. I can envisage this as a good summer strap. Easy to wear on the neck or wrap around the wrist. And the silk with stay fresh too, bonus.
You can read more about the strap here
http://www.artisan-n-artist.com/products_details.php?id=272
All in all I do quite like these products. Though I realise they are not for everyone, I find them to be a good addition to my kit, and if I was walking into a nice venue or important meeting I would feel confident with them on my person.
You can find out more on A&A and where you can get their gear through the store locator on their site:
http://www.artisan-n-artist.com/store_locator.php
I quite like reviewing things. If you have something that you want to see reviewed on JCH drop me a line by clicking here.
Cheers
JCH