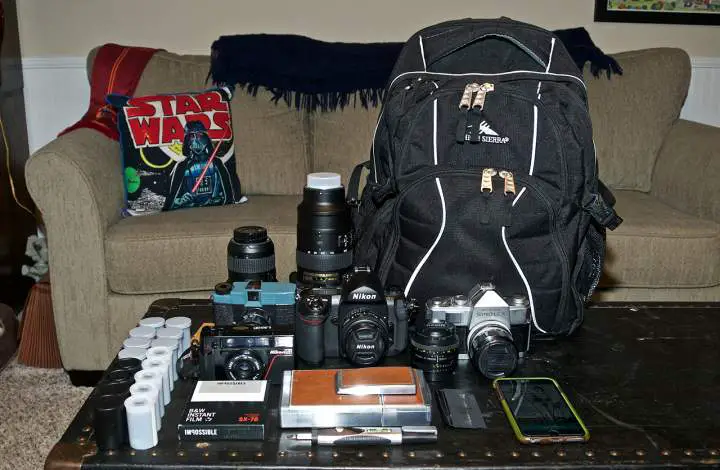 In your bag No: 1487 – Devon Salyer
Devon packs a whole load of gear into his bag, so much in fact that he might want to chuck that awesome Star Wars pillow in the bag too as he will need a lie down after lugging this lot.
My name is Devon and I'm an event photographer/videographer in Huntsville, Alabama. I usually travel to see my parents in Florida or for business, so my backpack is always full to the brim with cameras and film.
What's in my bag
Nikon L35AF
It's my fave camera I've used so far. It's small, easy to carry, and takes stellar photos for a 34 year old camera. It's the camera I never leave home without.
Nikon F6
I received this camera for my birthday one year and it's been a staple ever since then. I like it because I can use my newer Nikkor lenses on it along with some of my older lenses.
Nikon 16-35mm G
This is my standard wide zoom.
Nikon 28mm AF-D
This is the lens that I use for 70% of my shots with my Nikon 35mm SLRs. It's wide, versatile, and small to carry around. I can use it on almost all of my Nikons.
Nikon 70-200 VRII
This is my workhorse lens that I use when shooting street or portraits. I use it on my N80, F6, or D700
Tru-View Camera
Before the Holga had come into existence, this Tru-View camera was around, taking awesome photos. Basically, it's a Diana clone. It's my toy camera of choice!
Ricoh Singlex
This is a bare-boned, basic, mechanical camera. It's paired with a Rokinon 55mm lens. I just finished shooting this camera this week, so it'll probably be taken out of the bag.
Polaroid SX-70
I own over 150 cameras so I was challenged to try them all. I'm doing a "challenge" of shooting a different camera a week and am reporting my findings. This is week 9's project.
Impossible Project "Frog Tongue"
So, the new Impossible film is more sensitive than the older Polaroid film its modeled off of. To try and get some photos to turn out, I got this little guy to attach to my SX-70 to block out the light once the film has been exposed.
Various films
Gotta have film to take photos with! Unfortunately, I need to restock my supply of 120 film. I used the last of it on my Tru-View. I'm a fan of Fuji Velvia, Lomography 400 Color Film, Kodak Porta, Kodak Ektar, and the Ilford Delta series.
Screwdriver
I pick these things up at trade shows all the time. This one has a bunch of attachable heads, a level, and a LED light.
iPhone
I use this only for my manual cameras without a meter. I have the Lux app that works well for me as a light meter.
Honorable Mention: Nikon D700 (Not shown as I used it to take this photo)
This guy sometimes gets to go on trips, but I've mostly stopped taking photos with my digital. I'm sticking to film this year as I find film to be more challenging and more rewarding.
Thanks for sharing your bag with us, Devon. I am digging that pillow.
Keep them coming folks, we need more submissions, so get your bag on Japancamerahunter.com
Send me a high resolution image of the bag. Optimum size is 1500px across. Please ensure there is a bag in the shot, unless you don't use one. The more you can write about yourself the better, make it appealing and tell us a story. Snapshots of your gear with a camera phone and no words will not be featured.
Oh and don't forget your contact details (twitter, flickr, tumbler et al). Send the bag shots here. Please understand that there is a long wait now as there is a backlog of submissions. Not all make the cut, so make sure yours is funny/interesting/quirky. And please make sure the shot is of good quality, as the ones that are not do not go up.
Cheers
Japancamerahunter