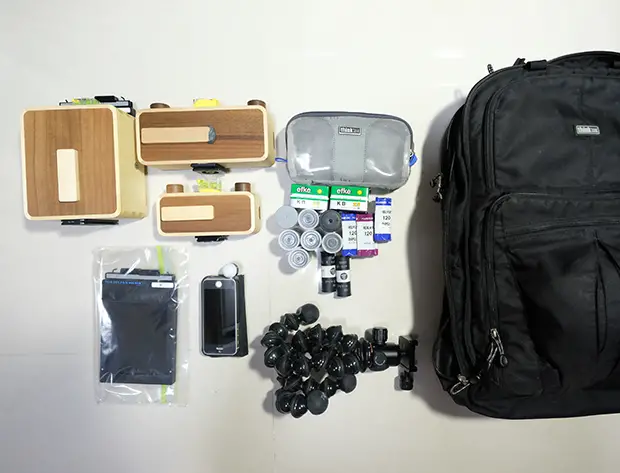 In your bag 1016, Jansen Tang
I think Jansen has probably got the most pinhole cameras I have ever seen in one bag. Check them out.

My name is Jansen Tang, a travel and landscape photographer based in Singapore. Like most photographers, I have multiple camera bags for a variety of occasions, and as I recently developed a photographic fetish for wooden pinhole cameras, I thought I would feature something unique just for the fun of it.
Not too long ago, I funded ONDU (http://ondu.si) on their Kickstarter endeavour to make wooden pinhole cameras widely available around the world, and got a medium format version for my contribution. It shoots 120mm film in 6×6, 6×9 and 6×12 formats. I got myself the Lumu light metering device (http://www.lu.mu/) also via the Kickstarter channel.
I had so much fun that I decided to embark on my "larger than full frame" collection and ordered the 135 Pano and 4×5″ versions as well. Though I started photography some 5 years ago using a variety of digital bodies, I soon realised that film photography helped my appreciate the art even more. I develop my own film now (B&W, C41, E6 and Caffenol); it is a truly immersive process.
Anyway, in my Think Tank Photo Shapeshifter (chosen because of its many pouches) I have:
Cameras:
* Ondu 4×5 Large Format Pinhole Camera
* Ondu Multiformat
* Ondu 135 Pano (used in Pano mode)
Small bags:
Think Tank Photo PowerHouse Air (for film storage)
Film:
* 35mm – Assortment of B&W and color
* 120mm – Fujichrome Velvia, Fuji Reala 100, Lomography Purple 100-400, Ilford PanF Plus 50
* 4×5″ – Ilford Delta 100, Kodak Ektar 100 (in 4×5″ holder)
iPhone 5s + Lumu light metering device
Joby Gorillapod + ballhead
My pinhole creations can be found here: https://secure.flickr.com/photos/126325172@N08/
My other work here: http://jansentang.com
Twitter – https://twitter.com/jansentang
Thanks for sharing your bag with us Jansen. This is very cool.
Check out the links and make sure you come and comment.
Keep them coming folks, we need more submissions, so get your bag on Japancamerahunter.com. Send me a hi resolution image of the bag (please make sure it is horizontal, 720px across is optimal) and its contents, with some details about yourself and what you shoot. Oh and don't forget your contact details (twitter, flickr, tumbler et al). Send the bag shots here. Please understand that there is a long wait now as there is a backlog of submissions. Not all make the cut, so make sure yours is funny/interesting/quirky. And please make sure the shot is of good quality, as the ones that are not do not go up.
Cheers
Japancamerahunter