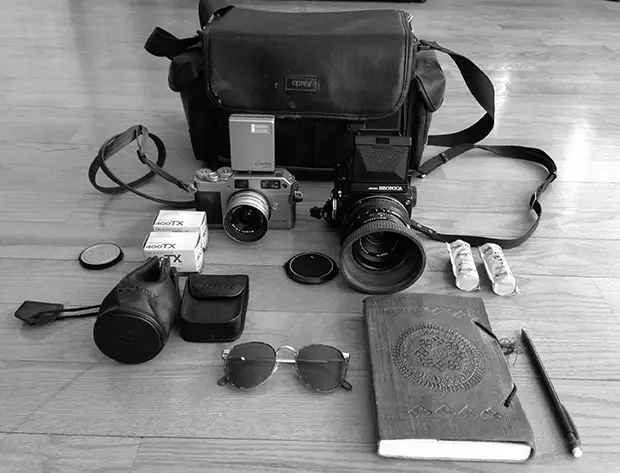 In your bag 784, William Lalonde
Up to the snowy streets of Ottawa today to check out the bag of young photographer William. A really simple bag for you all today.

My name is William Lalonde and I am a 19 year old amateur photographer from Canada's capital, Ottawa.
Firstly, I really appreciate what JCH does. I am an absolute fanatic about cool gear so I come to this site each day to see what people around the world shoot on/shoot about and thought that I'd send in my own. I take photos of people on the street because I love capturing the essence of emotions, but I also like to shoot architecture and a little bit of portraits which I am focusing on now because it's too darn cold to shoot outside.
Recently I set up my own darkroom, so a large majority of my recent work is in black and white which I have come to prefer much more over color. I was introduced to photography (in specific analog) during my first year of university in September of 2012 when I met my current girlfriend. I started shooting and figured that I wanted to take this a little more seriously to the point where I am now an accepted applicant to a college for photography starting in September of this year.
During this past summer, my good friend and fellow photographer took a 3 week back-packing trip in which we focused our efforts of traveling on documenting the streets and everything around it, and for that reason, it was the best trip I have ever been on.
Anyway, to my bag.
– An old optex camera bag, fits everything I have here just perfectly.
– Bronica ETRS with a Zenzanon 75/2.8 and a waist level finder. This is my newest addition and I probably prefer it to any other camera I've shot with.
– Contax G1 with a CZ Biogon 28/2.8. This was the camera I bought for my trip this summer and I absolutely love the sharpness of the lens. The TLA140 flash is a new addition. The only downside is the tiny viewfinder!
– Kodak Tri-X 400. Both in 120mm and 35mm. To me, there is no better film on the market.
– A 3 year old broken iPhone 4. Probably the best digital camera I've ever used. (lacking any DSLR experience, but not opposed to it)
– Contax leather cases for the flash and lens.
– Sunglasses.
– A notebook for whenever an idea about anything comes to me. I have an atrocious memory so it comes in handy.
LINKS:
tumblr: http://williamlalonde.tumblr.com/
flickr: http://www.flickr.com/photos/93498463@N05/
Cheers,
William
Thanks for sharing your bag with us William, glad to hear you are getting into the darkroom thing.
Check out the links and make sure you come and comment.
Keep them coming folks, we need more submissions, so get your bag on Japancamerahunter.com. Send me a hi resolution image of the bag (please make sure it is horizontal) and its contents, with some details about yourself and what you shoot. Oh and don't forget your contact details (twitter, flickr, tumbler et al). Send the bag shots here. Please understand that there is a long wait now as there is a backlog of submissions. Not all make the cut, so make sure yours is funny/interesting/quirky. And please make sure the shot is of good quality, as the ones that are not do not go up.
Cheers
Japancamerahunter