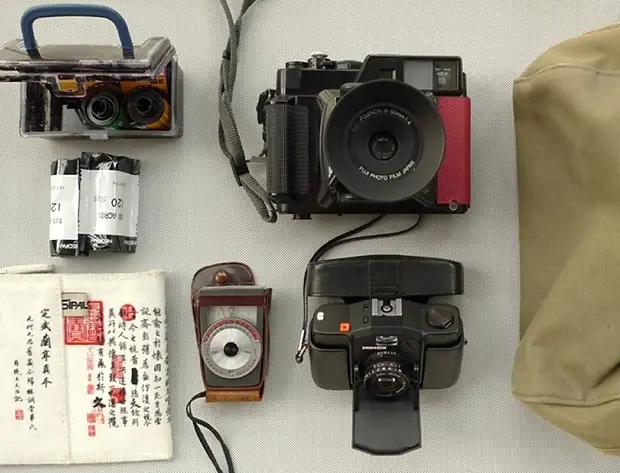 In your bag 785, Luca Gagno
Almost exactly a year ago, Luca was on the site with his bag (link), and now he is back, with two bags. Come and see the difference.

My name is Luca Gagno I'm Italian ex-pat based in Beijing since 1998.
This is my second "in my bag" after one year with some new combo.
I submit  2 bags, the daily combination and my holiday bag for the next trip.
As you can image the first problem  when you travel with family is optimize weight and keep quality.
In my opinion I found I lost more photo for a wrong film than for a wrong camera so this time I decide to choose something different
For "quality" photo  nothing better than a Rolleiflex 3.5F, high quality and reliable so no doubt about it.
But I don't have a Nepalese sherpa with me for carry on my leica M5, 50 mm Summicron plus a reflex with 2 other lenses (and don't forget the toys of my son!!).
So Contax T2 with 100 ASA film should be again for the second time the main 35 mm.
No need spend words for the zeiss lens of this camera.
Second body a canonet 17 for a  400 ASA push to 800. For me the lens of this rangefinder is a top lens, medium size body, medium weight, medium price, just the right compromise for a good travel camera.
Finally my compact olympus XA, spare body invisible in your bag,… just in case.
For street photo I'm not looking for 3D ultrasharp image but try catch the right moment and no doubt this 3 cameras produce high quality negative in every situation.
A Midori notebook, my old Capital lightmeter, a metal box with fuji acros 120 plus ilford pan 400 and fuji acros 100, my mobile for some digital "family shot" and some filter for Rolleiflex, all in one canvas Chinese bag be ready for go
Now I understand there's a huge group of Leica fans so for them pls don't consider this last part or don't split to me, it is the turn of the daily bag.
I have a Leica M5 with summicron 50/2 plus summaron 35/2.8 (so I'm a Leica addict too) but also a customized Fuji GS645S.
Both rangefinder, same size, same 35 mm lens same weight (may be Fuji lighter) so similar gear.
But the 6×4.5 negative in 120 mm are a steep above the results of my Leica lenses with 35 mm film so sorry but I consider the Fuji GS645S …. ouch, a Leica killer.
For compact camera this Minox 35 have a stellar lens but can't trust too much due the famous shutter problem so I prefer use this gem only around my home, when works it is a fantastic camera but stay 2 weeks in the desert only you and your Minox can be a nightmare every day you wake up.
Some fuji acros in a plastic box, a sekonic lightmeter and card from my Beijing Photo Club (in same case can help), all fit perfect in a second hand Chinese military medical bag.
I have some web site too, the Beijing camerastyle inspired by Tokyo camerastyle:
http://beijingcamerastyle.tumblr.com/
my daily life with some photo project on flickr:
http://www.flickr.com/photos/jacopo_2006/
and at the end my web site;
http://www.flickr.com/photos/jacopo_2006/
Thanks for your space.
Luca
Thanks for sharing your bag, Luca. It is nice to see the changes.
Check out the links and make sure you come and comment.
Keep them coming folks, we need more submissions, so get your bag on Japancamerahunter.com. Send me a hi resolution image of the bag (please make sure it is horizontal) and its contents, with some details about yourself and what you shoot. Oh and don't forget your contact details (twitter, flickr, tumbler et al). Send the bag shots here. Please understand that there is a long wait now as there is a backlog of submissions. Not all make the cut, so make sure yours is funny/interesting/quirky. And please make sure the shot is of good quality, as the ones that are not do not go up.
Cheers
Japancamerahunter