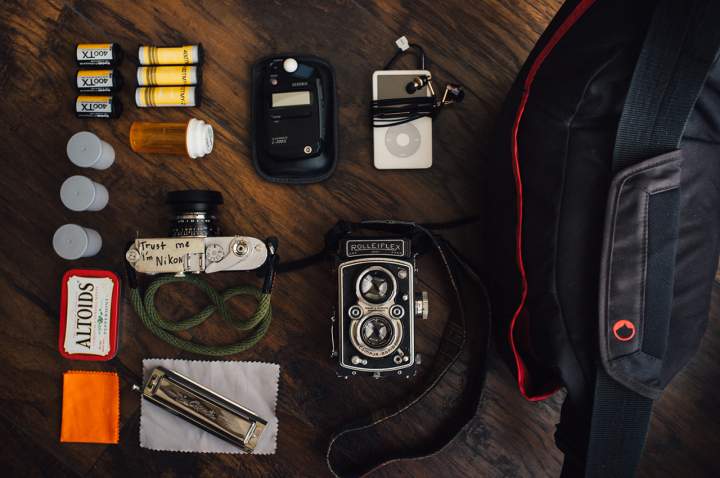 In your bag No: 1485 – Phu Dang
Today we have a lovely bag for you. Some classic gear (including a classic i-Pod) and a harmonica, what else could you possibly need? Check it out.
My name's Phu Dang and I'm an International college student, currently based in Dallas, Texas. My hometown back then was Ho Chi Minh city, or so-called Saigon, where the seed of my enthusiasm for photography was planted.
I started photography back in 2013 after graduated high school, using every penny I saved for a used Nikon D80, which was $300 (I could survive through the summer with only half of that). After years with many upgrades but still can't find the trail's end, I found myself given a Nikon FM2 by my uncle. I completely fell for it.
Born and raised in the city's heart, I grew up with skyscrapers, building lights, traffics, pollution, street cultures… as a part of my "natural environment". Immagine if you see me locked in a zoo cage, the board would write "from Indochina's urban jungles". Saigon is the most complex, diverse, and inspiring place I have and will ever been too. I found my passion for such urban thing, adore it, and decided to capture its features.
Let's get back to the present. Every two weeks I would catch a train head to downtown Dallas, walk down the Main street, seek for the moments through my lenses. Carry on by my side is a Lowepro Passport Sling bag with these items:
– Rolleiflex K4B2
– Voigtlander 2.5/35 attached on a Leica M2
– Sekonic L-308S Light Meter
– Couple rolls of 120 Kodak Tri-X 400
– Couple rolls of 135 Kodak T-Max 400
– Apple Classic iPod gen 5th
– Mint candy, wipes, and a chromatic harmonica
Influenced by Diane Arbus, I often ask people I found "unique" on the street for their portraits. After a nod of the head, I will pull out my Rolleiflex, measure the light using the Sekonic, frame, focus, and click. Before the Rollei I used to do it with a Hasselblad 500cm and a 50mm lens. People often attracted by the Hassy look and easily let me take their photo, thank to their curious. But Hassel is not much a suitable camera on the street because of its inconvenience. A Rollei with ⅓ weight does a better job.
However, most of the time you will see me with an M2 hanging on my shoulder, from the streets to the campus halls. I don't think a Leica would make you a better photographer or give your photos a better quality. Possibly they would sometimes, I've heard of "Leica's glow". But at the end of the day we can't distinguish whether a photo was taken by a Leica or a Minolta.
I think the same reason we all have to pursuit Leica is, the inspirational history behind it. Henri Bresson, Josef Koudelka, Garry Winogrand, Dennis Stock, and so on… Among them, I was influenced by Nick Ut, who shot The Terror Of War, or the Napalm Girl. In 1972, he was at my age, using his Leica M2 captured a Pulitzer award photo that changed many people's perspectives on the Vietnam war.
Another reason is M2 is the only Leica I can afford.
In my bag you can also find a box of peppermint candy, which I use to begin a little chit-chat with people on the street before I shoot them (I mean take their photo). My harmonica serves the same purpose, and entertaining too. The medicine container perfectly fits one 120 film roll, as I don't want to tape of lick a finished roll. The iPod which has 2400 songs also helps me prevent boredom, and ignore "scary strangers" sometimes, just put the earphones on and walk in peace.
What is the purpose of the tape on the M2's plate you concern? It helps to avoid burglar. So far so good.
Tới đây là hết!
Thank you all.
Phu Dang
Thanks for sharing your bag with us, Phu Dang. That medicine container trick is pretty cool.
Keep them coming folks, we need more submissions, so get your bag on Japancamerahunter.com
Send me a high resolution image of the bag. Optimum size is 1500px across. Please ensure there is a bag in the shot, unless you don't use one. The more you can write about yourself the better, make it appealing and tell us a story. Snapshots of your gear with a camera phone and no words will not be featured.
Oh and don't forget your contact details (twitter, flickr, tumbler et al). Send the bag shots here. Please understand that there is a long wait now as there is a backlog of submissions. Not all make the cut, so make sure yours is funny/interesting/quirky. And please make sure the shot is of good quality, as the ones that are not do not go up.
Cheers
Japancamerahunter