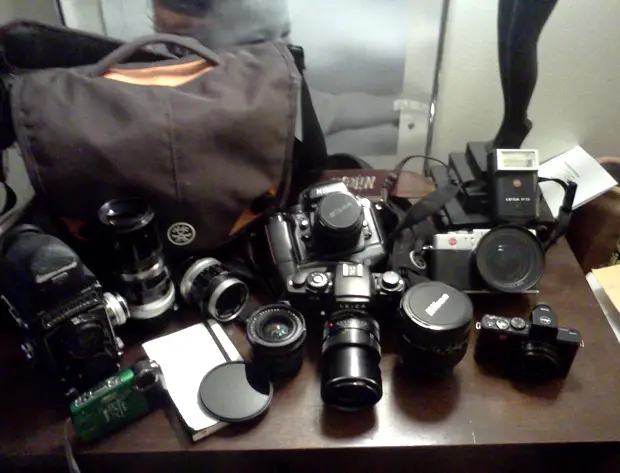 In your bag number 72, Blake Billings
Today we are featuring the bag of a true 'Deep South' photographer, Mr. Blake Billings. Lets have a look see what this Memphis based photographer carries around in his bag…

Ok, working left to right… when working, most of these are strapped around my neck…. or in my Crumpler Five Million Dollar bag that was a birthday present last year from a mentor….
Fuji Finepix xp30, it's a great camera because it's waterproof, shockproof, and has a gps… great system for basic urban explorations…. Images from it are really quite pleasing, but the battery life sucks….
Rolleiflex T (On loan from my favorite uncle) ~ usually carried to weddings or a casual photo walk…
Moleskin ~ gotta write some stuff down…
Nikon 200mm lens (fresh Christmas present)
Leica 24mm Elmarit-R f2.8 ~ I still have a foot in film and shoot about 50% between my Leica and Nikon film gear ~ this is an extraordinary street lens…
Leica R5 with Crumpler strap, 90mm Elmarit-R f2.8 ~ always set to aperture mode… one of the most amazing cameras I've ever had, my 40th birthday present to myself.
Nikon F4s ~ I was trying to get a little less reliant on film, but when I saw this at an estate sale with the 24-120 lens for $165, I could not resist… It's a camera I've wanted for 20 years… 50/1.8 lens mounted…
Leica Digilux 2 with SF-20 flash mounted, this is my wedding workhorse… Awesome lens F2.0 28-90 and who really needs more than that for shooting a wedding?
Leica D-Lux 4 w/ 24mm finder ~ my newest piece of gear, this was a Christmas present from my father. I carried it to a wedding a few days later and it's threatening to replace the digilux 2 ~ it's light, it's got awesome low light response, 24-60mm lens, still need a case and a grip… am thinking Artisan and Artist or a JapanCameraHunter silk
strap…
Other things you may find in my bag at any given time: copious rolls of film, pain pills, batteries, a phone charger… an infrared filter for the digilux… I think I've about outgrown this bag and need either a bigger or second bag….
A bit about me:
My specialties include wedding photography, music photography, fashion photography, nature and travel photography, and fine art photography.
Blake's unique vision of southern music and his access to many musicians drives his unique style of creating images. Memphis is about music – real music, not the synthesized pabulum that is fed to the masses as the junk you hear on the radio every day. Blake's portrait photography reflects this vision. His work shows a dystopian southern gothic tradition reminiscent of Styron, Harper Lee, Faulkner, Eudora Welty, and other southern icons. A booze fueled southern landscape marred by a century of neglect,
southern sun, and tension of day to day life.
Memphis is about the smoke, drugs, noise, and lifestyle that is a part of the musicians' life. There are many musicians in all phases of their career – big stars at the top of their game, unknowns playing gigs in dives every night waiting to be discovered and fallen rock stars who used to be somebodies. You find them everywhere in town.
Memphis is a city crawling with character. You will find the night illuminated by Beale Street. By daylight, the neon glow fades to reveal a troubled city in the process of a post apocalyptic decay brought on by the heat, the tensions in the community, and the Mississippi river.
Our city is fueled by a dirty, funky beat of Stax, Sun, and Hi records. This city is the canvas for his art. Many days will find him strolling around decrepit neighborhoods with cameras in tow – the every day activity of our residents may seem mundane to the natives, but to an outsider, there lies a compelling story of poverty, hustle, hope and religion.
Blake specializes in fine art photography and has published 6 books to date.
"I consider Blake, "My friend from Memphis". Our conversations, as well as his photographs, are about music, mostly the blues, and a life, that I consider southern. What is "southern" vision?? As a northerner, I find the light, and life, to be different below the Mason – Dixon. Listen to Blake talk about Beale Street or his hometown Memphis. Fashion? No. No nonsense. Just straight up like a good bourbon. Blake has a tenacity to keep going, to find that rare oddity and the more common features of his hometown and present them in a way that is fresh, real. No propaganda. Just take a look around and enjoy. Smell the barbeque. Listen. You're not in Kansas anymore." ~ Keith Goldstein
My works have appeared in numerous publications and galleries including:Mad Magazine, Eye Magazine, The Commercial Appeal, The
Memphis Business Journal, Christian Science Monitor, Fox 13 Memphis, WKNO Art Auction, Orpheum Theater Annual Auction, Memphis Blues Society, Neil's, Harrington Brown Gallery and others.
Partial Client List: Morgan Freeman, B.B. King, The Blue Angels,Van Morrison, The Temptations, Jackie Collins, Bob Dylan, Joan Baez, Fishbone, Dave Matthews Band, Iman, George Clinton, Mavis Staples, Jim Dandy, Ben Cauley, Marvel Thomas, The Bo Keys, Matt Bomar, Willie Hall, Popa Chubby, Robert Belfour, Hubert Sumlin, Eddie Floyd, Sharde Turner and the Rising Star Fife and Drum Orchestra, the Memphis Symphony, Koko Taylor, The Temptations, Eric Gales, The Memphis Blues Society, Leo Goff, Phillip Dale Durham, Brad Webb, The Eric Hughes Band, Reba Russell, Richard Johnston, Skip Pitts, The Zippin Pippins, 4 Non Blondes, William Bell, Sid Selvidge, Al Kapone, numerous Beale Street blues musicians, Al Green, Jerry Lee Lewis, Lisa Loeb, Bob Margolin, Blues Traveler and many others.
Wow! Now that is a description and a half. I love it. Thanks for sharing this bag with us Blake.
Keep them coming folks, we need more submissions, so get your bag on Japancamerahunter.com. Send me a hi resolution image of the bag (please make sure it is horizontal) and its contents, with some details about yourself and what you shoot. Oh and don't forget your contact details (twitter, flickr, tumbler et al). Send the bag shots here.
Cheers
Japancamerahunter