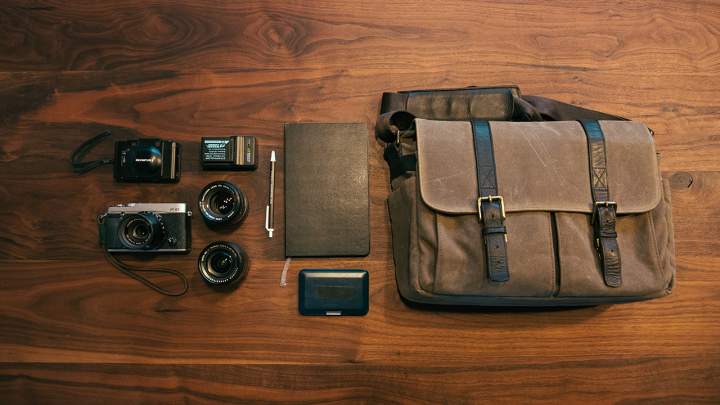 In your bag No: 1484 – Christopher Sturm
Today we have a very simple bag. A little old and a little new, Christopher shares his gear from the streets of Oakland in California. Check it out.
Here is what's in my bag:
My main camera is my Fuji XE-1. Now I know its over four years old, but this camera hits every mark for me. Amazing image quality, light, small, quiet, and intuitive. It will be upgraded to a Fuji X-Pro2 in the next few months, at which point it will serve as a backup. I have shot a ton of professional commercial and personal work with it since I got it about two years ago. I don't leave home without it.
Mounted to the XE-1 is the Fuji XF 35mm f/2 R WR lens. This thing is brilliant. Sharp, fast, beautiful bokeh, light weight. Since receiving it, I haven't taken it off the camera much. Its good for almost everything. I also have the XF 18-55mm f/2.8-4 R LM OIS zoom which despite its label of "kit lens" is insanely sharp and incredibly useful. I use it for portraits, landscape, or whenever I need a little more space. Then theres my Canon/B&H 50mm f/1.4 S.S.C. that I purchased last year. This is a bokeh monster. Don't get me wrong, this thing is softer than a kitten wide open, but for portraits its gorgeous. Stopped down to 2.8 or 4 and its sharp as heck. Also heavy. I dropped this thing on my foot once. Yes there is a scar. No you can't see it.
My other essential camera is the Olympus XA. Clearly I'm into the rangefinder style of camera, and this little guy is almost perfect. Its tiny so it fits in my pants pocket. Its a true rangefinder with a bright accurate patch and an f/2.8 35mm lens. Its the perfect street shooter. I keep it loaded with Ektar or JCH Street Pan (shameless) and zone focus. Every frame is sharp and contrasty. I love this damn thing.
I carry an extra Wasabi Power NP-W126 or two along with the charger for my Fuji cuz it eats batteries if I'm shooting a lot. I also have my SD Wallet with a few Sandisk 16 and 32GB cards, though I rarely fill up a card unless I'm on a shoot, and even then, its rare. To round out my kit, I carry a Moleskine journal and ball point pen with my bands name on it (Unconditional Arms) from a promotion we did with Stumptown Coffee (we had our own coffee blend!) to write down settings, ideas, editing direction, film info, etc. These days I prefer to carry around a Field Notes notebook because of the size, but this just happened to be in my bag when I decided to submit.
Only things I usually have with me that aren't pictured are my WD Passport Ultra 1TB hard drive, my apple headphones (pre-wireless, obviously) and knit cap. The picture is just prettier without them.
My bigger kit is a ThinkTank Airport Commuter with everything here PLUS a Mamiya RB67 with 120 and polaroid backs, a bunch of 120 film (mostly Ektar, Portra 160, and Acros) three Yongnuo flashes and a transmitter, a Sekonic light meter, cable release, fold up reflector, and various other small things. I really prefer a simple setup, but most of my work is Medium Format and there are so many little trinkets that go with it.
You can find my work at ghostfotographics.com as well as @ghostfoto on Instagram. I also have a twitter that I post photo related stuff too as well, but its mostly devolved into me complaining about how awful the US Government is right now. You can follow me at UA_Chris. I am based out of the San Francisco Bay Area, living in Oakland. I work as a photo assistant/photographer for a small creative agency, John McNeil Studio in Berkeley.
If you're interested in checking my band out, you can find us on Spotify or Apple Music under Unconditional Arms. We are influenced by/get compared to Explosions in the Sky, This Will Destroy You, Toe, Mogwai, Godspeed You! Black Emperor, etc.
Thanks for sahring your bag with us, Christopher. I shall be sure to check out the band.
Keep them coming folks, we need more submissions, so get your bag on Japancamerahunter.com
Send me a high resolution image of the bag. Optimum size is 1500px across. Please ensure there is a bag in the shot, unless you don't use one. The more you can write about yourself the better, make it appealing and tell us a story. Snapshots of your gear with a camera phone and no words will not be featured.
Oh and don't forget your contact details (twitter, flickr, tumbler et al). Send the bag shots here. Please understand that there is a long wait now as there is a backlog of submissions. Not all make the cut, so make sure yours is funny/interesting/quirky. And please make sure the shot is of good quality, as the ones that are not do not go up.
Cheers
Japancamerahunter