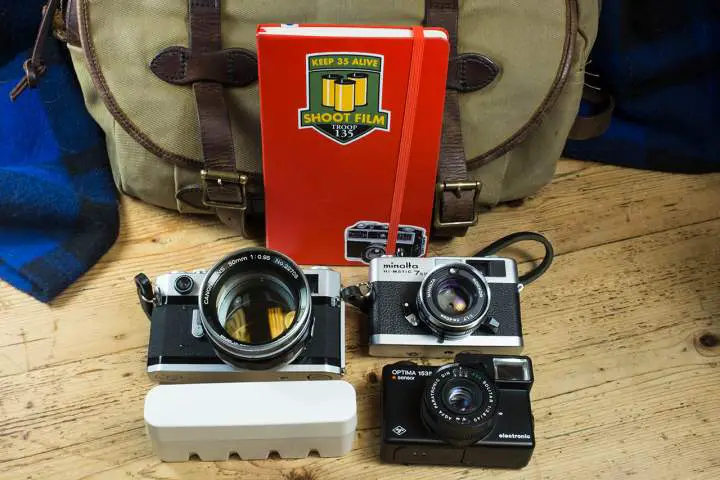 In your bag No: 1401, Paul Lovell
Paul not only has some cool cameras in this bag, but they constantly change. Paul has an ambitious project to shoot 50 different film cameras in a year. Come and see some of the gear he is using.
Hello. My name is Paul and I'm a recovering snapshot shooter …oops wrong meeting. I live in Seattle my first experience shooting film was in High School in the 1970's. I was going to Europe for the first time and a family friend lent me an old rangefinder. After a quick introduction to the sunny 16 rule and a lecture about how expensive film was and not to waste it, I was off. I don't remember having very much success. My next camera was a consumer grade Minolta SLR. More successful but not great. In the late '70s I moved to Japan and purchased, a then new, Canon A-1. Now we are getting somewhere! Back to the USA, off to University and not much time put the camera on a shelf with almost no use. It disappeared during a move after university.
The next 30 years were an under documented blur. I remained fascinated by cameras, specifically film cameras, and watched as they got pushed aside by digital. Over the years I have rescued several from garage sales, thrift shops and used departments at camera stores. Some working some not.
Last year I was cleaning out some storage and found a stash of 35mm film. Expired and improperly stored. I was about to throw it out but had the thought of running it through one of my old cameras just to see what would happen. What happened was I got hooked.
I don't consider myself a photographer, lack the skill and the training or a camera collector, lack the strategy and direction. But I wanted to mess with old cameras so I devised a plan, shoot 50 different film cameras in a year. Never mind I didn't have 50 cameras or know much about the ones I had. 
The content of my bag is constantly changing as I finish a roll with one camera, I add a new one. So there is always one, normally two and sometimes three or four in there.
The Bag: Filson Small Carry-On. This is a great bag that I have used as a laptop bag for years. I don't think Filson makes this one now. It is about the same as the Medium Field Bag that they do make, with the addition of a zipper close. I love the way Filson bags mellow with age, but you almost have to drag them behind the car to get them to look broken-in.
Moleskin note book festooned with film appropriate stickers. One from Shoot Film Co. and one I pick up on a trip to Tokyo.
Japan Cameral Hunter film case.
Canon 7Sz with the Canon 50mm 0.95 lens. What a chunk of glass. This has to be the heaviest combination I have shot so far. I have been trying to shoot the lens opened up to get the legendary dream look. Can't wait to see the results.
Minolta Hi-Matic 7SII. I have used several compact rangefinders for this project and this is one of my favorites. So nice in the hand and easy to focus.
Agfa Optima 1535 Sensor. Just loaded this camera. It is an odd shape but I like it. Looks like a toy camera but has the feel of being well made and designed.
Fifty did not seem unreasonable, when I decided to start this project, but it is proving to be harder than I thought, and more fun than I expected. I am documenting my project and posting my impressions of each camera and some of the photos as I go.
You are welcome to follow along as I explore but don't expect JCH quality expertise or results.
Paul
Thanks for sharing your bag with us, Paul. A really great project you have there.
Check out the links and please come and comment.
Keep them coming folks, we need more submissions, so get your bag on Japancamerahunter.com
Send me a high resolution image of the bag. Optimum size is 1500px across. Please ensure there is a bag in the shot, unless you don't use one. The more you can write about yourself the better, make it appealing and tell us a story. Snapshots of your gear with a camera phone and no words will not be featured.
Oh and don't forget your contact details (twitter, flickr, tumbler et al). Send the bag shots here. Please understand that there is a long wait now as there is a backlog of submissions. Not all make the cut, so make sure yours is funny/interesting/quirky. And please make sure the shot is of good quality, as the ones that are not do not go up.
Cheers
Japancamerahunter