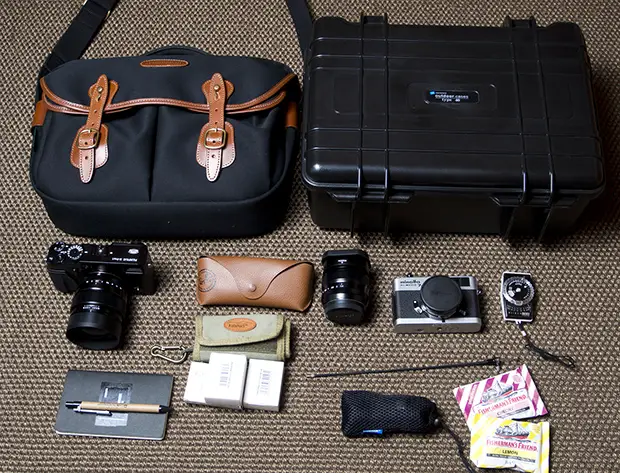 In your bag 916, Tim Heubeck
Tim is rather fond of two things. Fujinon lenses and very strong mints.

My name is Tim Heubeck and I am a amateur photographer based in Germany.
I have already been featured on JCH (link), but since my bag changed quite a lot I wanted to entry a new submission.
I still like to travel a lot and use these trips for several different things such as street photography, landscape, architecture,… But if I go out shooting here I mostly go for street stuff, which is what I like most.
Last year my bag was just a Hadley Large, X100s and some random things.
It has changed quite a bit. I first made the switch from the X100s tot he X Pro 1 and the 23mm lens, because I wanted the faster aperture of F1,4 in comparison to F2 and also the possibility to change lenses when needed. Then I bought the 60mm Fuji lens, which I did not like too much because of the slow auto focus. So I sold that and bought the 35mm lens. A backup Fuji Xe-1 is what I will buy pretty soon too. In order to create better quality video and just as a second camera.
Also new in my bag is a Minolta Hi Matic 7 SII. This is my first real film camera, since I am too young for having experienced film in the past. I cleaned and repaired it and now it runs perfectly. I usually carry some color and black and white film (mostly 200 and 400 speed). Film just lets you slow down and also has a positive impact on your digital photography. And some Fishermens Friend to keep refreshed.
The bag is a Hadley Pro and I also have a Hardcase whenever I need extra protection.
I usually do not carry a Laptop, just if needed for backups sometimes. My ipad and nexus 5 serve me well for most of the time.
Here is a summary of my camera bag:
– Fuji X-Pro 1
– (Fuji Xe-1)
– Fuji 23mm F1.4
– Fuji 35mm F1.4
– Minolta Hi-Matic 7 SII
– Couple of rolls of film
Lightmeter and cable release
– Ipad Mini with camera connection kit (not on the picture)
– Ray Ban sunglasses
– Nexus 5 (not on the picture)
– External batterie for charging on the go
– Spare batteries and memory cards for the camera
– Hadley Pro
– B+W Type 40 Hardcase
– Notebook
– Fishermen´s Friend
This represents my maximum kit, usually I do not go out with all this stuff.
For example when shooting on the street I just take the X-Pro 1 and the 23mm lens to keep things light.
Internet Links:
Website:http://timheubeck.com
Youtube:https://www.youtube.com/user/timheubeckphoto
Facebook:https://www.facebook.com/TimHeubeckPhotography
Instagram:www.instagram.com/timheubeck
Tumblr:http://timheubeck.tumblr.com
Thanks for reading
Cheers,
Tim
Thanks for sharing your bag with us Tim. An impressive Fuji haul.
Check out the links and make sure you come and comment.
Keep them coming folks, we need more submissions, so get your bag on Japancamerahunter.com. Send me a hi resolution image of the bag (please make sure it is horizontal) and its contents, with some details about yourself and what you shoot. Oh and don't forget your contact details (twitter, flickr, tumbler et al). Send the bag shots here. Please understand that there is a long wait now as there is a backlog of submissions. Not all make the cut, so make sure yours is funny/interesting/quirky. And please make sure the shot is of good quality, as the ones that are not do not go up.
Cheers
Japancamerahunter