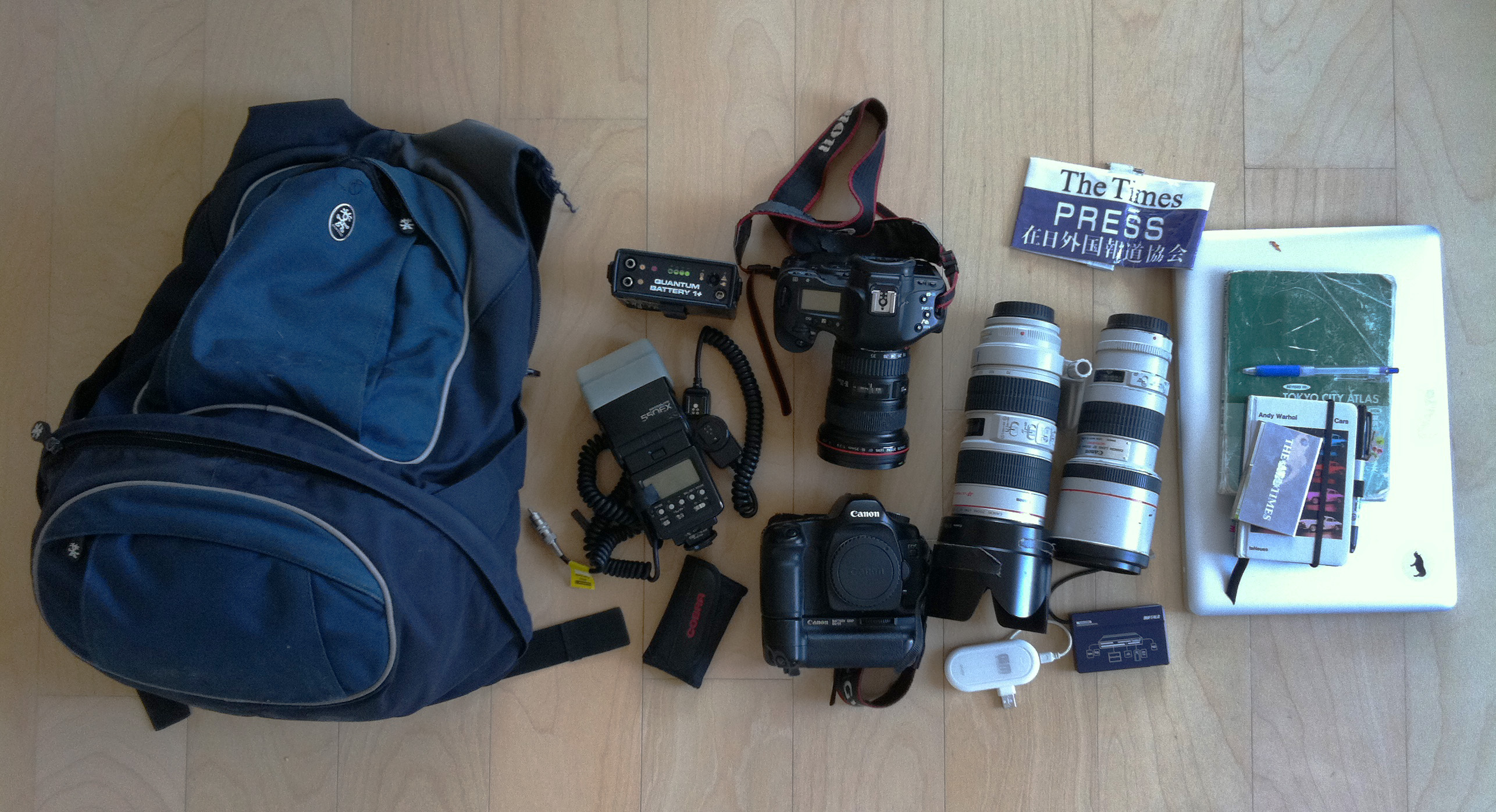 In your bag number 20, A very special guest…
See that? Up there? That is a Times Press badge…Which means we have a very special bag for you today. I am lucky enough to be able to show you the bag(s) of a genuine, highly published professional photographer, Mr. Jeremy Sutton-Hibbert.
Jeremy works as a photographer in Tokyo, Japan. With twenty years of experience his pictures have appeared in magazines and newspapers the world over, such as The Times, The Guardian, New York Times, Time, National Geographic, Marie Claire, Le Figaro, and many many others. For the last 12 years he has been one of the principle photographers for Greenpeace International. He has been the recipient of awards and his work has been exhibited internationally.
We are extremely lucky to be able to take a peek into Jeremy's bags, so lets have a look….Over to you Jeremy.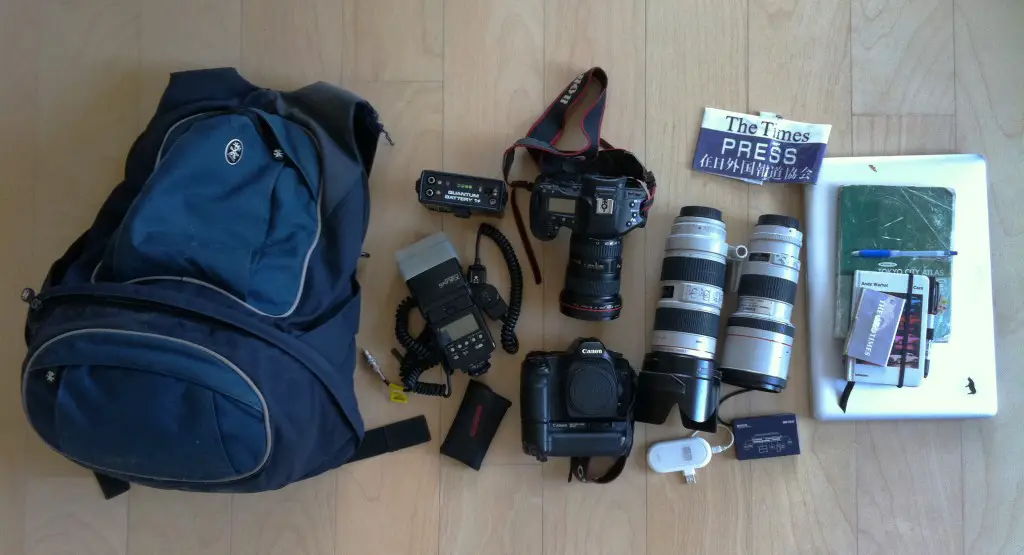 My Crumpler bag is my day-to-day assignment bag. Used most of the time for my editorial/corporate/reportage type assignments. Within it I'd carry any variety of the below equipment. I really like to travel as light as possible, and if this means missing a picture sometimes as I don't have the right gear with me then that is fine. For every picture I miss, I gain a few others by travelling light. What I carry, and what I carry it in, really depends on the assignment, my mood, and how far I'm going.
If I'm on deadline then I'd carry the laptop and card reader, and modem. If not then it stays at the office. The Quantum and Canon flash, depending on the assignment I'd also leave this at the office. The 300mm, bought to cover Princess Diana's funeral, only comes out depending on the assignment also, as does the USB modem etc. I try to strip down the bag to as light as possible every time.
The one missing feature on this bag is an outside open pocket to slip a bottle of water into it. A big oversight.
Bag: Crumpler Farmer's Double L
Canon 1D Mk3
Canon 5D
Canon 70-200mm f2.8 Image Stabilizer
Canon 16-35mm f2.8
Canon 1.4 converter (not pictured)
Canon 300mm F4
Canon 550 EX flash
Canon Off-camera extension cable
Quantum flash battery 1+
E-Mobile USD modem
Pack of CF flash cards
Tokyo street atlas
Notepad (I have all my notepads, going back for years..)
Business cards
MacBook Pro 15″
CF card reader
If it is a lit portrait which is required on assignment then the Canons go into my big Tenba bag, along with my Elinchrom Ranger light, and umbrella etc. I have a large, long Manfrotto bag full of stands, clamps, umbrellas, background paper stands etc. Sometimes this gets dragged out also, or if it is a portrait in the street I'll do away with stands and get my assistant to hold the umbrella and light, thus save incurring the wrath of security or police by having a lighting stand set up as an obstacle in the street.
This Tenba bag is also the one I'd use when going on planes, when I need to carry cameras and laptop etc, to go to a foreign assignment. But this would be without the Elinchrom light obviously, although it has been done on occasion (sweating and praying at check-in).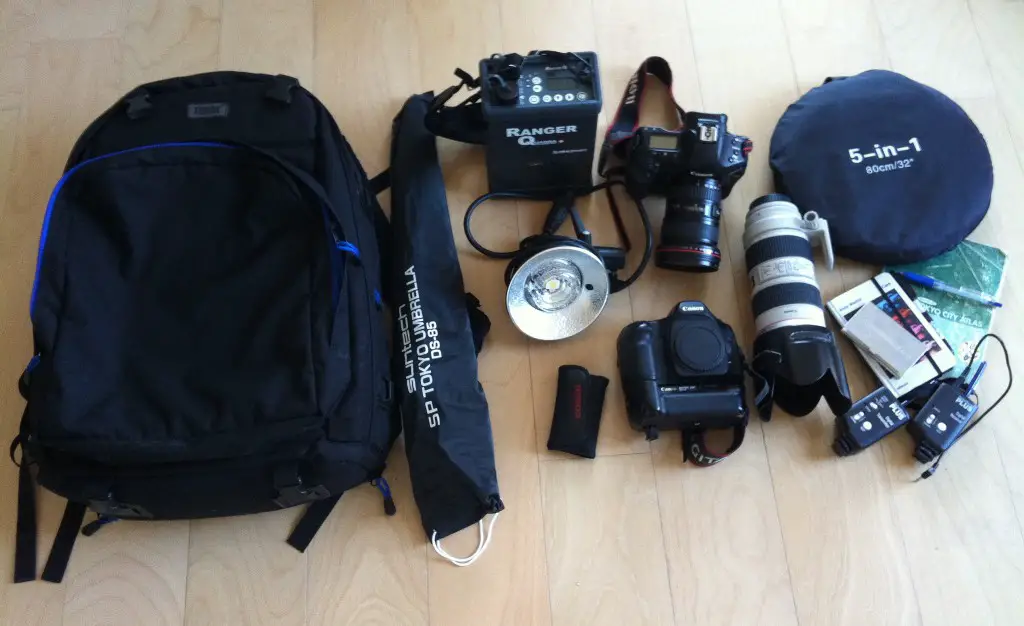 Tenba bag
Elinchrom Ranger Quadra + 's'-type head.
Suntech Umbrella 85cm, or variation of.
5-in-1 reflector 80cm
PocketWizard Plus receiver & transmitter
( and Another Manfrotto bag with light stands, background paper stands etc.)
My little Tenba occasionally gets an outing. It first went with me to Romania, where a few hours after arrival it was very carefully slit down one side by a bunch of thieves on a bus, who were trying to get inside it. Thankfully I noticed something was happening and the theft was thwarted. So down one side at the back it has a 4 inch incision, now sewn up with dental floss (strongest thread around).
This bag is used mainly when I'm shooting for myself, sometimes it'd carry one Canon and two lenses, sometimes my Leicas, or sometimes the Mamiya7. Depends what I'm shooting, and for whom.
The zip is also busted, so this bag is nearing the end of it's working life perhaps.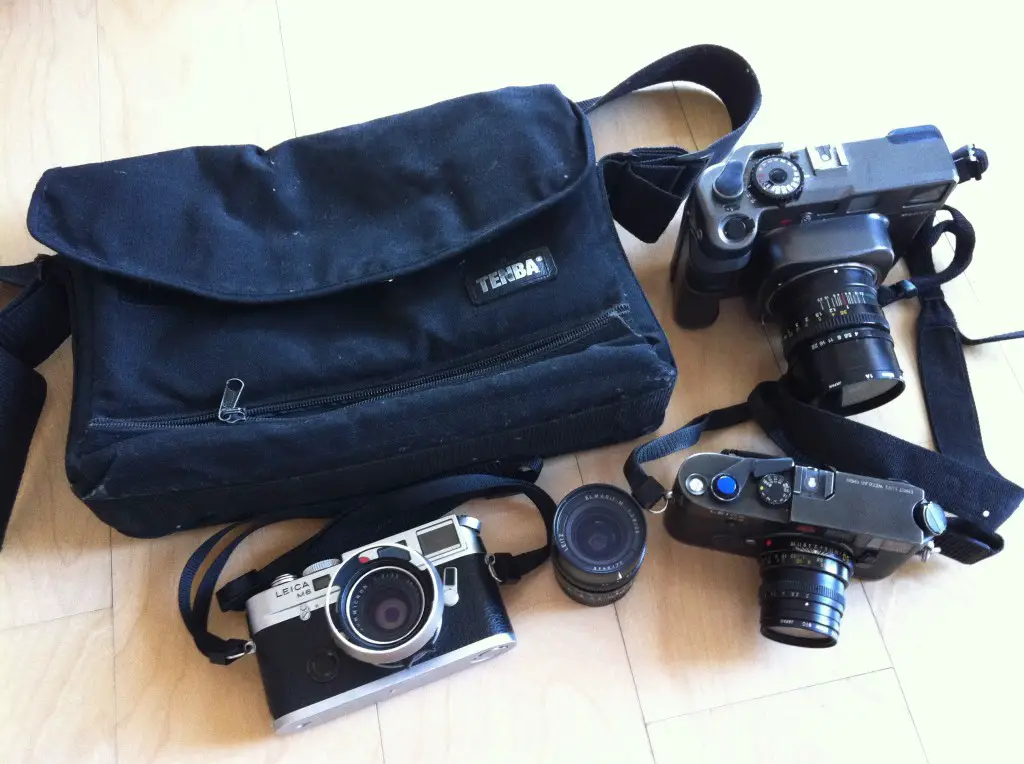 Tenba bag
Mamiya 7 and 65mm lens
Leica M6 TTL
Leica M6
Leica M4P (currently on loan to a colleague).
35mm f2 Summicron
28mm Elmarit f2.8
50mm f2 Summicron
I also have a variety of other bags- Sometime the a selection of the above kit would just get thrown in an anonymous looking general day-to-day Karrimor back pack, either for lightness or as I'm shooting somewhere where i don't wish to stand out as a photographer so much. There's a blue much loved Domke (F2 I think is it's name) which I've given up using as I find over one shoulder type bags aren't good for the back or for moving around, now I much prefer a rucksack two-strap variety. I have a waterproof Orteg (bike messenger) bag for assignments at sea and on boats. And two Pelican 1550 cases which I used to use for transiting to ship assignments abroad, when the luggage would go in the plane hold, now I prefer to carry as much as possible in the large Tenba. And a variety of other cameras….the list goes on…
Website is here
Twitter
Facebook Page
A massive thanks to Jeremy for sharing his bags with us, it is great to see work and pleasure bags side by side. You can see how practical all of these set-ups are. It is a real pleasure to have these bags on here.
Keep them coming folks, we need more submissions, so get your bag on Japancamerahunter.com. Send me a hi resolution image of the bag (please make sure it is horizontal) and its contents, with some details about yourself and what you shoot. Oh and don't forget your contact details (twitter, flickr, tumbler et al).
Cheers
Japancamerahunter