In your bag number 63, Jeremy Pangilinan
Another lovely day in Japancamerahunter land, because we have another lovely bag for you. So, without too much of a kerfuffle I shall let Jeremy talk about his fantastic bags….

Hello!
Thanks for looking into my bag!
Let me start by introducing myself. My name is Jeremy Pangilinan and I am a working celebrity/fashion/commercial photographer here in Los Angeles. I've been thinking about sharing my bag with you and figured out that I mostly leave the house two ways. The first way is light and ready to go, which means I am on my Motorcycle. I carry this bag everyday. If I am going to the market, if I am hanging out with friends, or even if I have a nice lunch meeting with a art director/client this bag has all my needs in it for everyday use. I find that simply by having my Leica, I am ready for most things that happen in front of me.
I carry everything in a Banana Republic Camera Bag adorned with 2 Tokidoki pins. It has a main compartment with a zippered inner change pocket and an inner pocket that goes the height of the bag. There is also 2 outer pockets on both sides that give me some variety in how I stow my gear.
So let's talk about my gear.
My favorite camera is my Leica M6 super stealthy with a 50mm elmar-m and a Match Technical Thumbs Up and a little Lady Bug Bip, a great way to customize your leica/camera. This is the ultimate camera for the celeb photographer who wants to capture rich beautiful images on film. In tow is my 90mm Summicron Tank! It is super heavy duty but it sure creates beautiful portraits.
My next new favorite side kick companion is my Ricoh GRDiii. If you are in the mood to catch something in digital, this is the way to go. Super customizable, great image quality, super portable, and I love it!
And lastly, is my very first exposure to photography… the ever cool Polaroid SX-70. My parents introduced me to photography and this is how they did it. This camera brings excellent memories of my childhood and I love that I am now shooting with the first camera I have ever seen.
I carry a ton of tid bits in my bag and I would love to share why they are in there…starting at the right:
I have both my cameras wrapped in pouches, so the black quilted one is for the GRDiii and the silk floral is for the Leica. I love both these pouches because they offer protection without much bulk. Above that, is my Gerber Multi Pliers. They are the D.E.T. versions with the stealthy non reflective black paint. I bring this around because sometimes when you are on a movie set or where ever having something that doesn't reflect light is handy. I always suggest for people to carry some sort of multi tool. This has saved my butt in many ways.
The next thing in my bag is that red pill container that I use to carry 2 rolls of 35mm film and batteries for my Leica. Above that are my Vmoda headphones in its black leather pouch. I tend to be an audio junky and these are fantastic sounding earphones really wonderful sound response with rich mids and amazing lows. I would love to wear some AKG cans but on my motorcycle it is pretty hard to store them somewhere. My buddy Shawn gave me that Manfrotto Modopocket camera pod that is awesome. Super skinny( think skinny enough to fit in a wallet ). Next to it is my Coach magnetic money clip that holds my ID and Cards. You'll also notice that I carry a few Promo cards. I love these items from Moo.Com. I typically order these promo cards with images and then all my contact details on the back. I'll also order my normal business cards from Moo also. I find them handy and very visual for my needs. They illustrate my talent/skill and communicate how to get a hold of me.
Next row above my business cards is that red pouch that I will carry yellow stickies on so I can post notes and stick it on things. These are very handy when I need to leave notes to people or need a scrap of paper. I will also carry my business cards in them also. I love to have lip balm with me all the time and my favorite is from Burt's Bees. One of my favorite writing tools is a simple Sharpie in ultra fine point. I feel Sharpies are a better photographers tool than a ball point. Some times ball points don't write well on certain surfaces but these Sharpies do!
I'll always carry my Moleskin with me because I tend to have hair brained thoughts all the time so I need to a place to write them. A very invaluable tool for my mind. My Pop Tarts container carries actual Pop Tarts. If anyone has ever carried Pop Tarts from one place to another, you know that they are slightly fragile. So it is nice to have a hard case for my power snack. I also carry Vitamin C drops. Can't get sick on the go so I always take care of myself. When I am on my Motorcycle, I love these Smith Talent Sunglasses. They give great coverage and protection.
And lastly, I have my trusty iPhone 4, my Swiss Army Maverick GS Chronograph Watch( gift from my lovely Girlfriend ), and of course the key to my motorcycle( this key will change all the time, I have a love of Cafe Racers and Sport Bikes).
Whoah!!!!! Thats a bunch of stuff. But you'll be amazed on how much that bag will carry. Which is funny because you couldn't tell from the outside of it.
Ok….. for my second bag, which is one of my go to work bags…..
I'll save some time and not do a repeat of the things you have already read……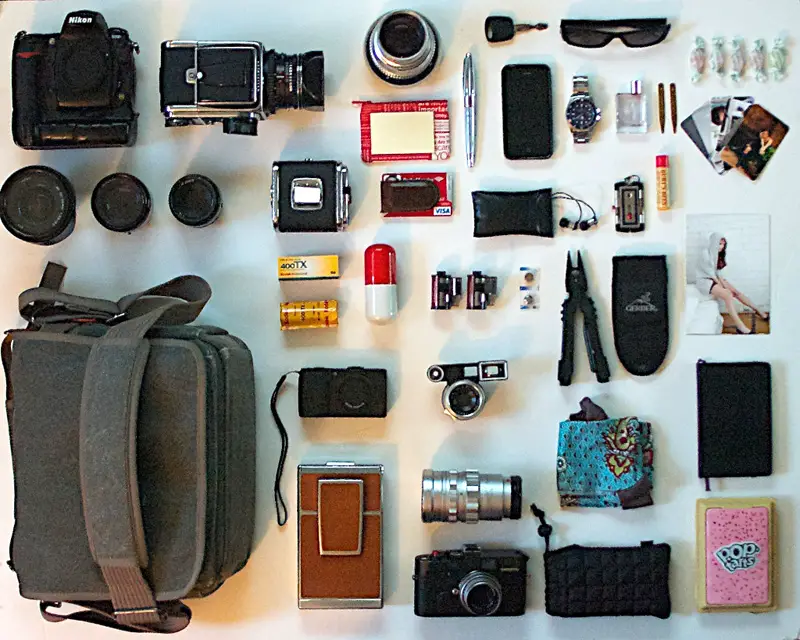 the extra eqpt. I bring are:
A Nikon D700
Nikon 85mm for portraits.
Nikon 50mm for environmental portraits.
and a Tokina 19-35mm zoom. This is such an under rated lens. I bought this for under $120 and it is simply called Tokina's Fantastic Plastic. Awesome Awesome Lens.
for Medium Format:
My trusty Hassy with it's 80mm lens with a hood.
But for tighter shots, I also bring the 150mm in Chrome silver, so sexy!
I'll also bring along an extra back.
please note, the extra 120mm film.
I'll also pack my Leica 35mm Summaron f/2.8 with it's goggles.
When I shoot, I tend to have my dSLR because my clients love having digital shots to refer to or to have, because it is quick. But I always shoot film along with it. I don't know anything that gives me the beauty of Leica film or even Hassy film. You can't go wrong by shooting in multiple formats or mediums. I'll tend to shoot the digital and then when something amazing is happening, I'l double/triple shoot it with the Leica/Hassy. That's why you'll notice that my gear is light and fast.
The personal items that changed are:
I will also pack a Cross Fountain Pen. This is a usually, I am on set, in the studio, or on location thing. I am personally writing things to clients, actors, etc and this happens to write in very beautiful ink.
One of the things I tend to forget are my collar stays so I pack 2 Collar Stays from Nordstroms. By packing these, I have saved my butt from collared meetings looking like a putz. And on that note I will also bring along a small bottle of cologne( shown is a Prada scent but my favorite is Viktor and Rolf Antidote which I happen to be out of ). I'll also change my Sunglasses to these Guccis and I will swap my watch for this Rolex Blue Submariner. And then of course the key to my coupe.
I carry all of this in a Think Tank Retrospective 30 in Pinestone. This is such a wonderful bag. It carries the perfect amount eqpt. and personal items. If I were to carry anything else, it would be a 3×4 California Sunbounce.
Wow…. I carry a bit of stuff. And this is for just portrait jobs that don't require lights. I have a bag for travel and a bag I take to on set photography jobs. Maybe one day, I'll send in another bag.
Thank you so much for showing interest and taking a look into my bag.
If you have further interest, you can go to my site:
www.akafotoboy.com
or follow me on Twitter:
akafotoboy
or tumblr:
http://jeremypangilinansblog.tumblr.com/
cheers,
Jeremy Pangilinan
Jeremy is also available for getaway driving
Thanks for sharing this awesome double bagshot with us Jeremy and thanks for the detailed and thoughtful description. I really like it when people take the time to tell us all about why they have the gear and not just list the gear. Brilliant.
Keep them coming folks, we need more submissions, so get your bag on Japancamerahunter.com. Send me a hi resolution image of the bag (please make sure it is horizontal) and its contents, with some details about yourself and what you shoot. Oh and don't forget your contact details (twitter, flickr, tumbler et al). Send the bag shots here.
Cheers
Japancamerahunter