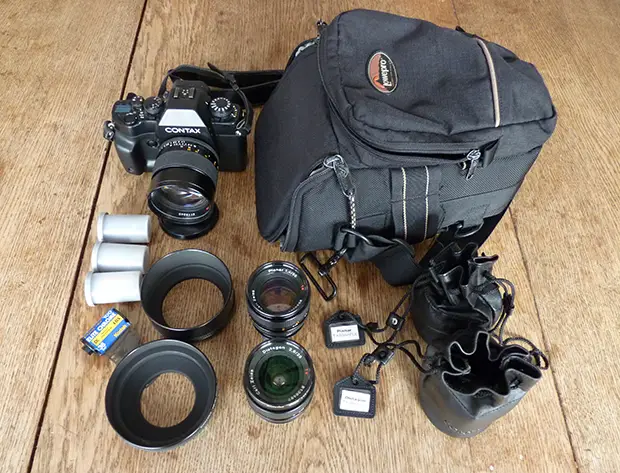 In your bag No: 679, Jurgen van der Pol
Todays bag is a little bit early, because I have to get on a plane and will not be able to do anything for hours and hours. But it is worth it, as it is a great bag filled with awesome gear.

My name is Jurgen van der Pol and I'm from The Netherlands. I totally love this in your bag series, great to see al that fantastic gear! This is what's in my bag:
Contax RX with the silky smooth Planar 1.4/85, a combination which I use 90% of the time
Distagon 2.8/28
Planar 1.4/50
Two lens hoods and a couple of lens bags
Lowepro shoulder bag
Kodak EBX (still have a few packs in the freezer, dunno what to do when those go out :-<<<)
There's also a 'big bag' that stores other items like:
Another (backup) Contax RX (loaded with B&W Adox CHS 100 ART)
Vivitar 3.8/19 (most lens fun for €25 ever)
Vario-Sonnar 3.5-4.5/28-70 (what was I thinking!?)
Sonnar 2.8/135 (mheh)
Sonnar 2.8/180 (big, but good)
Assorted filters
Flash
Assorted tidbits
I've been bitten by the Contax virus ever since my dad gave me his dad's 1930's Contax I and kit (which I still own, btw, but that's a different bag) as a boy. Vividly remember lusting after the Contax RTS and the 1.4/85, nose pressed against the shop window… Oh boy! Doing the newspaper rounds I finally managed to scrouge engough money to buy a second hand Yashica FX II + 1.9/50 as an early teenager (have that one also stlll around, yet another bag…), the promise being that "One day, one day, I'll get me the 1.4/85!"… Anyways, later in life I bought the RX and the 1.4/85 new, finally fulfilling that childhood dream :-). Been using it ever since, quietly expanding the collection, getting some new, some off ebay. If there's one thing missing that I'd really like to have, it's the Distagon 2.8/21…
I purely shoot for pleasure, don't bother showing stuff off on the web. Well, ok, just one:
http://photo.net/photodb/photo?photo_id=9804023
Well, anyways, hope you like my bag!
Cheers from the North Sea coast,
Jurgen
Thanks for sharing your bag with us Jurgen. I love the Contax, those lenses are incredible.
Check out the links and make sure you come and comment.
Keep them coming folks, we need more submissions, so get your bag on Japancamerahunter.com. Send me a hi resolution image of the bag (please make sure it is horizontal) and its contents, with some details about yourself and what you shoot. Oh and don't forget your contact details (twitter, flickr, tumbler et al). Send the bag shots here. Please understand that there is a long wait now as there is a backlog of submissions. Not all make the cut, so make sure yours is funny/interesting/quirky. And please make sure the shot is of good quality, as the ones that are not do not go up.
Cheers
Japancamerahunter