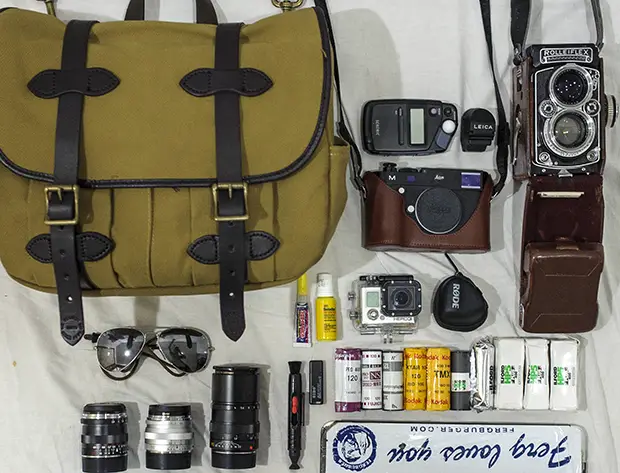 In your bag 848, Todd Geasland
Todd has not only got a fantastic bag, but a brilliant story about how this bag came to be. World travel and cameras, what a delightful combination. Check it out.

Hello! I have always thoroughly enjoyed reading your "in your bag" section. It has always given me ideas (and inspiration) as I learn best from others. I left my home country 3 years ago with a film and digital camera and slew of lenses (about 20 KG's worth). I have spent a fair amount of time in London, Turkey, Morocco and Australia and haven't been back on home soil since. I've crossed 40+ borders without taking any airplane flights, mostly hitchhiking and public transport from England to Thailand.
My gear makes a big difference so has been super refined over the past few years. I have been through two Rolleiflexes and a few other fun cameras along the way. I started with 20 Kilos of equipment and am now down to 5 kg's.
I choose the Rolleiflex 2.8E (Zeiss) for its price, I had a new rb67 screen installed (in Singapore), its quiet, high quality and lets me connect visually and mentally to my portraits.
I mostly shoot HP5 but Ektar is my second favorite, I also have TMAX and some FUJI 160/400.
I use a Filson bag (with insert) – made in USA that will last forever, I can not afford to replace bags in the middle of nowhere. I like to shoot motion film as well, so I use my Gopro and my iPhone + Rode iXY mic for sound (and sometimes the 240).
I've got an old Macbook Air 11″ for size and weight reasons even though the cord and computer are about to shit themselves (hence black electrical tape).
The rest of the bag consists of; Raybans with geeky strap, Betadine (antiseptic), superglue, Seikonic 308, my favorite book, 3 Lenses (90/2.8 Elmarit – 50/1.5 ZM Sonnar – 25/2.8 ZM Biogon), Leica EVF2, Leica M 240 and a dinky case I bought in Hong Kong for 50 bucks (thanks to JCH HK Guide!).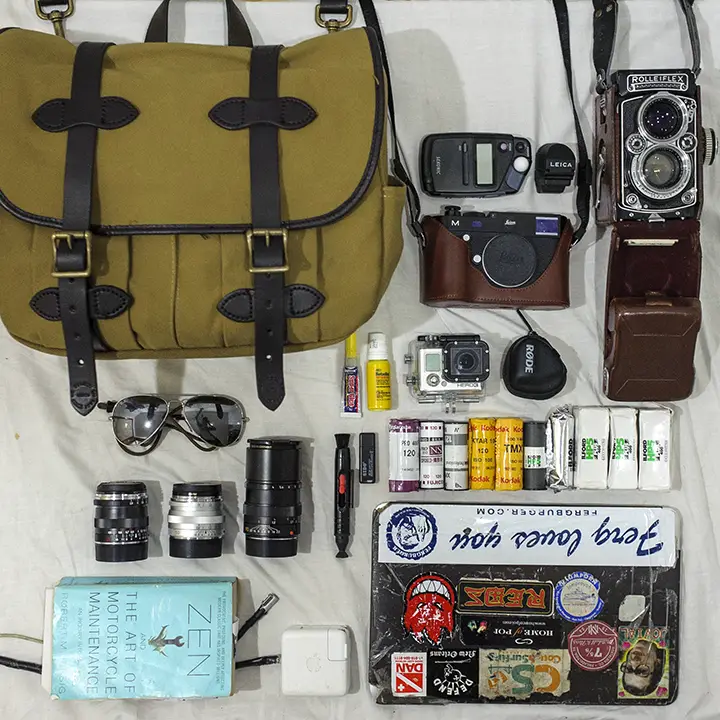 I hope I can inspire someone else with my travel kit. I hope I can give back what was given to me. Thanks for keeping a great website together and I look forward to reading continually even if my bag doesn't get posted. I can be found on instagram and other social media under toddsupertramp .
I prefer to keep my photos to myself but you may be able to dig some up some online by doing a search. Cheers to reading this.
Thanks,
-Todd Geasland
Thanks for sharing your bag with us Todd. The story of your travels is amazing, I hope you get some great shots out of it.
Check out the link and make sure you come and comment.
Keep them coming folks, we need more submissions, so get your bag on Japancamerahunter.com. Send me a hi resolution image of the bag (please make sure it is horizontal) and its contents, with some details about yourself and what you shoot. Oh and don't forget your contact details (twitter, flickr, tumbler et al). Send the bag shots here. Please understand that there is a long wait now as there is a backlog of submissions. Not all make the cut, so make sure yours is funny/interesting/quirky. And please make sure the shot is of good quality, as the ones that are not do not go up.
Cheers
Japancamerahunter