In your bag 915, Sebastien Fanget
Wow, two bags for the price of one. Looks like we got a bogof. Check it out.

This is Sebastien from France. I first really want to thank you for this "In your bag" idea, this a great way to share our passion with film photography !
So, you'll find 2 photos, for my two main film photo systems (I also shoot digital but that's not the point of the message ;) ) :
– Panoramic setup with a venerable Noblex 06/150 which take 120 films. I usually shoot kodak tmax or Ilford Fp4, or best Fuji Velvia 50 <3. I also have different kind of filters (ND, graduated ND, color filters mainly) for the camera, but as it is a bit tedious to work out on field, I usually do not use them much. As for the second setup, no integrated cell, so I use this Sekonic cell that works quite well for me.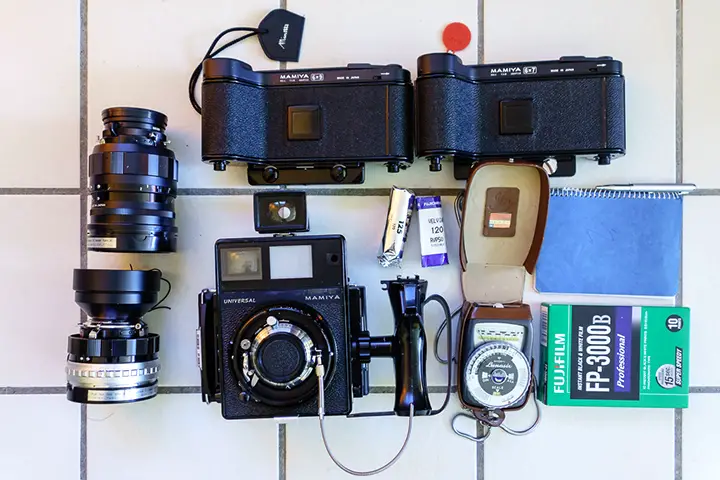 – "heavy versatile medium format setup" ( ;) ) with a Mamiya Universal and 3 backs (Polaroid Pack100 & 6×7, 6×9 120 film format). As for the lenses I had the chance to find the lovely 105 f/2.8, a 65 mm and a 150mm. I have a Gossen Lunasix found in a flea market to help me get the best of Fuji FP3000 or FP100C
No bag is shown as I usually put all photo gear in a different bag depending on where I go (city walk, hiking, camping, … )
As for contact, you may find news & my photos there :
http://sfphotos.fr
http://facebook.com/sfphotos.fr
http://twitter.com/sfphotosfr
Best regards !
Sébastien Fanget
Very cool toys you have there Sebastien, thanks for sharing.
Check out the links and make sure you come and comment.
Keep them coming folks, we need more submissions, so get your bag on Japancamerahunter.com. Send me a hi resolution image of the bag (please make sure it is horizontal) and its contents, with some details about yourself and what you shoot. Oh and don't forget your contact details (twitter, flickr, tumbler et al). Send the bag shots here. Please understand that there is a long wait now as there is a backlog of submissions. Not all make the cut, so make sure yours is funny/interesting/quirky. And please make sure the shot is of good quality, as the ones that are not do not go up.
Cheers
Japancamerahunter