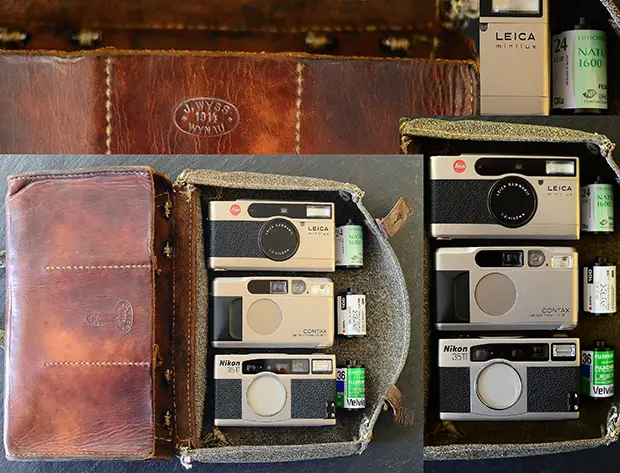 In your bag 1141, Ben Nickel
If you like compact cameras then you are going to love this one. Gen has a very well laid out bag full of cracking cameras. Check it out.

Hi, my name is Ben Nickel from Germany.
As employee of Nikon Germany I have a special relationship to Nikon cameras. But nevertheless I´d like to shoot with every camera which is in my bag. I use different ones, depending on my mood and what´s the subject for the day. For me it doesn´t matter if it´s digital or analogue, but more and more I shoot film (Polaroid packfilm, integral film, diapositives, b/w).
I started with dad´s Olympus Pen FT back in the 80´s, later on with a Pentax ME super which is still working. After a long analogue absence I restarted shooting film 2 or 3 years ago  – not only thanks the inspiring Japan Camera Hunter site! Since then I´m a passionate follower of JCH and all the great stuff here from all over the world.
For today I´m in a retro mood, so please allow me to show you a smallish setup for the urban photowalk:
Bag: It´s a swiss military leather bag from 1914. Inside I applied foam material. The leather is very strong and nearly waterproof. No one would assume that there are cameras inside. The bag is ideal for my three "heroes".
Nikon 35ti (nearly new) with f2,8/35 mm
Contax T2 with Sonnar f2,8/38mm
Leica Minilux with Summarit f2,4/40 mm
Film: Fuji Velvia 50, Agfa APX 100 (made in Leverkusen, the old one), Fuji Natura 1600.
I prefer shooting with very small setups but with different cameras and formats and single focal length lenses like 28, 35, 50, 85 mm.
My photo bags have to be lightweight because I have to little kids … sometimes they ask me to carry them……. arrrggh!
Please enjoy some of my photos at Flickr:
https://www.flickr.com/photos/106567235@N05/
Contact me via Facebook:
https://www.facebook.com/ben.nickel.9
Thanks for sharing your bag with us, Ben. I love seeing those three together.
Check it out and make sure you come and comment.
Keep them coming folks, we need more submissions, so get your bag on Japancamerahunter.com. Send me a hi resolution image of the bag. Optimum size is 620×473. Please ensure there is a bag in the shot, unless you don't use one. The more you can write about yourself the better, make it appealing and tell us a story. Oh and don't forget your contact details (twitter, flickr, tumbler et al). Send the bag shots here. Please understand that there is a long wait now as there is a backlog of submissions. Not all make the cut, so make sure yours is funny/interesting/quirky. And please make sure the shot is of good quality, as the ones that are not do not go up.
Cheers
Japancamerahunter