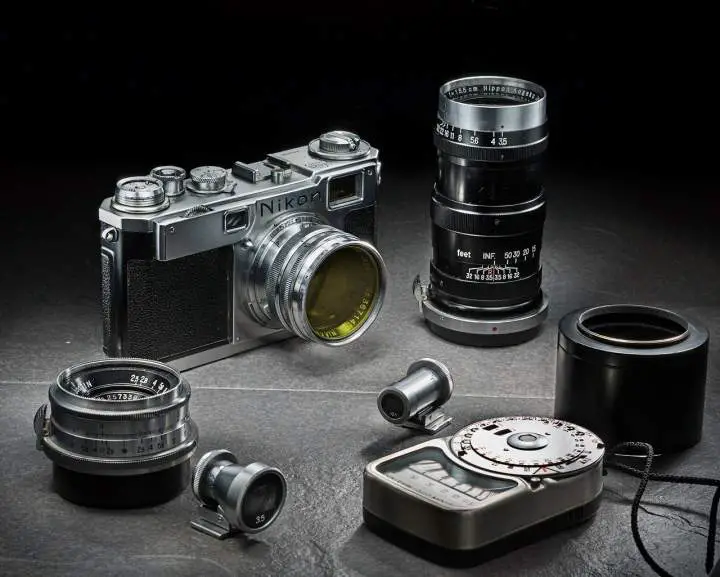 Camera Geekery: Jose Luis Gonzalez
I get to see some pretty impressive collections doing this job, but often they are presented pretty badly (phone snapshots being a major culprit). Jose Luis Gonzalez is the other extreme, his light painting images of his cameras are some of the most impressive cameraporn I have ever seen. There are so many fantastic images I had to share as many as possible. Be warned, these images may create feelings of envy and lust.
All cameras have associated a certain ¨label¨ depending on the criteria I judge them, for example Canon F1 cameras were robust and effective but lacked charm, same with Mamiya RB. Others besides being robust and effective have something more, Leicas, Rolleiflexes, Hasselblads, Linhoff are all charming cameras but even in their groups some are more special than others.
Leica Ig 1958
Leica IIIC v2 1944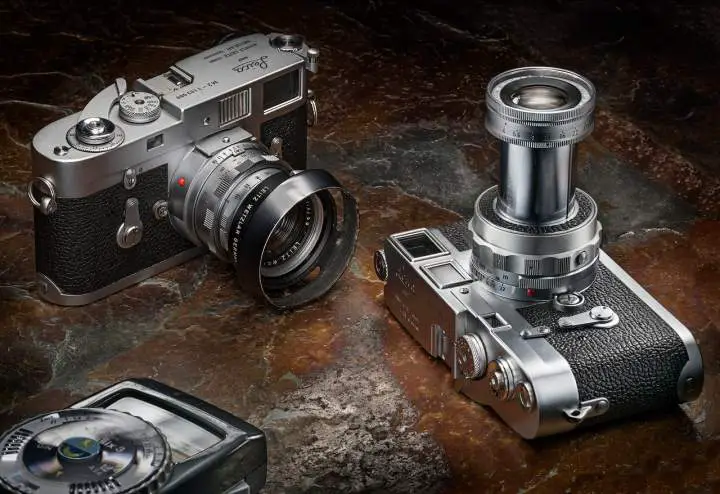 Leica M2 y M3 1958
Nikon S2 1955 v2
Of all the Hasselblads I own the SWC is a very special camera, it has without any doubt the best lens of all of them. I used mine intensively in architecture and interior photography. In the 4×5 group the Super Technika V is the most versatile camera, it could be used as a roll film camera( 6×7/6×9/612 cm ) and 4×5 plate camera, handheld or on tripod, in fact in the film days a pro photographer could earn his life with a Super Technika V with a basic set of lenses ( 65/75/90/ 150/ 210/240/300 mm ) and a 35mm outfit, such equipment could last a life time.
Linhoff Super Technika V Grafmatic 1975
Horseman 985 1977
Linhoff Super Technika V 1975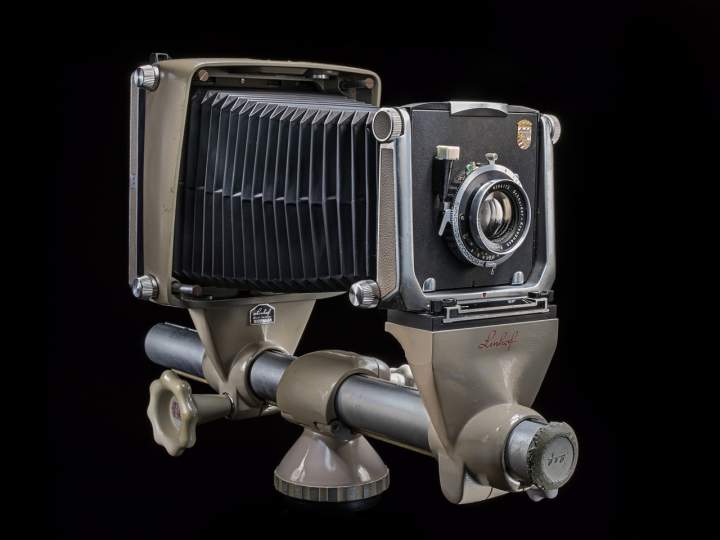 Linhoff Color 1960
Linhoff Color 1960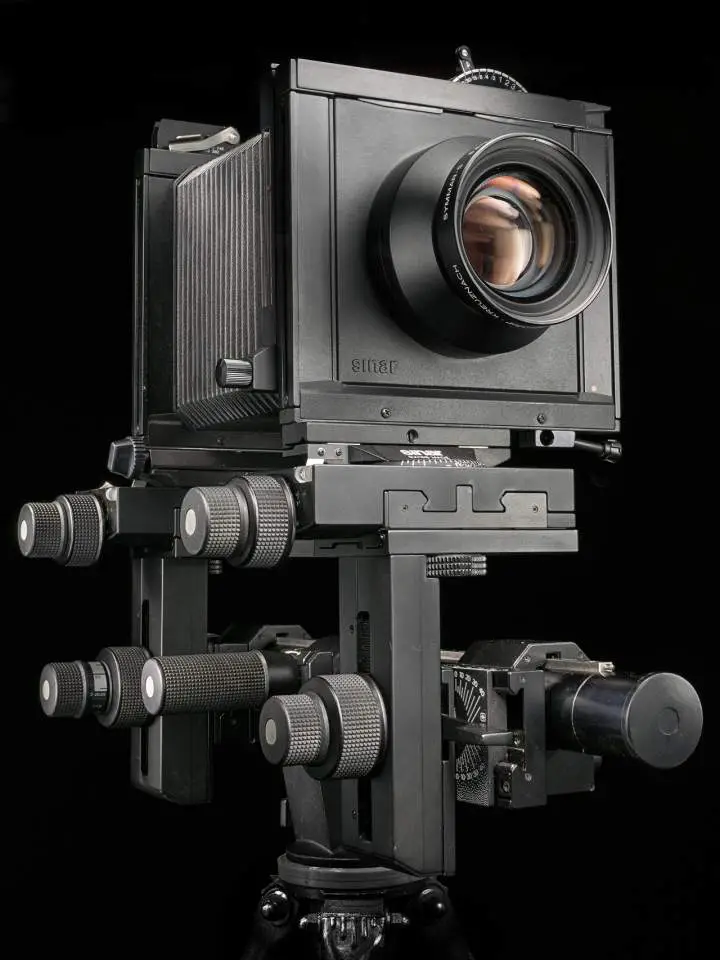 Sinar P2 4×5 1985
The other cameras were just unnecessary, if I bought them was more for convenience than necessity. For example the Sinar P2 is a wonderfully convenient studio camera that can be controlled totally from behind, no need to bend over to change adjustments of the lens, and the movements of standards are absolutely precise with its geared controls. But my heart was with the versatility of the Linhoff STV. The Sinar P2 is a must for a specialized studio photographer, but for a general practitioner like me the Super Technika V was king.
Hasselblad 500 LM close up 1980
Hasselblad 500 ELM 1980
Rolleiflex 2.8F 1985
Hasselblad 500 ELM 1980 profile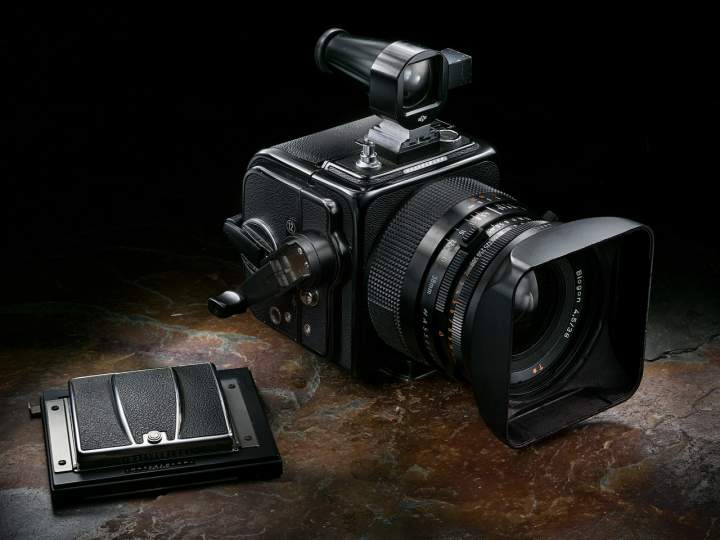 Hasselblad SWCM 1982
For personal photography my favorites were an M2/M4 with 35/90 mm lenses or just the Rolleiflex F
The first time that I read about Light Painting was in Ansel adams Basic Series Artificial Light Photography published in 1956. In it he described how to light large interiors with a simple flood lamp. In the 80's a optic fiber light gun The Hosemaster was very popular in still life studios of the time. It was very expensive and needed a great deal of experience to work with, the slightest mistake could ruin a 8×10 film sheet, so it was expensive to run and kind of  "let's see what I got".
Canon F1 1978 and Canon New F1 1985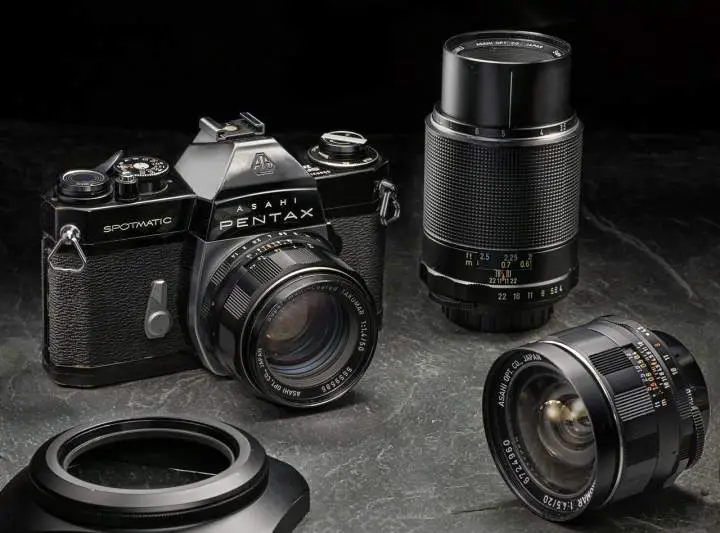 Asahi Pentax Spotmatic
Olympus Om-1 1974
Canon F1 1978 and Canon F1 New 1985
In the early 90's digital postproduction was made possible using a Macintosh instead of big and terribly expensive Work Stations, thanks to a program called Live Picture that could work with unlimited layers and in real time with files up to 30.000 pixels wide ( Photoshop at that time had no layers capability ). A new world opened to photographers image compositing.
I started to experiment lighting with a single flash unit and taking several shots each with different light positions to achieve a kind of illumination not doable with a traditional studio technique, after scanning the slides the images were composited in Live Picture just using the parts of each that we were interested in using. The results were very interesting but the production was slow due to the scanning process, so the usage was limited to high budget jobs.
Nikon S2 1955
Rolleiflex 2.8F 1985
Digital Photography has made things much simpler to do, immediacy and post process techniques are a godsend for light painters.
Five or six years ago I started playing light painting with a naked tactical led flash light, I could light a still life in about 1-2 minutes exposure but the light quality was no good, too harsh and contrasty, so eventually I abandoned the technique. Then a couple of years ago I found the Harold Ross web site, Mr Ross is a fantastic light painter, he designed and sells a beautiful set of tools for light painting.
I decided to build my own using PVC tubing, bought a proper flash light ( the one that Mr Ross recommends ) and a small battery operated LED panel, I also got a couple of  collapsible diffusers to diffuse the light from the LED panel though most of the work is done with the flash light and the 90º elbow painted matte white inside and fitted with a short tube cut at a 45 º angle. The magic of this modifier is the very soft light it yields. its shape lets the source of light be in the framing of the shot without showing in the final image.
My Tools
Recently I added a new element to my gear kit that has made my work easier to do, it is an Olympus EM5-MK II, this camera is a god send for light painters, it has a built in mode called Live Composite, it lets you build the lighting of the subject while you see it in the LCD screen or on a tethered laptop. Before this I used to work with 10-20 exposures that were later layered  and masked in Photoshop, now I can do it sometimes in one shot (if lucky) or 3-4 shots.
Crown 8mm late 50s
Fed 4 1964
The beauty of the technique is that it lets you build the lighting as if you were sculpting the subject, of course there must be a mental scheme of the type of lighting that you want, there must be coherence, the concept of main. fill and effects lights still apply. A key element is to keep the light in constant movement . Watch this tutorial of Mr Ross to understand well what I mean  My Grandfather's Pipes  ( more links below )
This is a very creative technique, simple to do at home in a room that can be darkened or just work by night, a table top and the proper set of tools is all you need, no need for light stands, soft boxes, umbrellas and such. All the gear can be transported in a small bag in case you need to work in location
Mamiya RB67 PRO-S 1975
The cameras shown here are the tools that I've amassed through my life as a professional photographer, except the Fed 4 35 mm  and the 8mm movie camera that were property of my elder brother. I liked the feelings that I had while using high quality gear and of course the high image quality that I got from them.
I've never been a collector per se, all my cameras are well used and were bought to be used, and as I rarely sell anything I've ended up having a considerable collection that as a plus have a lot of memories associated to the it that are very dear to me.
After 15 years buying digital cameras I've also ended up with a collection of those too, but this is a soulless collection, for me digital cameras are just tools, not so with film cameras, film cameras are a thing of love.
Mamiya RB67 1975
Leica´s row from 1944 to 1968
Tele Rolleflex 1965
Links of interest
Blog  https://haroldrossfineart.wordpress.com
Tools
https://haroldrossfineart.wordpress.com/light-painting-tools-and-resources/
https://haroldrossfineart.wordpress.com/video-illustration-of-flashlight-adapter-diffuser/
Tutorials in Youtube
https://www.youtube.com/results?search_query=harold+ross
general introduction to lp  Light Painting Product Photography Tutorial
another https://www.youtube.com/watch?v=28tEO9aC7jA  
 Jose Luis Gonzalez
A huge thank you to Jose Luis Gonzales for kindly sharing his collection. There were so many beautiful images it was impossible to leave them all out.
JCH