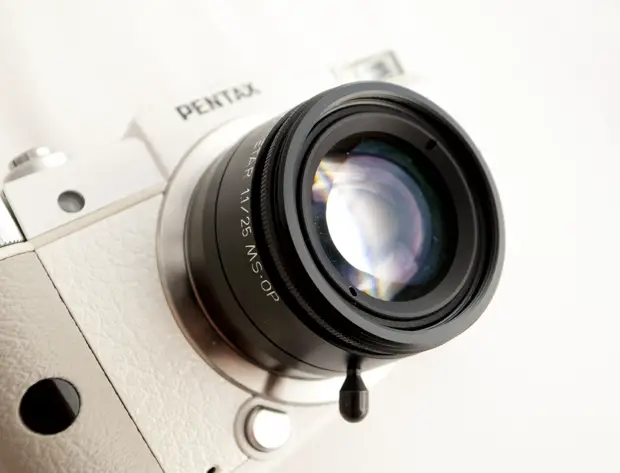 The MS Optical Sonnetar is available now
Miyazaki san has been busy, working his magic. And this time he has come up with what could be called a tiny gem. The Sonnetar type 25mm f/1.1 is specifically designed for the Pentax Q. So lets have a look…

Mr Miyazaki work in mysterious ways, so when he told me that he had a new lens, I was expecting a Leica mounted 50mm or 35mm (actually I was really hoping for a 35mm). But then he presented me with this tiny weeny little thing. A lens that has been designed with the Pentax Q in mind. This is not a super mainstream camera like the Pen or the EP-2, but it is an interchangeable mirrorless camera nonetheless. And it is tiny….really tiny.


I am not sure if you have ever held or seen a Pentax Q, but it is a very small camera, so small in fact that at first sight it looks more like a toy. And the Sonnetar lens is not all that much bigger. Just look at the picture, you can see that the camera is smaller than the GR, which is not exactly a fatty.
The lens weighs in at a hefty 75g when you include the filter, which is almost double the weight of the Perar. The construction of the lens is excellent, as you would expect from Mr. Miyazaki, with smooth aperture selection and focus. The focus knob is small and can be a bit difficult to get used to unless you have the hands of a child.
As usual with MS Optical lenses, the glass is Tantalum and the lens is multicoated, with a German made iris. This is extremely high quality stuff and you can feel it when you use it.


The lens is being produced in a very limited batch, so there will barely be any on the market. It is an amazing little lens and it has got the internet chattering away.
These guys have had a massive chat about it.
I am selling this lens in my shop, which you can get to by clicking here. There are not all that many of them so it really is first come first served. Come and get one while they are hot.
Thanks
Japancamerahunter