Camera shopping in Tokyo – Westside (updated for 2022)
So let's get straight to it. The Westside camera shopping guide. As there are so many stores in Tokyo it is simply not possible to have them all in one guide, so we have split the guides into the Westside and Eastside guides.
The stores are actually pretty evenly distributed throughout Tokyo. There is simply no way you can visit all of the stores in these two guides in one day unless you are a complete masochist.
Fujiya Camera, Nakano
Fujiya Camera in Nakano is an old dependable mainstay albeit a slightly confusing one. They've been in the biz since 1938 and you don't last that long being crappy. There's actually 4 stores spread out around Nakano station. Fujiya prices are quite competitive and the selection is pretty good. There's something for everyone over the 4 shops, from the latest digital doohickies to old film cameras to tripods and various accessories to video equipment to junk items.
It is a big store and well worth a visit, but it has faded in the last few years. The selection is not what it was. The staff are helpful, but don't bother asking for a discount. Fujiya has a bit of a legend status amongst foreigners, but in all honesty JCH doesn't got there all that often.
The first is the main store, where you will find all the latest digital camera equipment. They have new items as well as used items all on this floor. Oddly, digital Nikon and Pentax are found on the 2nd floor.
Fujiya do offer part exchange and trade-ins, but don't expect good prices for your stuff. The bigger stores like this one can be pretty ruthless about pricing.
https://www.fujiya-camera.co.jp/
1F Hours : Mon-Sun 10:00 AM – 8:30 PM
TEL:  
Good for: Digital Canon, Sony, Fujifilm, Olympus, Panasonic, Ricoh, Sigma, Tamron, Zeiss, Tokina, other
Just to the right of the main store you will find the staircase that leads you to the second floor, where all the film items are. They have a decent selection of items especially for Nikon, Pentax and Mamiya.
2F Hours : Mon-Sun 10:00 AM – 8:30 PM
TEL: 
Good for: Nikon, Pentax, Leica, Sigma, Tamron, Zeiss, Voigtlander, Tokina, film camera, large format, medium format camera, bag
Walk down the street further towards the station and you'll find the accessories shop on the left. There's loads of stuff crammed into this space but a good deal on a tripod head could be had here. The staff don't speak English much but are very knowledgeable about their goods.
Hours : Mon-Sun 10:00 AM – 8:15 PM
TEL: 
Good for: tripod, monopod, tripod head, binoculars, cases, lighting equipment, stands, reflectors
Here you will find junk parts of course; used filters, lens cases, hoods, straps, parts and whatever random knick knacks. You will have to navigate to this corner on the 2nd floor of Nakano Broadway
Nakano Broadway 2F
Hours : Mon-Sun 11:00 AM – 8:00 PM
TEL: 03-5318-2222
Good for: used filters, lens cases, hoods, straps, viewfinders, caps, manuals, broken bodies for parts
For the videographers out there, there's even a video equipment store on the 3rd floor of Nakano Broadway.
Hours: Mon-Sun 10:30-20:00
TEL: 03-3386-5910
Good for: consumer-pro video cameras, mirrorless, lighting equipment, tripods, gimbals, sliders
Kungfu Camera, Koenji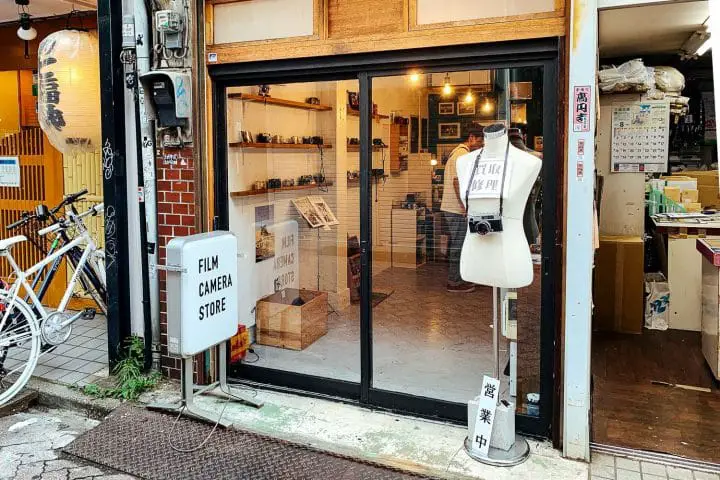 Kungfu Cameras, formerly known as Void Lens, is a relative newcomer to the game and caters towards compact cameras and simple SLRS. Nothing high end or super fancy, it's a no frills cute little shop with a girly hipster vibe. The staff don't speak English but is super friendly. They also feature zines by local photographers and provide decent information about galleries and exhibitions. And they are in Koenji, which is a cool place to visit anyway.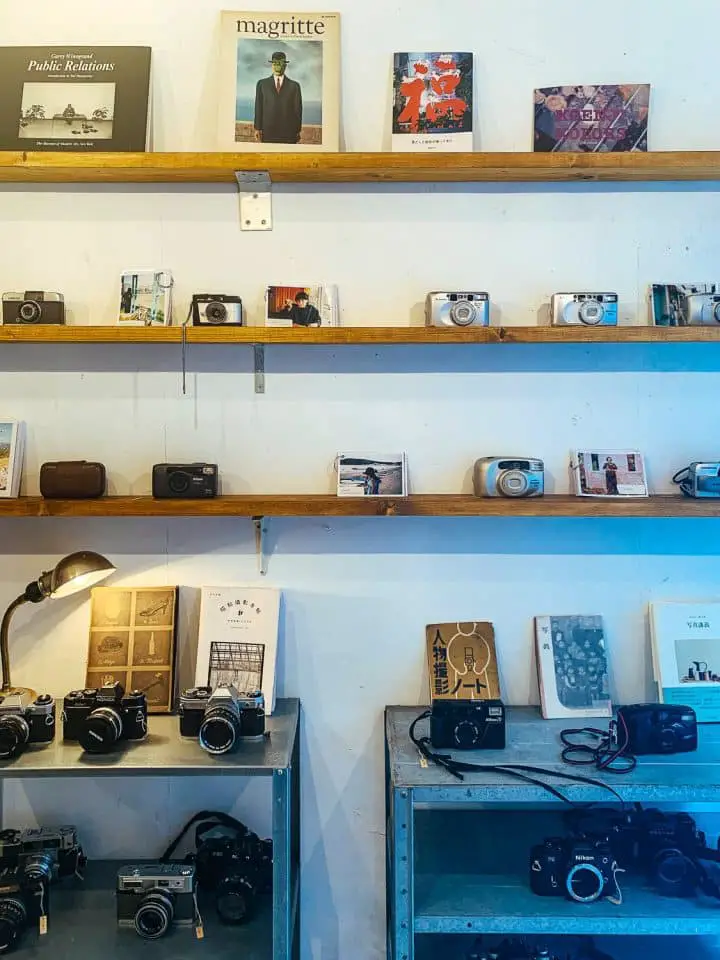 Hours: Mon – Sun 13:00~20:00
TEL: 050-3595-1983
Good for: Compact film cameras, entry-mid level SLRS, books and zines.
Sanpou, Gakugei Daigaku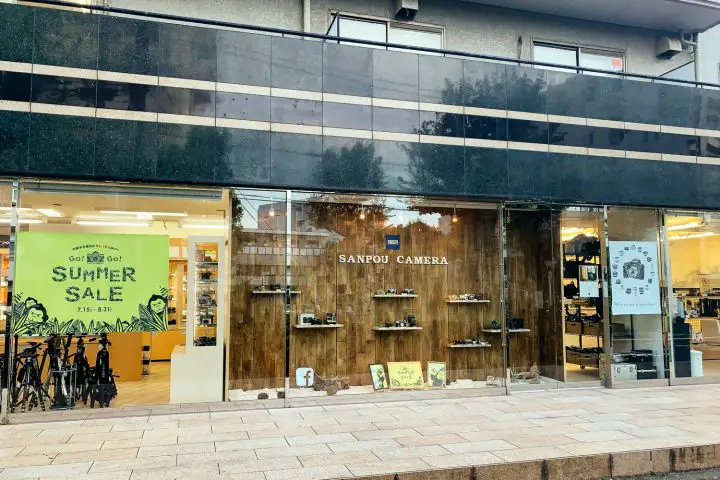 Sanpou is another among the faded legends. It's not what it used to be after being remodeled a couple years ago and has gotten all fancy looking but is still worth a visit. Prices are decent for both film and digital equipment and their reputation for reliable products is good. Their film selection is wide and eclectic and prices to be the most reasonable among physical stores in Tokyo.
Hours: Mon – Sat 10:00~19:00, Sun 10:30~18:00
TEL: 03-3793-2273
Good for: New & used recent digital gear, 35mm SLRs, rangefinders, medium format, lenses, bags, accessories, film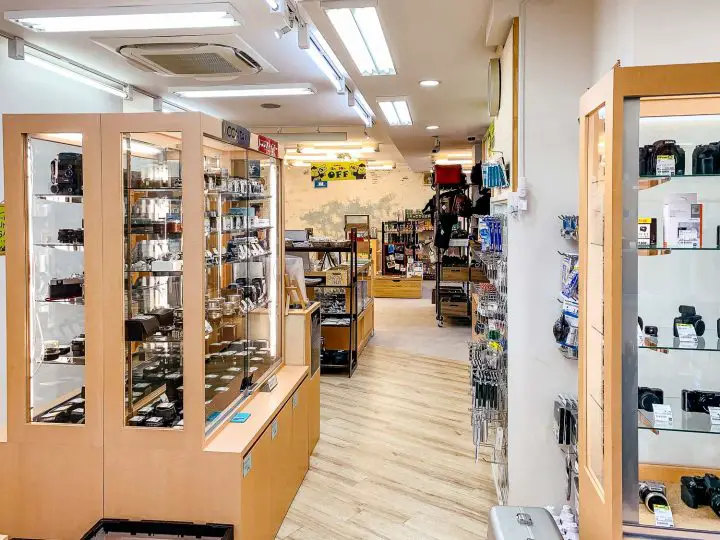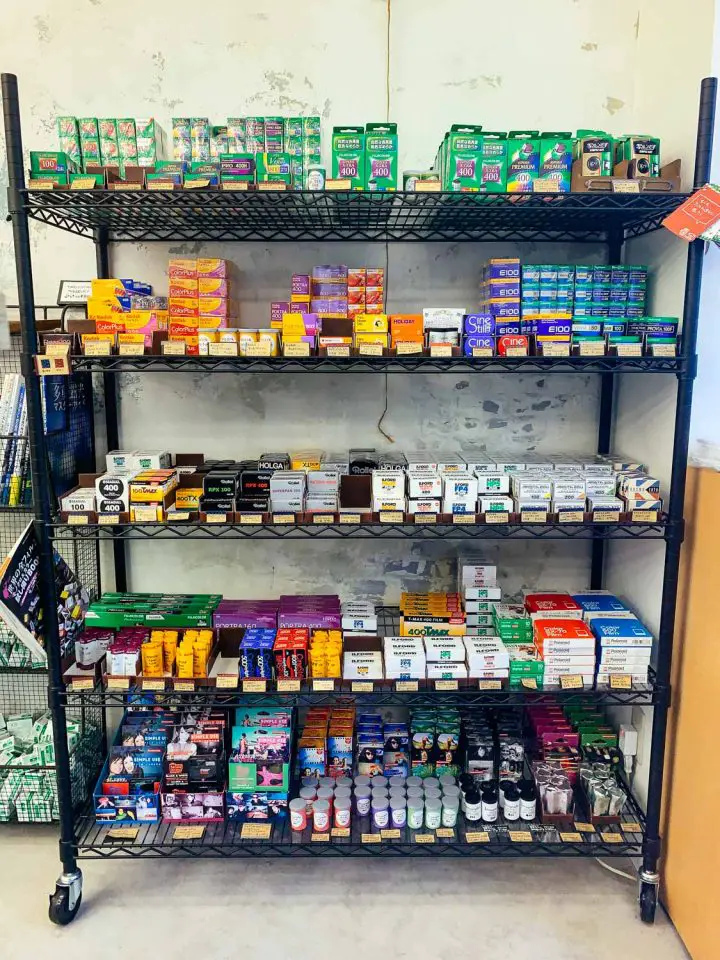 Osawa Camera, Ebisu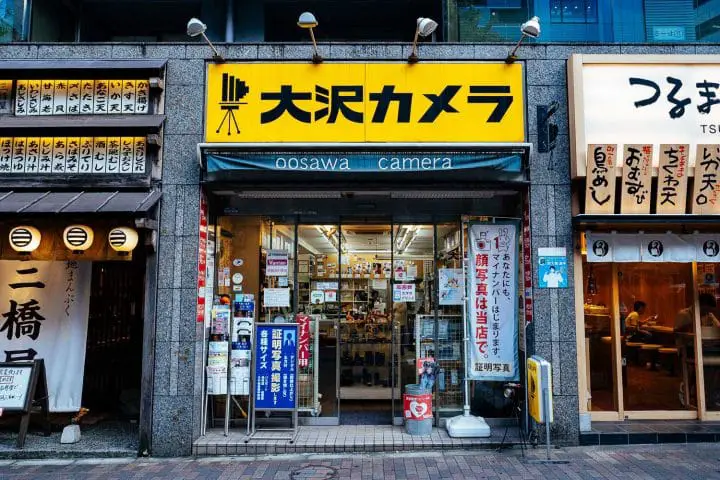 Osawa in Ebisu is a good stop if you're looking for old cine lenses and odd knick knacks like hoods, filters, spools, etc. They have an okay selection of compacts and SLRs but cater towards the more eclectic rather than the Nikon and Canon standards. They'll have some older Japanese medium format cameras such as Asahi Pentax, Mamiya Press and Bronica as well. They also have a 1 hour color lab that I often frequent primarily because they can do color 120 film in an hour as well!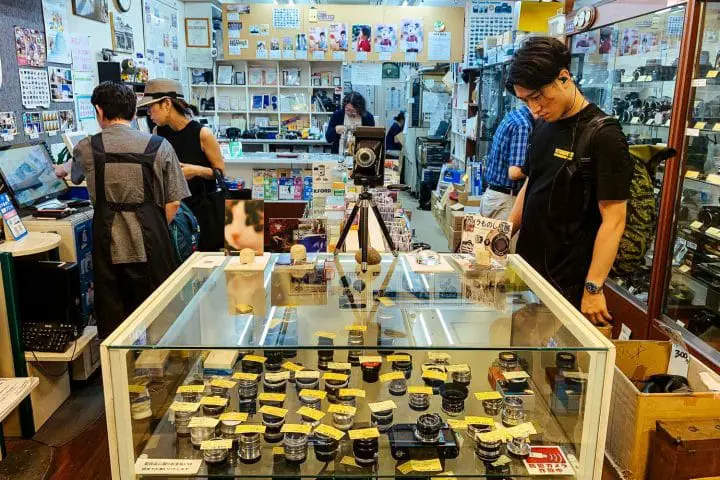 Hours: Monday – Sun 10:00~20:00
TEL: 03-3719-0741
Good for: Cine lens, compacts, SLRs, accessories, film, film developing
GT Camera, Ebisu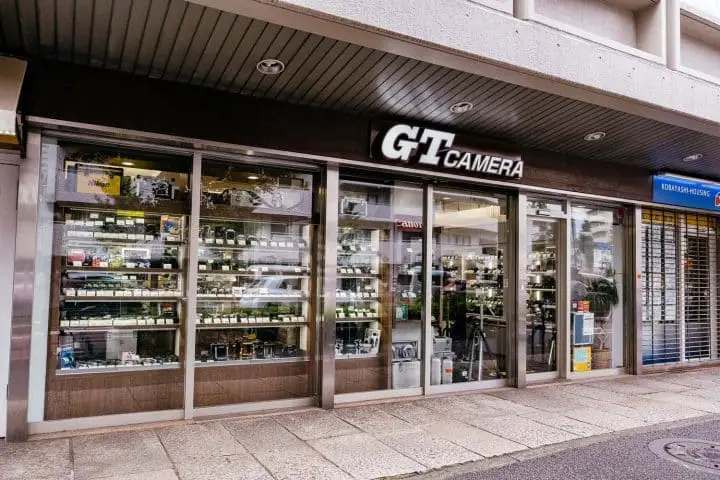 GT is a relative newcomer to the game as well, arriving on the scene in 2017. Started by an ex-Sampou guy, the selection isn't the biggest but prices are pretty competitive amongst shops on the west side. Inventory turnaround is fast since the good deals don't stay on the shelves long. His English is limited but he is foreigner friendly and knows his sh*t.
Hours: Mon-Wed, Fri-Sat 10:30~20:00, Sun 11:00~19:00. Closed every Thurs and 2nd and 4th Wed of the month, holidays
TEL: 03-6451-2160
Good for: Medium format, mainstream classic 35mm film cameras, vintage cases
National Photo, Harajuku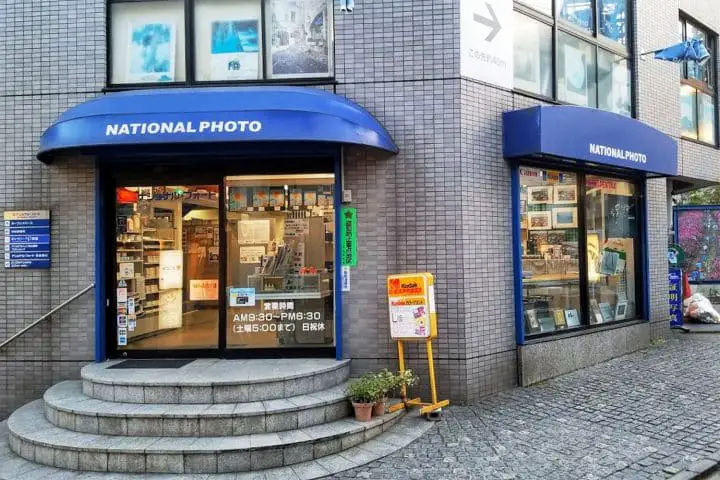 National Photo is one of the best labs in Tokyo but not many people realize there's a second floor with used equipment for sale. Not a huge selection, but the prices for medium format lenses aren't bad and they check their equipment very carefully. Every now and then there's some pretty sweet rare stuff that pops up. They also rent out the latest pro equipment as well has having studio for rental.
Hours: Mon-Fri 9:30~18:30, Sat 9:30~17:00. Closed Sun, holidays
TEL: 03-3486-7761
http://www.nationalphoto.co.jp/index01.htm
Good for: film developing, printing, film, medium format digital and film cameras, rentals, lighting equipment
Map Camera, Shinjuku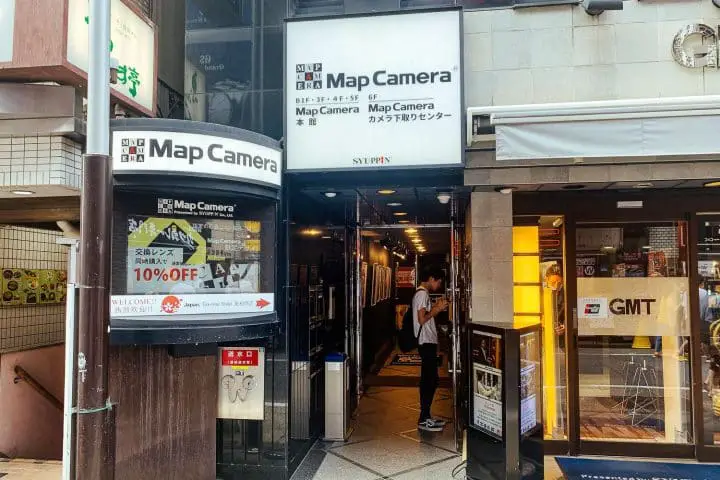 This place has become one of the driving forces in used cameras over the last few years, and they have a wide selection spanning the 4 floors of this building. They also have a large selection of their own goods. One of the good things about MAP is their selection, it is extremely impressive. But, they do not discount, ever. A plus is they do have staff that speak English. They also are pretty difficult when it comes to the trade-ins, often offering way below market or even offering nothing and telling you it is junk (when it isn't).
MAP pretty much sets the prices for the market now, so don't be surprised if the prices are pretty steep in there. The rangefinder section in the basement floor is incredible. Take your passport and a spare kidney.
Hours: Mon-Sun 11:00 -20:30
TEL: 0120-153-383
Good for: New & used recent digital, rangefinders, SLRs, medium format, straps, bags
Lemonsha, Shinjuku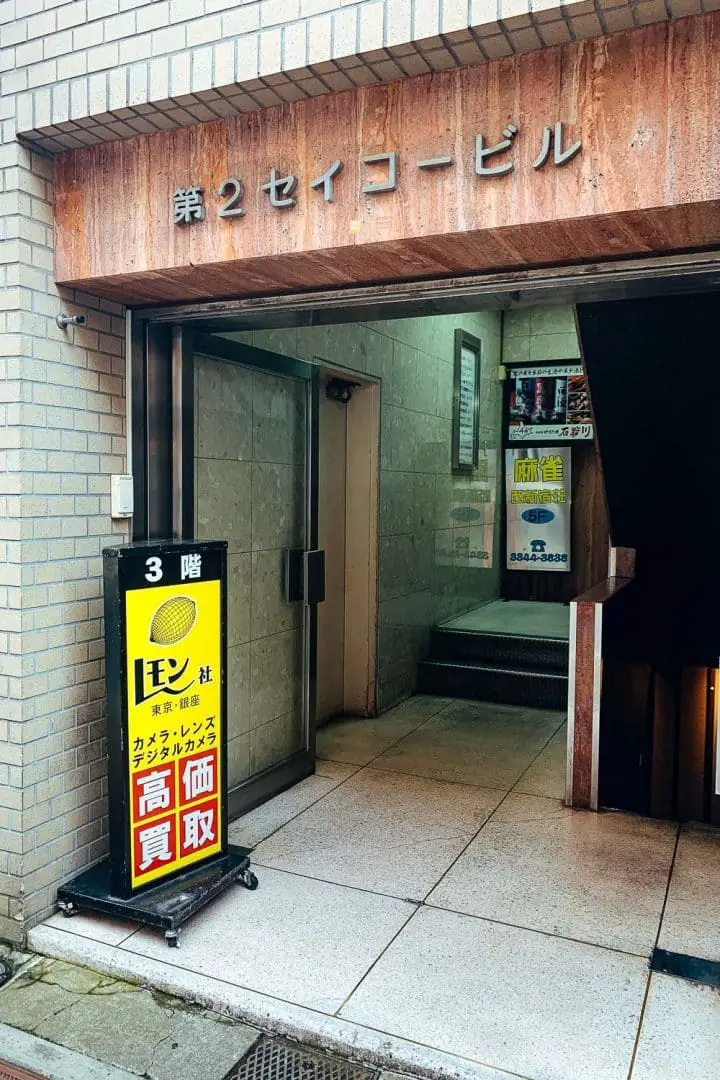 This store in Shinjuku was opened off the back of the success of the Ginza store. Lemon sell cameras, but also watches, pens and model trains. They are a consignment store, which means that they are selling the cameras on behalf of their customers, so don't be surprised if the prices are sometimes a bit insane. They do not check any of the items either, so their ratings are often wildly inaccurate. Lemon has a strict no returns policy, so it doesn't matter if it breaks as soon as you have paid, too bad. The Shinjuku store is inside a little doorway and on the 3rd floor. Generally helpful staff but English is very limited.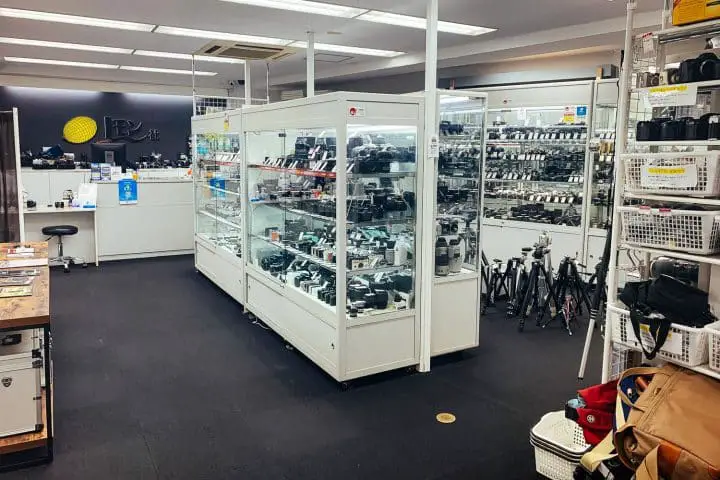 Hours: Mon-Sun 10:30-20:00
TEL: 03-5909-2333
https://www.cameranonaniwa.co.jp/store/shinjuku
Good for: Rangefinders, SLRs, lenses, bags, medium format
Chuuko Camera Box, Shinjuku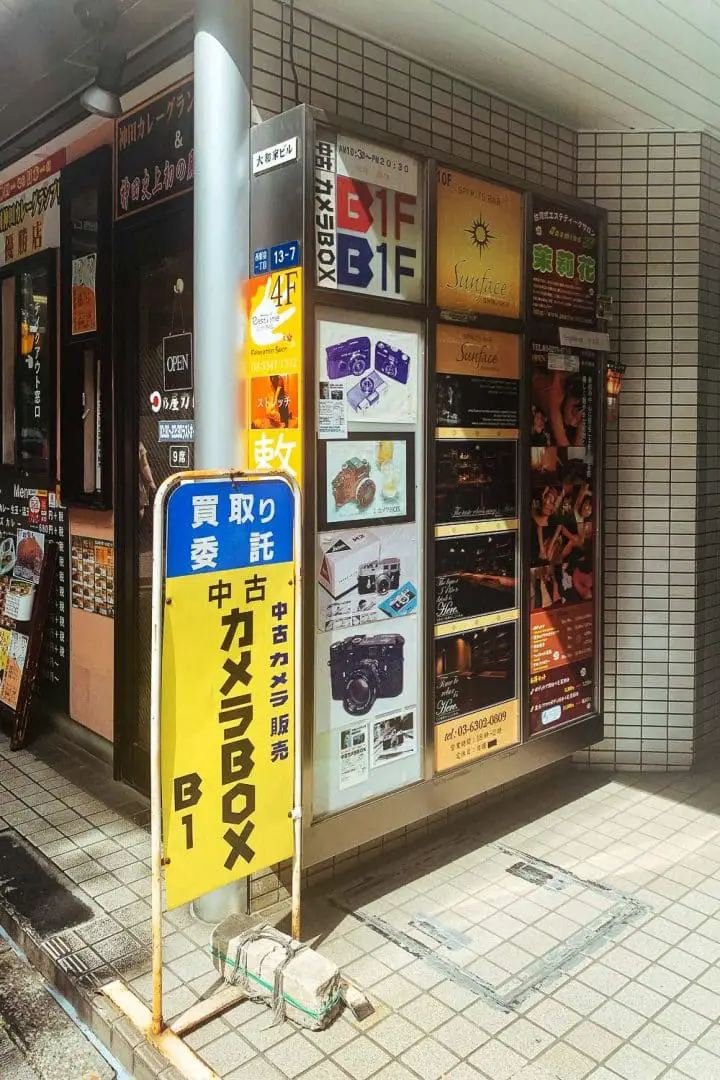 Box is an appropriate name, this place is tiny. You need to go downstairs and you will find an Aladdin's cave of cameras. There is a lot of junk in here and it seems to be entirely populated by old men, but there are some real gems here. A great place to visit. Be quiet and don't let them see you take pictures, they don't like it. There is basically only enough space in here for a few of people, so don't go as a big group. They are friendly here, if you speak Japanese. Practically zero English.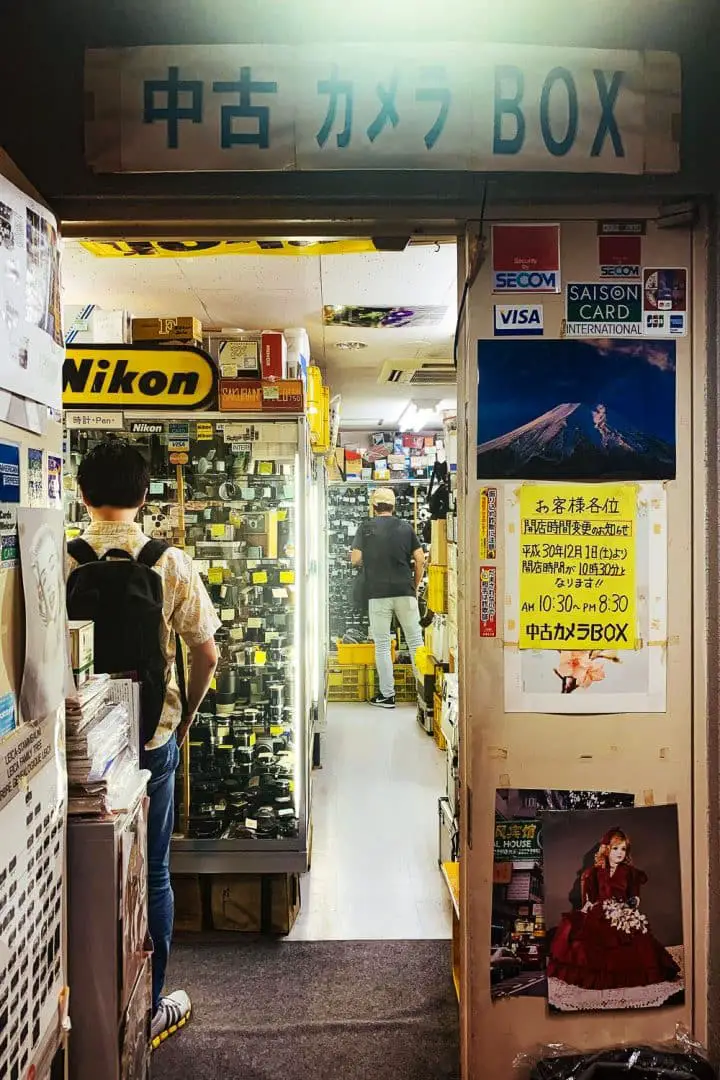 Hours: Mon-Sun 10:30-20:30
TEL: 03-5339-2701
Good for: compacts, TLRs, quirky cameras
 Shinjuku Used Camera Market, Shinjuku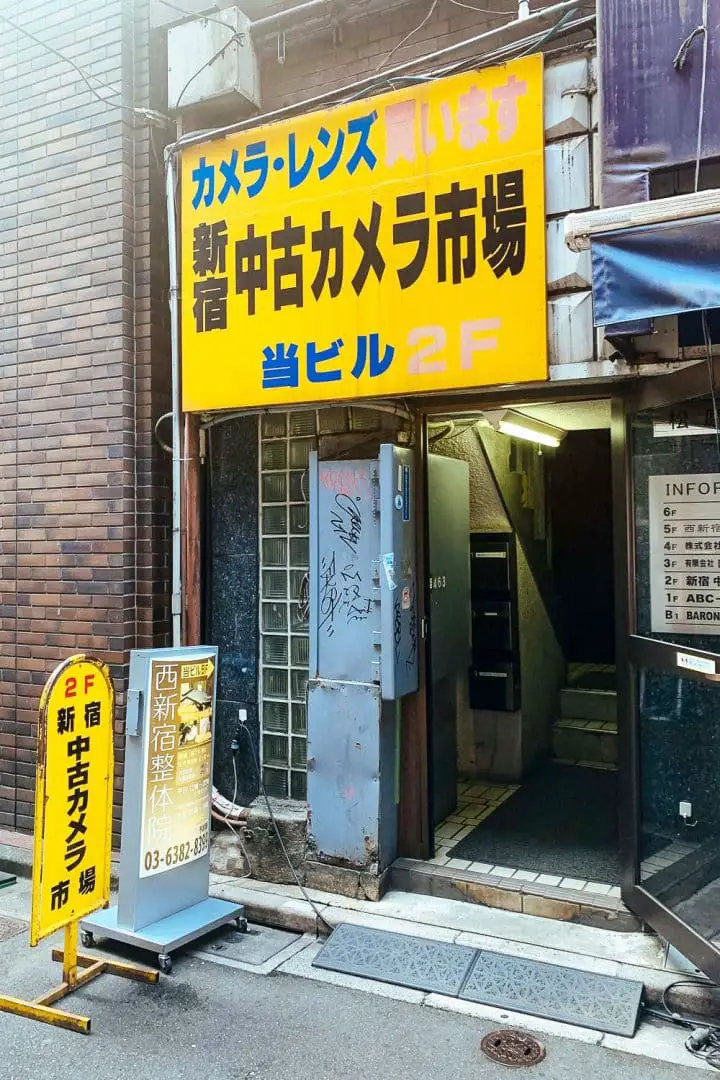 Located next to a shoe shop and a tad hard to find. The entrance is concealed and hard to find, it is just a doorway. Go up the stairs to the second floor and it is there. At this museum-like used camera store, most products are brought in by customers and if they aren't sold within two months, the price drops. You'll find new and vintage models, as well as 'junk' items sold for parts. This place has a huge selection, but again it is a consignment shop, so they don't check the goods. They are grumpy bastards in this shop and don't seem to ever smile. No English is spoken here and there's an uppity vibe in the air. I have spend a ton of money in there and they have never even bothered to talk to me. Go here to find unusual cameras and classic medium format gear.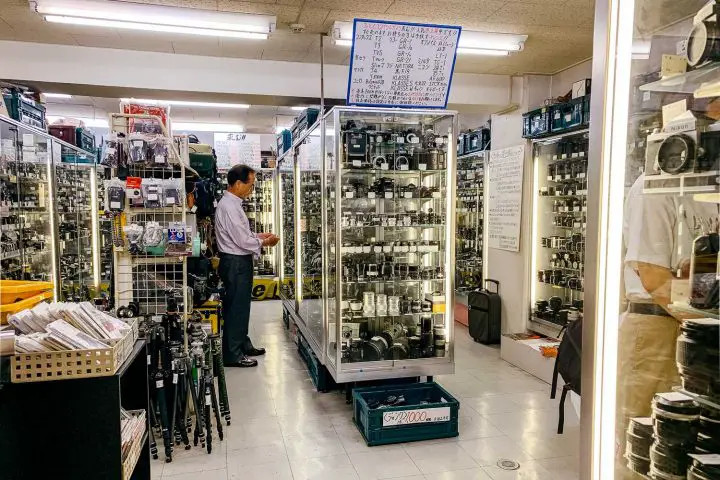 Hours: Mon-Sun 10:00-20:00
TEL: 03-3348-0118
http://www.nsi-jp.com/camera.htm
Good for: Rare 35mm and medium format cameras, lenses
Kitamura Flagship, Shinjuku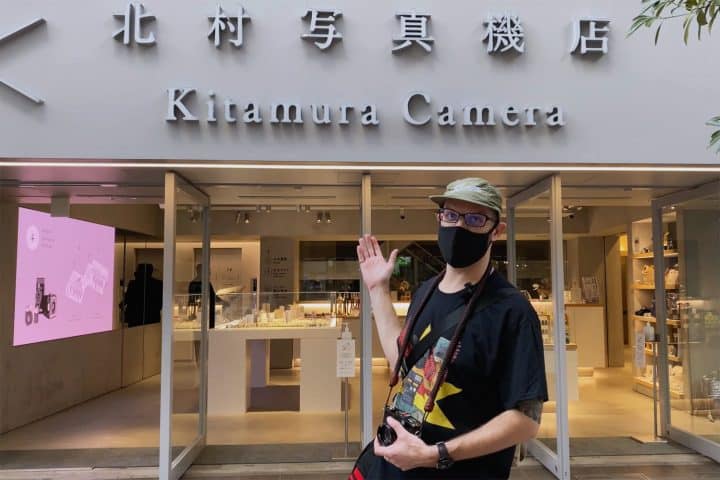 Kitamura Camera opened this massive flagship store on prime Shinjuku real estate at the start of 2020 in anticipation of the Tokyo Olympics and hoped tourists would flock to this swanky new building. Alas, Sars-cov-2 had different plans. Now that Japan is open again, this is your chance to see this whopping store. With 6 floors of new & used cameras, along with a cafe & photography book lounge, the new location hopes to be a photography mecca.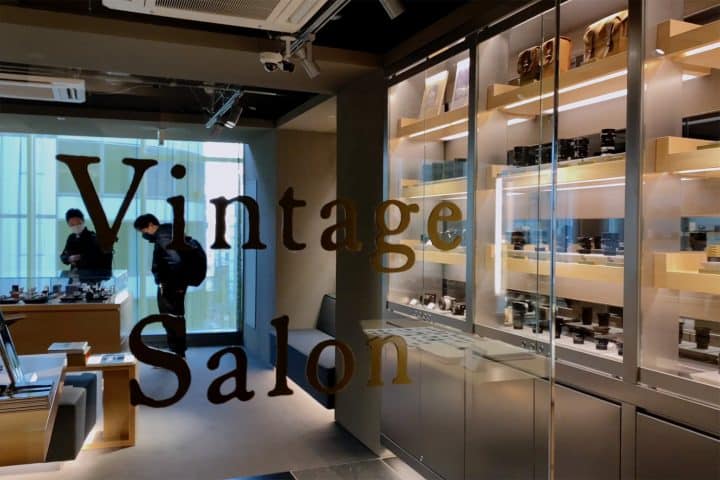 The selection is incredible and the extremely rare fair is on the top floor Vintage Salon. White gloves only rare.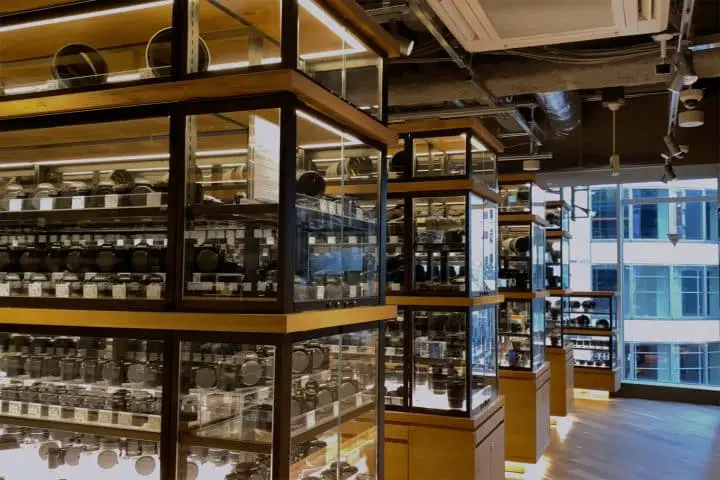 The selection is vast but prices are on the higher end on the scale to compete with Map Camera. Easily could spend hours here. For a more in depth look we made a video of it on Youtube which you can check out below.
Hours: Everyday 10:00 to 21:00 (except New Year's Day) 
Tel: 03-5361-8300
Web: https://www.kitamuracamera.jp/en
Good For: Ultra-rare items, pretty much anything but not the cheapest
Gokurakudo, Waseda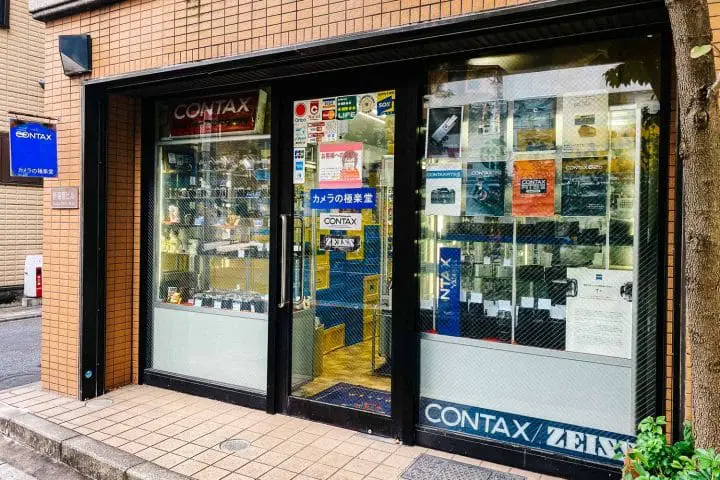 A.K.A Only Zeiss, as the name implies, this is the place to go for anything Zeiss. A bit tucked away from everything but if you're looking for some more obscure Zeiss Jena stuff then your best bet is here. Friendly and knowledgeable but old-fashioned, their website is horrible and they charge an extra 5% for credit card purchases so cash is preferable. Also not many banks around, only convenience stores if you do need to run and get cash.
Hours: Tue-Sat 11:00-20:00, Sun and holidays 11:00-18:00, closed Mon
Tel: 03-5273-1932, 03-5273-1975
Web: https://onlyzeiss.web.fc2.com/
Good for: Zeiss Zeiss baby
Arrow Camera/ Garakuteya, Yotsuya
Arrow/Garakuteya is an underground classic and run by a father/son duo. Arrow camera, to the left up the stairs, is run by the father and is the buying arm where you bring your old dispatches to sell. Garakuteya, just across to the right of the stairs, is run by his son and where you go to purchase goodies. There's no real need to go to Arrow unless you're selling something. Pop into Garakuteya and you'll be treated to a trove of gear to fish through. This is the place to go to for accessories and parts.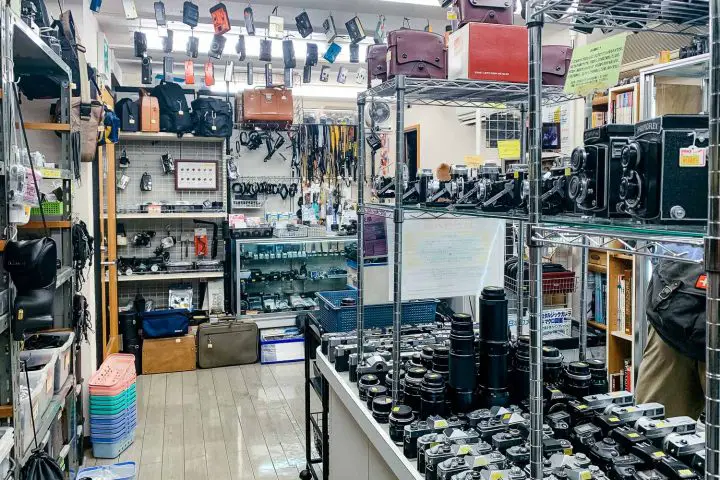 Hours: Mon-Tues, Thurs-Fri 10:00-19:00, Sun 10:00-17:00. Closed Wed, holidays
TEL: 0120-811-698
http://camera-kaukau.lekumo.biz/
Good for: Nikon, Canon and other entry-level to mid-range Japanese SLRs, parts, filters, misc. accessories 
Matsuzakaya Camera, Shinagawa
Matsukaya Camera is a bit out in the cut but if you're visiting the Nikon Museum there's no good reason not to swing by if you're in the neighborhood. It's located on the 4th floor of a pretty nondescript office building but worth the effort as their prices are very reasonable. Equipment condition varies but this is a good spot if you're looking for beaters and users. A place for actual photographers, not so much for collectors. They also have a small selection of digital gear competitively priced as well.
Hours: Mon-Sat 10:00-19:00, Holidays 10:00-18:00, Closed Sun
TEL: 03-3458-7401
http://www.matsuzakayacamera.com/
Good for: Nikon, Canon, Olympus SLRs, lenses, misc. accessories
Popeye Camera, Jiyugaoka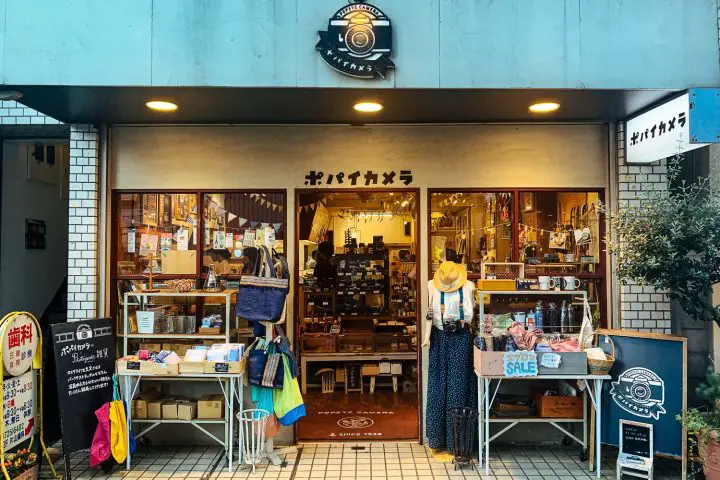 Founded in 1978, Popeye Camera is a long established presence in the photography world. It's only a small shop, but very full of products to choose from. As well as developing film, they sell all things photography: film, camera bags, straps, accessories, frames, albums and cutesy tape and stickers. Not the hugest selection of gear, they do have a cabinet with bang for budget SLRs such as Nikon FE, F3 or Canon AE-1, kinda catered towards the kawaii female photographer crowd.
Hours: Mon-Tu, Thu-Sun 11:00-19:30
TEL: 03-3718-3431
Good for: Entry-level SLRs, compacts, straps, cases, cute knick knacks, album making material, film development
So that is the west side, or the best of the west. There are so many small stores that it is simply not possible to list them all, but this guide should give you some good pointers for finding what you need.
JCH & MN