Camera Shopping in Tokyo – Eastside (Updated for 2022)
By now you should have already read the Westside guide, if you have not then go and read it now, it has everything you need to know about buying a camera on the Westside of Tokyo.
In this section we have decided to combine the old Ueno and Ginza guides into one handy page with all the information on the camera stores that we recommend for the East side of Tokyo. Let's get to it.
Ginza is one of Tokyo's most upscale areas, and it is famed for having some of the most expensive real estate on earth. Here you will also find some of the best camera shops in the world. You can spend all day walking around this place and there is something for everyone.
Sukiya Camera, Ginza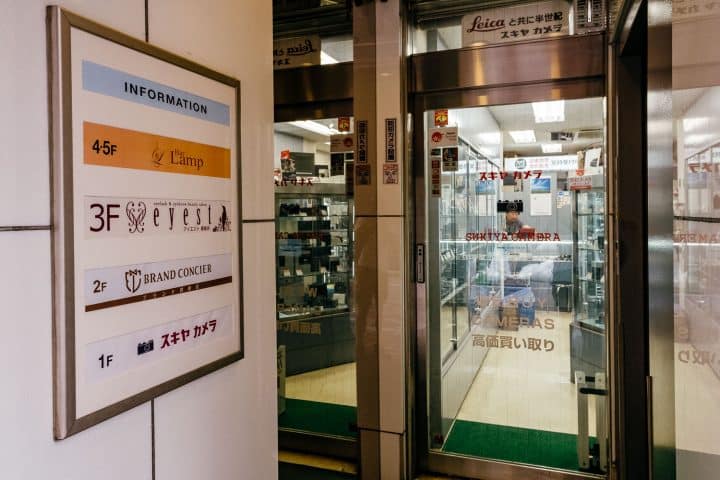 The head store of the Sukiya group, this shop is on the same street as Shimizu camera. It is in a tiny little recessed doorway and you would miss it if you were not specifically looking for it. The store has some beautiful items and the guys there are very pleasant. They mainly cover the German cameras, but there is a little bit of everything in here. They also handle repairs for Leica cameras (non digital) at very reasonable prices. I try to stop in here often, as there is always something nice to look at.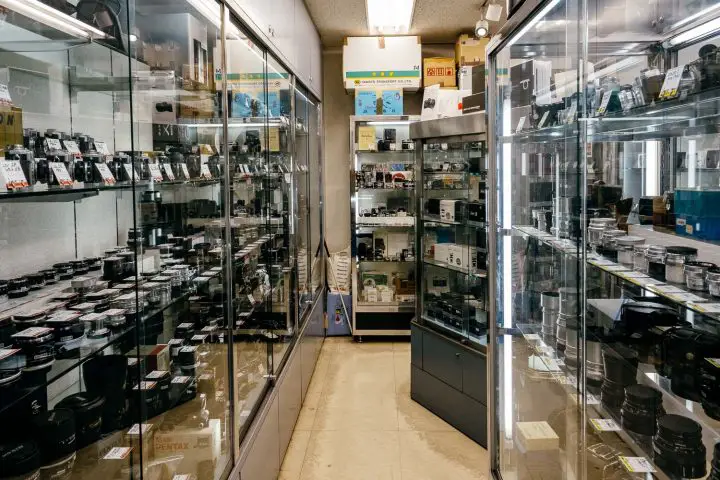 Hours: Tues-Fri 11:00 – 19:00, Sat-Sun, Holidays 11:00-18:00, closed Mon, 1st Tues and 3rd Wed of each month
TEL: 03-3571-5555
Good for: classic Japanese and Leica cameras and lenses
Lemon, Ginza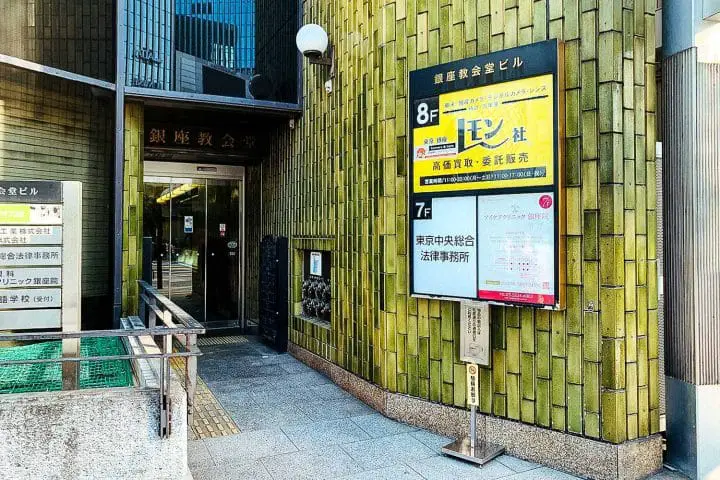 The original Lemon store is located in Ginza and just a short walk down the street from Nikon House. It is deceptive though as you might just walk past it. It is located on the 8th floor of a building that houses a church. Once you are inside you will know you have found the right place.
As mentioned in the previous article, Lemon is a consignment shop. As a consequence of this you are going to find that some of the prices are a bit silly and some of the items in there are not accurately described. Make sure that you check anything completely before leaving the store as they will not refund under any circumstances.
This Lemon store is the biggest and has a superb selection of most brands. There is even a large selection of large format cameras.
Well worth checking out, but just be sure to check everything you are intending to buy.
Sadly in recent years Lemon has seen an increasing amount of fake rare cameras, so make sure you know your stuff if you are looking to buy something they have listed as rare.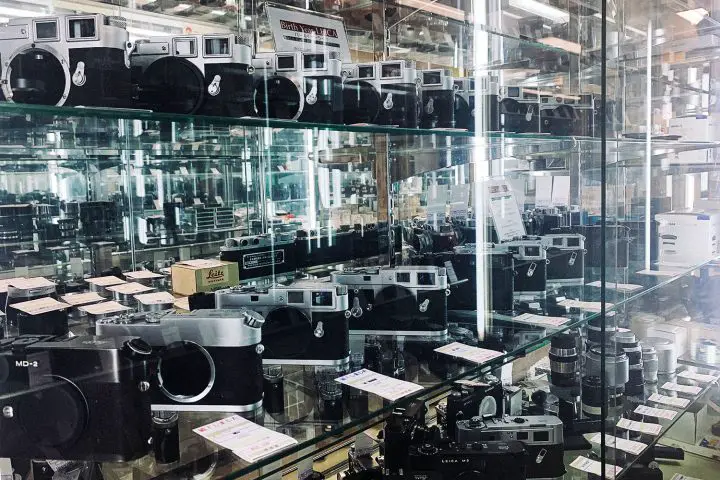 Hours: Mon-Sat 11:00-20:00, Sun and holidays 11:00-19:00
TEL: 03-3567-3131
Good for: classic Japanese and Leica cameras and lenses, medium format
Shimizu Camera, Ginza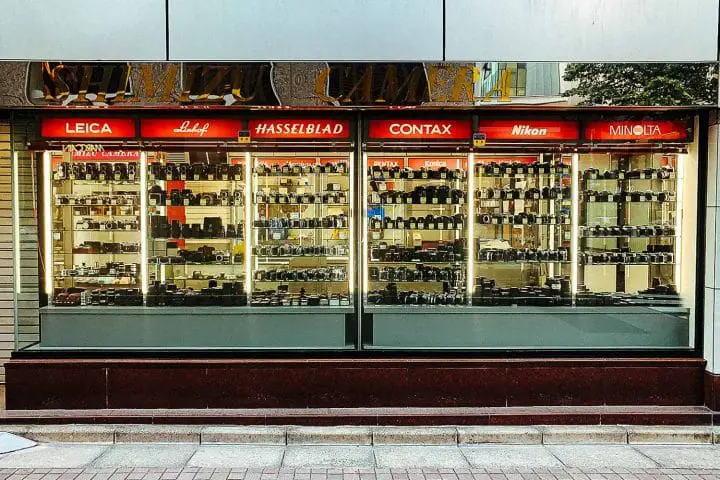 Shimizu is one of the older stores in Ginza, and used to have an amazing stock. Sadly over the years they have faded and they are now a store that I often just peek in the window as I am passing by. They still have some nice items, but their prices are not really in touch with reality. They don't do discounts either. You can sometimes find some interesting stuff in here, so it is always worth a look. If you are walking past you should have a look in the window and check out a slice of camera history.
Good for: classic brand name cameras and lenses
Katsumido, Ginza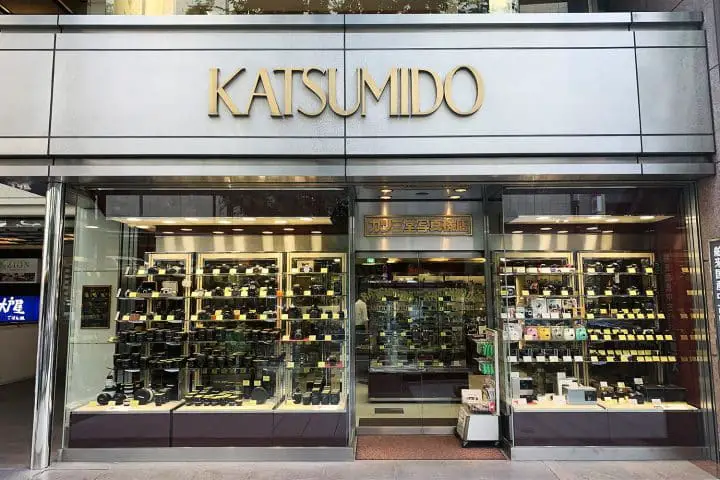 For those of you that don't know, Katsumido is the Harrods of the camera stores. Its selection is fantastic, they have classic Leica and Nikon that would make your eyes water. And their prices would make everything else water. This place is seriously expensive.
The staff can be rather standoffish and definitely judge the level of attention they lavish on you on how rich they perceive you to be. An interesting store to stop by, but if you are looking for a bargain then you should be looking somewhere else.
Hours: Mon-Sun 10:00-19:00
TEL: 03-3571-0468
https://www.katsumido-camera.com/
Good for: high end cameras and lenses, mint condition items, collectors
Sankyo Camera, Ginza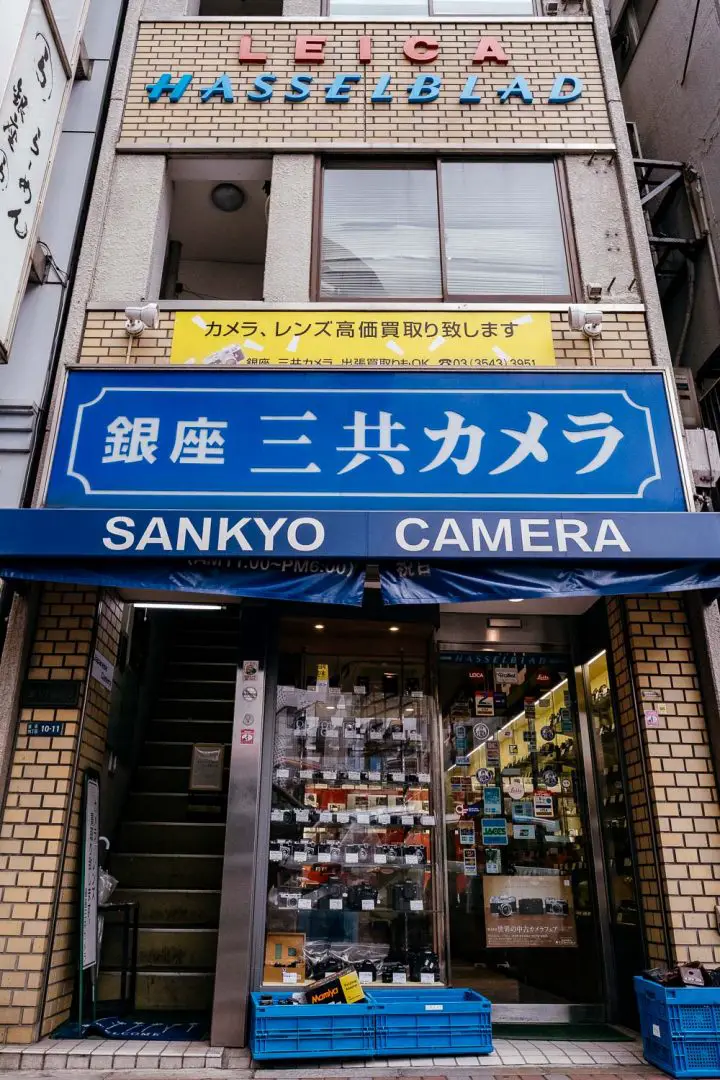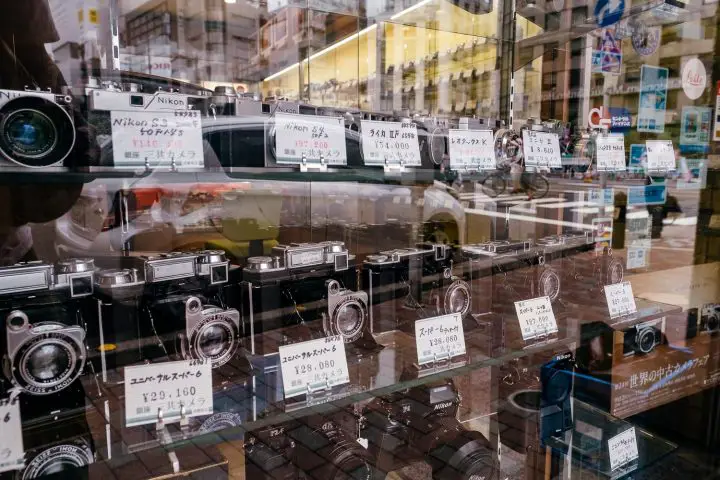 Now, Sankyo is a bit of a legend in Ginza, as it is one of the oldest stores here. This is where you go to find Leica, Rollei and other German/European cameras. And the cameras that they have a fine indeed. The prices are reasonable for Ginza and sometimes they might offer you a discount if you are charming enough (and speak Japanese). This is a store that you simply have to see if you are in Ginza.
Hours: Mon-Fri 10: 00-19: 00, Sat 10: 00-18: 00, Closed Sun and holidays
TEL: 03-3543-3951
Good for: Leica, Hasselblad, Rollei, Japanese classics
Diamond Camera, Ginza
Diamond camera is tucked out of the way in a shopping mall underneath Ginza and if you are not specifically looking for it then you will definitely not find it. But it can be worth searching out. The owner is very pleasant and very knowledgeable. They often have rare Nikon and Leica, but the prices can be eye watering. They have some cool old memorabilia in the shop. Definitely worth a visit, if you can find it.
Hours: Mon-Sat 11:00-18:00, Closed Sun and holidays
TEL: 03-3287-2866
Good for: Nikon Rangefinders, Leica and rare classics. 
Ueno area
The next stop is the Ueno area in northeastern Tokyo. Ueno is dominated by the park and the zoo, but there is so much more here than a bunch of unhappy looking pandas. There are camera shops galore in the Ueno area!
It is a really nice area to explore as well, with the fantastic side streets and markets that are constantly packed with people, you are never going to be bored around here. Ueno is also conveniently serviced with several train and metro lines. There is a pletora of electronics stores along the backstreets, but they are mainly catering to the digital compact market.
In recent years a lot of the smaller stores in this area have gone. This is good and bad. It is sad that they have gone, but the stronger stores have flourished and have really upped their range and quality to cover the market.
As we head out from Ueno you can walk to Okachimachi and from there on to Akihabara. It is a nice walk and you can find some cool backstreets whilst you find your way.
Shimbashi Ichi, Okachimachi
Probably one of my favorite stores in Tokyo. Shimbashi Ichi is pretty easy to find, there is a Freshness Burger right next to it, so you can have a nice burger after you have been shopping. Shinbashi Ichi keeps a wide selection of gear, from Nikon and Canon, through Leica and Hasselblad. Probably the best place in Tokyo for medium and large format gear. They have a lot of their items CLA'd too, so they are really high quality. I fully recommend this store.
The owner is really pleasant and speaks excellent English. She also shoots large format as a hobby, so she really knows what she is talking about. They are very familiar with foreign customers, so you shouldn't have any problems.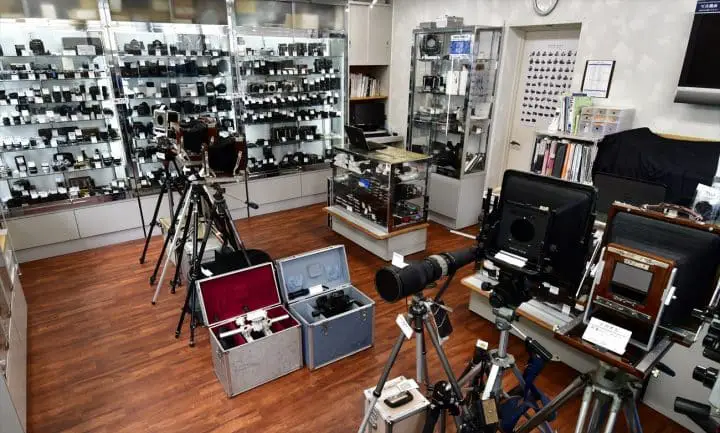 Hours: Mon-Sat 10:00-19:00, Closed Sun
TEL: 03-3833-4311
http://www.shinbashi-camera.com/
Good for: Large and Medium format, Hasseblad, Mamiya, Pentax, Leica and Nikon.
Syuukou Camera, Okachimachi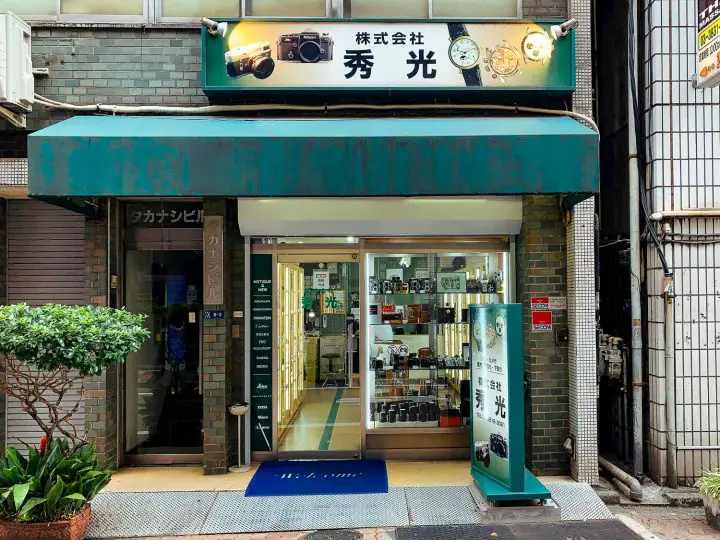 Syuukou is another tiny little store that is very old. It is tucked away down another little side street near to Okachimachi station on the JR line. It is a watch and camera shop, as you can see from the photo there is a fine clock in the window. They don't have a massive selection, but the items that they do have are in fantastic condition. The prices are very reasonable and they sometimes knock a bit off too if you are polite.
Hours: Mon-Tues, Thur-Sun 10:00-19:00, Closed Wed
TEL: 03-5816-3081
Good for: rare Leica, other high end names
Kikuya Camera, Okachimachi
Obscurely prominent, this hidden in plain sight store is right next to an entrance to a Toei Ueno-okachimachi station entrance. This place is primarily a Leica specialist, but they also carry other classic brands. Not so cheap, but this place is where to go if you are looking for that special Leica body that you have always dreamed of. Fun fact, almost every time I go there they are closed for a holiday (just my luck).
Hours: Mon-Tues, Thur-Sun 10:00-18:55, Closed Wed
TEL: 03-3832-2331
https://kikuya-camera.shop-pro.jp/
Good for: Leica, rare items
Nissin Camera, Akihabara
Nisshin is one of my favorite camera shops in the whole of Tokyo. The staff are great, the selection is great and it is in a good location. They often have some great deals and they have a high turnover, so you can often find some really interesting items there. A good resource for classic Japanese medium format. I personally bought my Pentax 67 there. It is nice that it is in Akihabara too, so you can have a walk around after you have been there. They have increased the stock in recent years and do a very brisk online business. There's even a whiskey selection next to film lol.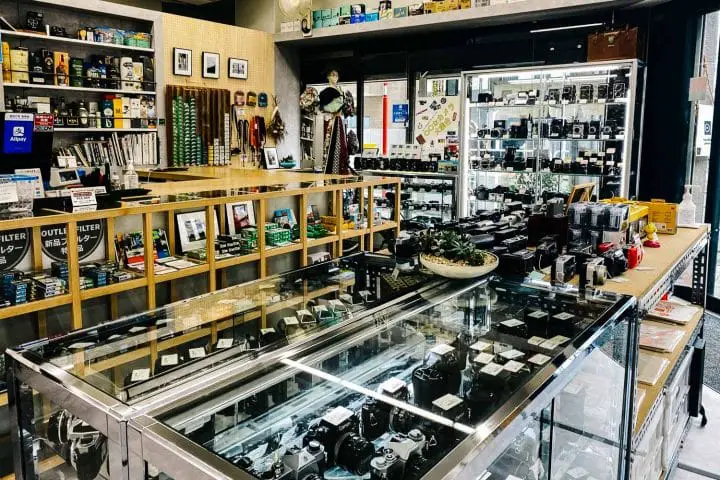 Hours: Mon-Fri 10:00-20:00, Sat-Sun, Holidays 10:00-19:00
TEL: 03-3251-7504
https://www.nisshin-camera.com/
Good for: classic Japanese 35mm, medium format, lenses
From here you will have to start getting on trains again as things become a bit more spread out.
Hayata Camera, Asakusa
This is a small camera shop that is manned by a single person and mainly specializes in repairs for more unusual cameras. Hayata san is famous for his skilled repair of rare and unusual cameras. But the flip-side of this is that he don't do idle chit chat, he prefers to be left to work. But, if you turn up with an unusual camera or have a very specific question he lights up and can be very engaged. Please note, he does not speak English.
Good selection of European cameras and the Japanese classics. Loads of rare stuff and knick knacks as well. The prices aren't cheap but that's because most items have been serviced and overhauled to perfect working order. Check the tags to see what has been OH'd. There is also a small selection of items on consignment as well.
Hours: Tues-Fri 12:30 – 16:30, Sat 11:30 – 19:00, Closed Sun, Mon and holidays
TEL: 03-3841-3035
https://www.hayatacamera.co.jp/
Good for: High end and rare European cameras (Alpa, Hasselblad, Rollei, Leica), rare lenses, serviced cameras, repairs
Fujikoshi Camera, Nihombashi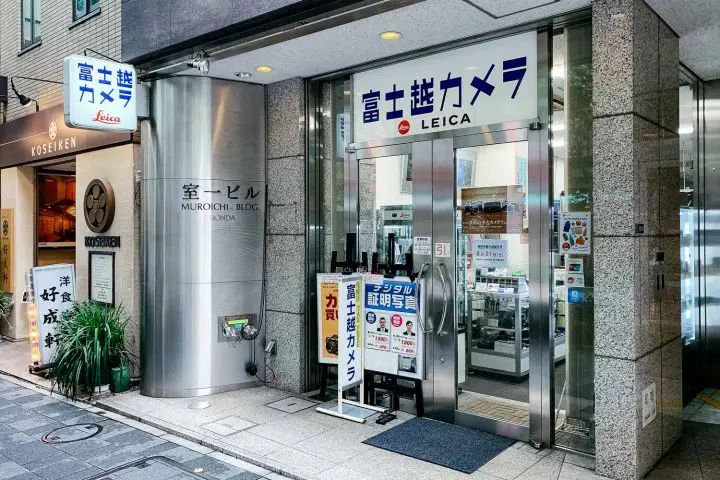 As you can probably tell from the sign they have outside they specialize in Leica. Not a huge selection but every now and then gems do turn up. Fujikoshi is a good stop for rare Leica accessories such as viewfinders and winders. They also have some other rare items and collectibles such as signage, pins, etc. A little off the beaten path but a worthwhile swing by if you happen to be in the area.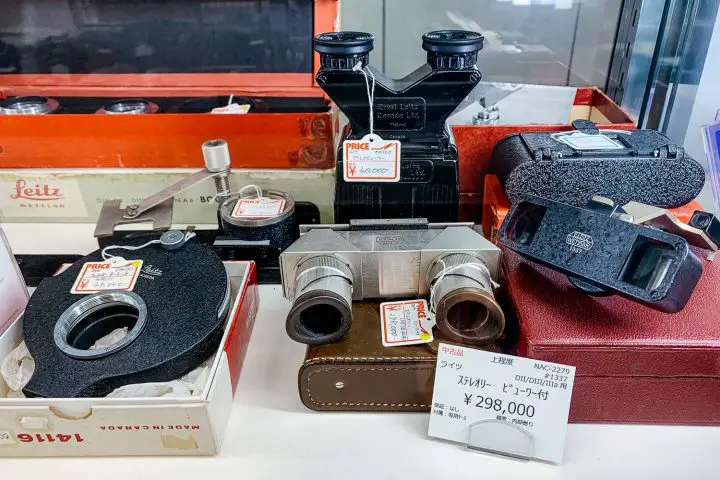 Hours: Mon, Tue, Thur, Fri 10:00 – 19:00, Sat-Sun 10:00 – 18:00, Closed Wed and holidays
TEL: 03-3241-1635
https://www.fujikoshi-camera.com/
Good for: high-end classic cameras (mainly Leica, Hassy, Linhof and Rollei), rare collectible goods, lenses
So there we have it. What I would consider to be the essential list of stores to visit whilst you are in Tokyo. Now before some of you say "hey this is wrong, you missed so and so camera", there is a pretty good reason why some stores are not on this list. They are simply not JCH recommended.
Tokyo is a great city to visit and it changes quickly. This is the most up to date list of stores available now and we will try to keep it that way.
Cheers
JCH