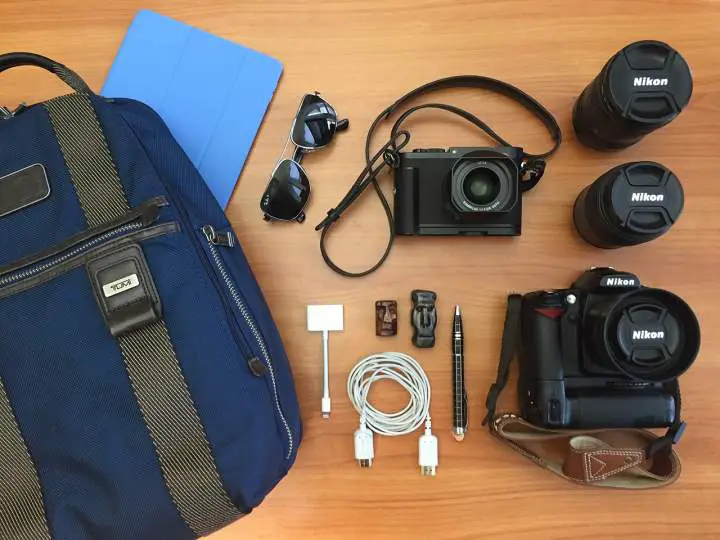 In your bag No: 1373, Lee Golden
Lee has a very well appointed setup for us today. All digital and put together with purpose. I must admit, even I quite fancy a go on the Leica Q, it looks very impressive. Check it out.
I've been taking photographs for nearly 37 years starting with my original Konica TC 35mm film camera that my mother received for Xmas one year that I quickly "borrowed". She never got it back. Fast forward a few more years and a few hundred images developed; I joined the yearbook staff in high school becoming head photographer my senior year. I don't recall taking too many pictures in college but quickly got back into it when my boyfriend and I started traveling more often to more interesting places. Now I co-own a design + technology company in Milwaukee, WI. That's enabled me to use some of my skills in various projects yet I still consider myself an advanced amateur more than a professional photographer.
In my Tumi backpack you'll find a new Leica Q along with a trusted longterm companion the Nikon D90. I have a Nikkor 35mm lens plus a 60mm with macro and the typical 28-200 zoom. On the Leica I added the hand grip and upgraded strap. For the Nikon I added the battery grip and a thicker brown leather strap. Both grips give me more confidence to hold the camera plus they look cool.
My bag of choice has been something out of the Tumi line for the last 10 years or so. It's easy to fall in love with their attention to detail, plentiful pockets and thoughtful design. This one is a deep blue hue in a backpack format. Several pockets line the outside which are used to hold keys, sunglasses, lens wipes, and other things you want swift access to. Inside it has two perfect compartments. The larger can hold a couple of camera bodies and other lenses (or the Leica Q alone with over-ear headphones if I'm traveling light). The other zippered section has a great padded compartment for my iPad Air as well as plenty of room for magazines and such. I use small separate Tumi zipper bags with cords, thumb drives, iPad HDMI connector (for showing off images on a TV screen), carved good luck totems, pen and spare batteries.
Overall it's a flexible, fun kit with two different camera systems that I enjoy everywhere I go!
Lee Golden
Thanks for sharing your bag with us, Lee. I wish you had shared a link too, I am sure people want to see what you take with this lovely kit.
Keep them coming folks, we need more submissions, so get your bag on Japancamerahunter.com
Send me a high resolution image of the bag. Optimum size is 1500px across. Please ensure there is a bag in the shot, unless you don't use one. The more you can write about yourself the better, make it appealing and tell us a story. Snapshots of your gear with a camera phone and no words will not be featured.
Oh and don't forget your contact details (twitter, flickr, tumbler et al). Send the bag shots here. Please understand that there is a long wait now as there is a backlog of submissions. Not all make the cut, so make sure yours is funny/interesting/quirky. And please make sure the shot is of good quality, as the ones that are not do not go up.
Cheers
Japancamerahunter