In your bag No: 1376, Daniel J. Schneider
Daniel has a total backbreaker of a setup for us today. Really lovely gear, but I wouldn't fancy carrying that lot around even for a short journey. Maybe I am getting old…
I never took photography seriously when I was younger, in those pre-digital days. But I started to appreciate photography after I got an inexpensive digital camera in around 2003. Before long I moved to a DSLR, and by 2008, all the way around back to film. I stopped using digital and eventually sold my digital camera and accessories.
During the day I'm a web producer and developer for The Denver Post. When I took photojournalism classes in college I started to hone in on documentary photography as a goal, and being surrounded by a top-tier photo staff at The Post reinforces my desire to make my pictures tell stories. But the workflow of a working photojournalist today all-but-requires using digital, and the joy of photography was almost gone for me after experiencing the speed of that workflow and the time spend in front of a computer. Film just all I enjoy anymore.
My first film camera since I started to really care about photography was an Imperial Herco 620 Snap Shot — a little plastic box that scratches the film and only puts about 20 percent of the frame in focus. But I really enjoyed using it, and I moved on through the continuum of film cameras until I paused on the Nikon FM2 for a long time. The FM2 fostered my documentary aspirations, but I loved the big negatives from my TLRs, too. That led me to the Pentax 6×7 system.
The 6×7 SLR fits my style of work just as well as the FM2, and the negatives are big and beautiful. It's big and black, and walking around with it, it's obviously a professional camera. It doesn't get the stares or questions that I get with a rangefinder or a TLR. That's a mixed bag — hard to be discrete, but less of an object of curiosity, too.
With my 35mm SLRs I'd already decided the Domke F-2 was a perfect bag for me, since a backpack style just doesn't work the way I wander. Domke's bigger version, the F1-X, turns out to be the perfect way to carry my Pentax 6×7 with five lenses and other accessories. I'm a big guy and the weight of the laoded bag doesn't drag me down any more than my 35mm kit.
I love the material and the construction of the Domke bags because they're very hackable. I ripped some stitches out to remove the pen-slots and enlarge the front pockets. I added extra velcro so the side flaps are easier to close securely despite how full or empty they are. And it's easy to add patches or pins just about anywhere you want.
I nostly use black and white film — Ilford's Pan F Plus — in the 6×7, but I sometimes carry a couple rolls of color just in case. I don't carry much extra stuff in my camera bag — I stick primarily to the camera and the things that go on or in it.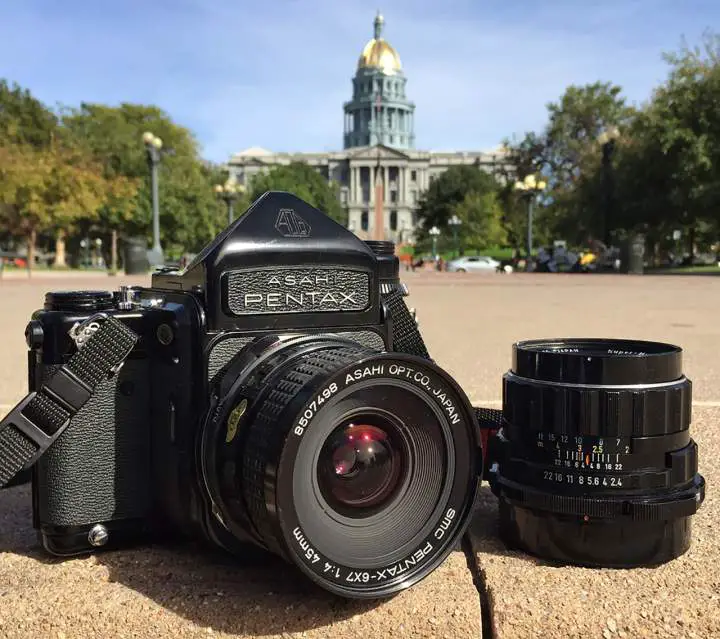 The bag: 
-Domke F1-X, black canvas
The contents:
-Pentax 6×7 MLU
-SMC Pentax 6×7 45mm f/4.5 lens
-Super-Multi-Coated Takumar 6×7 75mm f/4.5 lens
-Super-Mutli-Coated Takumar 105mm f/2.4 lens
-SMC Pentax 165mm f/2.8 lens
-Super-Multi-Coated Takumar 200mm f/4 lens
-67mm filters: red, green, yellow, circular polarizer, neutral density
-82mm filters: red, orange, yellow-green, green, circular polarizer, variable neutral density
-Film: Lots of Ilford Pan F Plus, and some Kodak Ektar and VPS
-Lots of spare batteries
-Field Notes and Moleskine notebooks and pens
-Business cards
As you can see, I spend my weight on lenses instead of gadgets. And I should probably ditch the 200mm because I almost never use it. It's probbly also obvious from my patches and stickers that I love Denver and Colorado. And film, as evidenced by the Tap & Dye and Shoot Film Co. patches, and Asilda sticker and pin. And that's a wrap!
Thanks!
Daniel J. Schneider
Photographer and Journalist
Thanks for sharing your bag with us, Daniel. You are definitely a stronger man than I.
Keep them coming folks, we need more submissions, so get your bag on Japancamerahunter.com
Send me a high resolution image of the bag. Optimum size is 1500px across. Please ensure there is a bag in the shot, unless you don't use one. The more you can write about yourself the better, make it appealing and tell us a story. Snapshots of your gear with a camera phone and no words will not be featured.
Oh and don't forget your contact details (twitter, flickr, tumbler et al). Send the bag shots here. Please understand that there is a long wait now as there is a backlog of submissions. Not all make the cut, so make sure yours is funny/interesting/quirky. And please make sure the shot is of good quality, as the ones that are not do not go up.
Cheers
Japancamerahunter