In your bag No: 1634 – Andrew Basford
Andrew hauls his dual Oly classics in a bag with traditional flare.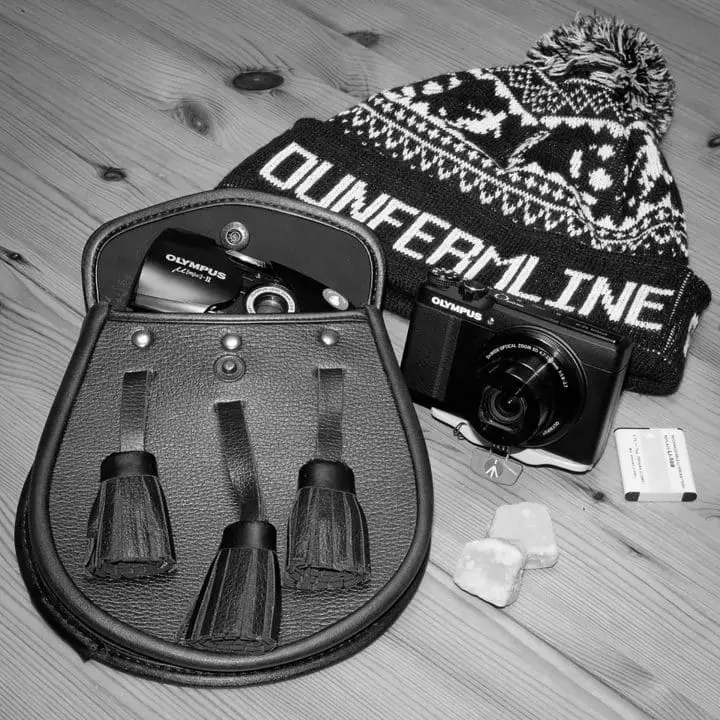 The 25th January is 'Burns Night', a mainly Scottish celebration of the life and poetry of Robert Burns (1759-1796) and like many people I'll be celebrating with a traditional feast of haggis, neeps (mashed swede) and tatties (mashed potatoes).
I'll fess up here… I'm a Sassenach (Englishman) but incredibly fond of all things Scottish and (in the absence of anyone else willing to do it) I'll be reciting the traditional 'Address to a Haggis' at a Burns supper at a wonderful local eatery 'Nourish at No.44' (
https://www.nourishatno44.co.uk
)
I've been a photographer of sorts for over thirty years, starting out with a Zenit TTL 35mm SLR and then a beautiful Olympus OM-1N… After parting with the original OM-1N in my early twenties I was thrilled when a friend (Hi Rachel!) found me a replacement a couple of years ago in a charity shop for the princely sum of £40.
I'm on a bit of an Olympus kick at the moment and will be packing my Sporran (a pouch that forms a traditional part of Scottish Highland dress) with two Olympus compact cameras.
For digital shots there's the underrated Stylus XZ-10, a 12 megapixel model that shoots RAW files (seen here on a tiny Manfrotto pocket support).
For film shots there's another charity shop find… the legendary Mju II (picked up a couple of years ago for £1.99! Try doing that today!) At the moment it's loaded with Ilford HP5+ but I do also load it with Kodak Portra 400 from time to time.
The indeterminate lumps in front of the XZ-10 are Irn Bru tablet, another Scottish 'delicacy'. It's a type of sugary fudge with a vague flavour of that most Scottish of beverages, Irn Bru.
The Dunfermline Athletic hat is included in shot as it's a wee bit nippy here at the moment.
I have a blog that features my photos (which encompass pretty much everything that passes in front of my lens) at
freelancewastrel.com
and can also be found on Instagram as
serial_snapper42
.
Thanks for sending us your bag shot Andy. A Mju for 2 quid…
Keep them coming folks, we need more submissions, so get your bag on Japancamerahunter.com
Send me a high resolution image of the bag. Optimum size is 1500px across. Please ensure there is a bag in the shot, unless you don't use one. The more you can write about yourself the better, make it appealing and tell us a story. Snapshots of your gear with a camera phone and no words will not be featured.
Oh and don't forget your contact details (twitter, flickr, tumbler et al). Send the bag shots here. Please understand that there is a long wait now as there is a backlog of submissions. Not all make the cut, so make sure yours is funny/interesting/quirky. And please make sure the shot is of good quality, as the ones that are not do not go up.
Cheers
Japancamerahunter