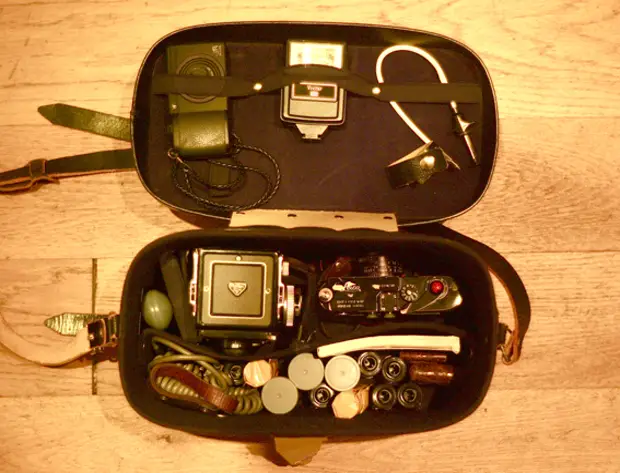 In your bag 412, Nicholas Dominic Tavola
Better late than never, and I hope this bag makes up for the delay. Nicholas has a beautiful set up and some very interesting stories about it. Come and find out what is in his bag.

My name is Nicholas Dominic Talvola i am originally from Arcata, California but i have been living in Spain for the past 11years. i reside in Barcelona for the past 8 years and i work as a trumpet player and DJ.  i have always been fascinated by photography thanks to my mom.  she gave me my first camera which was hers, a canon f1. it got jammed and my dad took it apart and could never put it back together.  i have kind of had this luck with cameras all my life  they always seem to break on me, i went to Egypt to play with my band at the international jazz fest of cairo and i had brought a fed 3 fitted with a leica 35mm summaron lens, the jazz fest happened to be right in the middle of the revolution, crazy stuff.  i took loads of pictures and eagerly went home to develop and realized that my curtain was full of holes and that the speeds where off…. it killed me.  i had always wanted a leica and because of this it kicked me off.  it hasn't left my neck since.
I don't know what kind of photographer i am, i love the streets, people, situations and the night . i love to develop negatives and to make prints in my darkroom and  thanks to my work (musician) i get myself into interesting situations that are not normal for people to get into. i feel very fortunate to be able to travel and meet people this way and my photography is my memory since the night has lots of alcohol and darkness.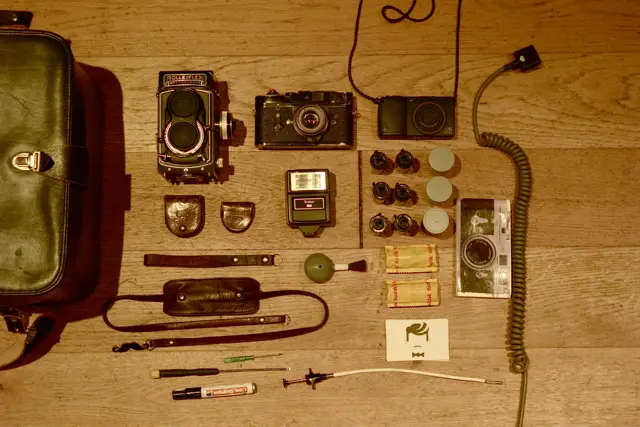 what's in my bag?
-rolleiflex 3.5 tessar model "T"
-black paint leica M2 fitted with the summicron-c 40mm.  (still my favorite lens to this day)
-ricoh GRDII  fun little thing and great for sticky situations
-kodak tmax 400 (120 and 35mm) normally used up. haha.
– funny little leica m3 notebook i picked up to jot down stuff.
-fancy business card that my girlfriend made for me
-soft release cable
-flash cable
-vivitar flash (my mothers old flash) works great!
-close up and yellow filter for the rollei
-lens blow brush
-my hand made straps, wrist and neck with moustache attached ;)
-tiny screw drivers (booze makes you drop things, these screw drivers can fix up the rangefinder quick on the m2)
-black permanent marker
and my bag?
i found it in Berlin at a junk store, its a old vintage thing. i like it alot. no name.
my flickr.
http://www.flickr.com/photos/dominictalvola/
http://dominictalvola.wordpress.com/
my bands new video also its shot with leica R lenses. summicron 50mm and elmarit 28mm and 21mm.
thanks for your time! :)
nicholas…
http://www.flickr.com/photos/dominictalvola/
Thanks for sharing your great bag with us Nicholas, lovely to hear the story behind it.
Check out the links and make sure you come and comment.
Keep them coming folks, we need more submissions, so get your bag on Japancamerahunter.com. Send me a hi resolution image of the bag (please make sure it is horizontal) and its contents, with some details about yourself and what you shoot. Oh and don't forget your contact details (twitter, flickr, tumbler et al). Send the bag shots here.
Cheers
Japancamerahunter