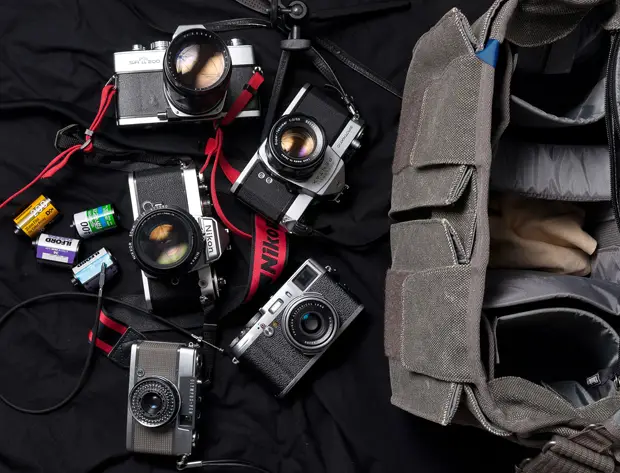 In your bag 448, Ajum Vahanvati
Ajum is a designer. You can always tell the designers on 'In your bag' as they have lots of very highly polished and well presented bag pics, and Ajum is no exception. Check out this brilliant bag.

I am Anjum, graphic designer based in Dubai, UAE. Love to travel and have been photographing for the last 4 years. Got bitten by the street photography bug since a year. Before that people photography was totally not my thing and I only used to do landscapes, architecture, automobiles, abstracts, etc. Since I got to streets, I was eager to try out film as I learnt on digital. Film fever got on when I was gifted Yashica FX3 Super 2000 by my dad's friend. Just after getting the gift I went ahead and got a good deal Nikon FE which became my primary film machine. 2 things I keep suggesting anyone asking me about photography is to shoot film and start blogging.
Carrying a film camera in photo walks does get some surprising or funny comments. Last week I was on a group outing and a lady said 'that really looks like an old style camera' and I had to break the ice by saying 'yes, it actually is an old camera'. Sometimes people laugh, who shoots film these days, c'mon. Many times on streets, people ask to show the picture that I took of them. So I have to keep a digital along for another quick snap and share.
Featured here are the cameras that I keep using on rotation base roll after roll. My primary and always with me camera is a Nikon FE with Nikkon 50mm f1.2 Ai-S. Other two are Pentax Spotmatic with Super-Takumar 55mm f2 and Minolta SRT-200 with Beck's 135mm f2.8. Also carry along a Fujifilm X100 which I don't own but been given by Fujifilm Middle East for publishing content. Once it goes back I ll be back to my Lumix GF2. Got a very cheap Olympus Pen EES-2 from eBay and have been taking along everywhere for some casual snapping as its a half frame camera and I get double the number of pictures than other cams from a 36 exposure film. For most of my shots I use ILFORD Delta 400. Film is very hard to find in this country and only Ilford has a dealer here so its easy for me to stock it. Other films I order occasionally from online dealers from US. A shutter release cable from Adorama that I use occasionally for some long exposures along with a tiny Manfrotto tripod. Other things are some iStuff.. iPod with Klipsch ear buds when I want to shut down the world and relax, iPad for random writing, reading or playing games on the go and iPhone for the social bug. iPhone is also used as a light meter with the FotometerPro app for my cams with a non working meter. A Sekonic is in the wish list but so far this does the job close enough. All of this fits perfectly inside my ThinkTank Retrospective 30 shoulder bag. This bag became special for me after it was graced by autographs from David Burnett, Gregory Heisler, Joe McNally, David Hobby and Zack Arias :)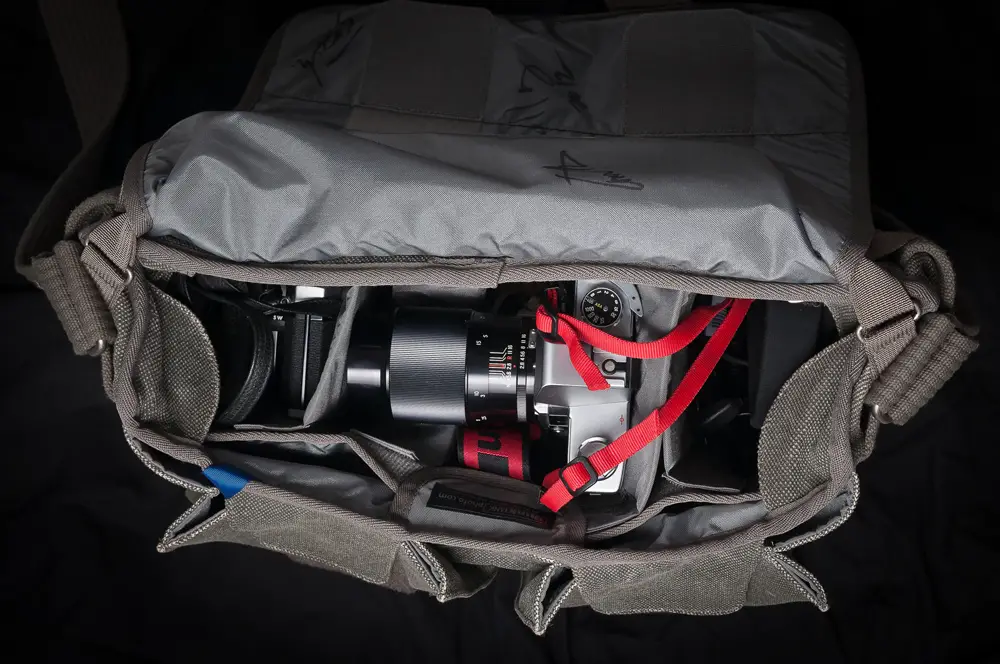 Have 12 film cameras in my collection so far. All 35mm. Few more in the wish list along with a couple of medium format cameras and a Leica that I may get someday. After that I can pause my collection maybe.
You can check my work on the links below:
Blog: http://anjumvahanvati.com/category/blog/
500px: http://500px.com/SilverStreets
Facebook: http://www.facebook.com/silverstreetsphoto
Twitter @oldfashioned_aj
Instagram @oldfashioned_aj
Thanks to JapanCameraHunter for keeping film love alive and all the interesting content on their website. Always a good resource. Keep up the good work.
Cheers,
AJ
Thanks for sharing your bag with us AJ, your presentation is excellent. You have some really classic Japanese SLR's there.
Check out the links and make sure you come and comment.
Keep them coming folks, we need more submissions, so get your bag on Japancamerahunter.com. Send me a hi resolution image of the bag (please make sure it is horizontal) and its contents, with some details about yourself and what you shoot. Oh and don't forget your contact details (twitter, flickr, tumbler et al). Send the bag shots here.
Cheers
Japancamerahunter