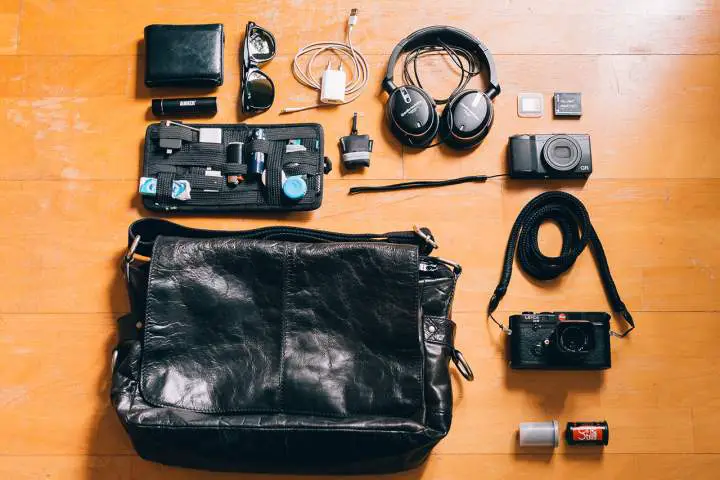 In your bag No: 1260, Moritz Bauer
Moritz is a generous chap, as he shares not one, but two bags with us today. One for the high tech nerdy types and once for the people who like things a little bit simpler. But both are brilliant. Come and check them out.
Hi everyone, thanks for letting me share my bag, well actually two bags, here with you today.
First, let me introduce myself. My name is Moritz, I am an Austrian molecular biologist from Vienna, but soon will move to beautiful Barcelona in the name of science to get my PhD.
The reason I am sharing two bags with you today is that each represents a certain turning point for me as a creative person, as a photographer.
What you see in bag number 1 is what I just took with me to Portugal and a bit later to Iceland. This was actually my second time visiting Iceland. Four years ago, when together with my parents and my sister, I visited it the first time, I had no clue about photography. My father was always an avid photographer, but he never managed to persuade me to pick up a camera. But things changed when we visited this magical island, and all of a sudden, I just had to take pictures. I didn't stop since then.
Bag number 2 first and foremost includes my Leica. I never saw myself pickup film photography. We had some old Contax film SLRs lying around, but they where left unused for years. However, something happened again. I started the mammoth project of digitizing all of our families old slide film and negatives and saw myself being more and more captivated by the beauty of them. Together with my father, we starting dusting off one of the old Contax cameras and I shot my first roll of Portra 400. After I got the scans back from the lab, I was hooked. But I also knew I wanted something for my own. A piece, I could some day give to my children. Hours of looking at old cameras followed, not too few here at Japan Camera Hunter. I've talked too my father and one day he came to me and told me we would get me something to celebrate my university graduation. That was the day we bought my Leica M6 and the 35mm Summicron ASPH. It was a very happy day.
So, after this lengthy introduction, what do I actually carry in these bags…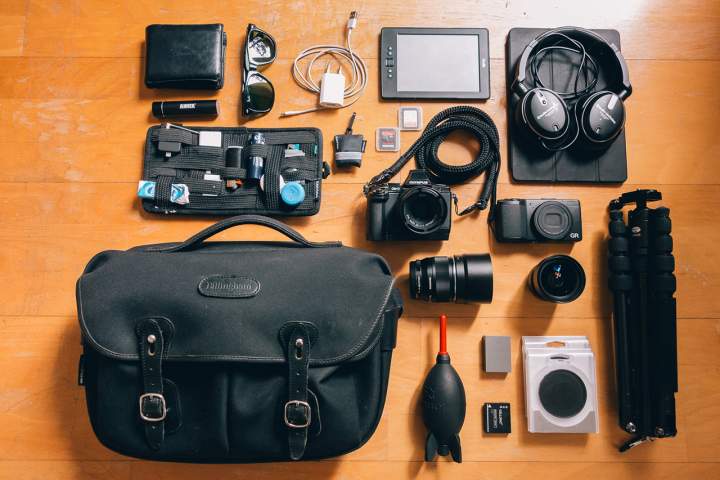 Bag #1
– Billingham Hadley Pro: Everyone needs one and it is an almost perfect travel companion.
– Olympus OM-D E-M5 with the PanaLeica 25mm f1.4 and the Olympus 75mm f1.8: Wonderful camera with even better lenses.
– On the Olympus, a Lance Camera Strap: I can't recommend his straps enough. They feel great and are really fast to change to another camera. It is always with me.
– – Ricoh GR with the wide-angle adapter and two Hoya 3-stop ND filters: I still can't believe the quality of this little power house.
– Sirui T-005X tripod: Great quality for such a price and more than adequate for mirrorless cameras.
– Audio Technica ATH-ANC7 noise cancelling headphones: Actually already my 3rd pair, but I simply love them.
– iPad Air: For watching TV shows and backing up photos.
– Kindle: always loaded with some Haruki Murakami novel as I am completely addicted.
– and iPhone charger, shades, wallet, batteries, SD cards and some small things in a Cocoon Grid-it (which makes changing bags quicker).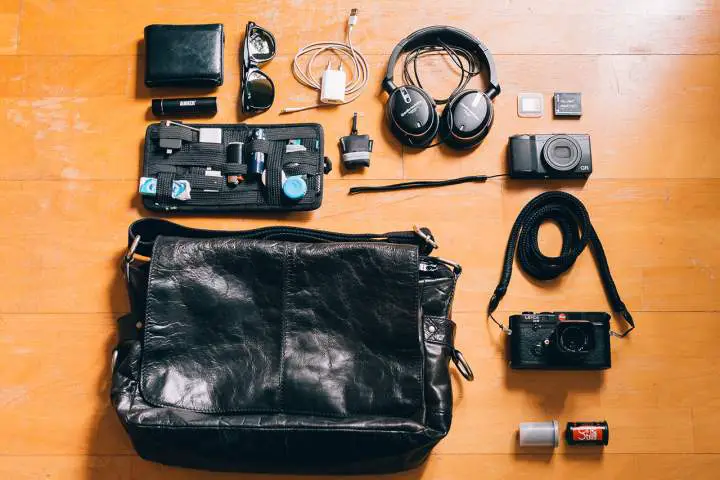 Bag #2
– Fossil leather bag: Not as functional as the Billingham, but wonderfully worn in and my daily bag when going around the city.
– Leica M6 with Leica 35mm Summicron-M ASPH: Owning this camera and lens is a dream come true and I am sure it will accompany me for many years to come. I still don't know why, but shooting with it simply puts me in a different state of mine compared to other cameras.
– On it, again my Lance Camera Strap
– Some Kodak Portra 400 and recently a roll of CineStill 800T
– Ricoh GR
– stuff like in the other bag
That's it! I hope you've enjoyed my two bags and their little stories. If you want to see some of my work, just head over to Flickr or 500px. Feedback is always welcome.
Flickr for more people: https://www.flickr.com/photos/justcallmemo/
500px for more landscapes: https://500px.com/JustCallMeMo
Thanks for sharing your bags with us, Moritz. A very nice graduation present from your father.
Check out the links and please make sure you come and comment.
Keep them coming folks, we need more submissions, so get your bag on Japancamerahunter.com.
Send me a hi resolution image of the bag. Optimum size is 1500 across. Please ensure there is a bag in the shot, unless you don't use one. The more you can write about yourself the better, make it appealing and tell us a story.
Oh and don't forget your contact details (twitter, flickr, tumbler et al). Send the bag shots here. Please understand that there is a long wait now as there is a backlog of submissions. Not all make the cut, so make sure yours is funny/interesting/quirky. And please make sure the shot is of good quality, as the ones that are not do not go up.
Cheers
Japancamerahunter