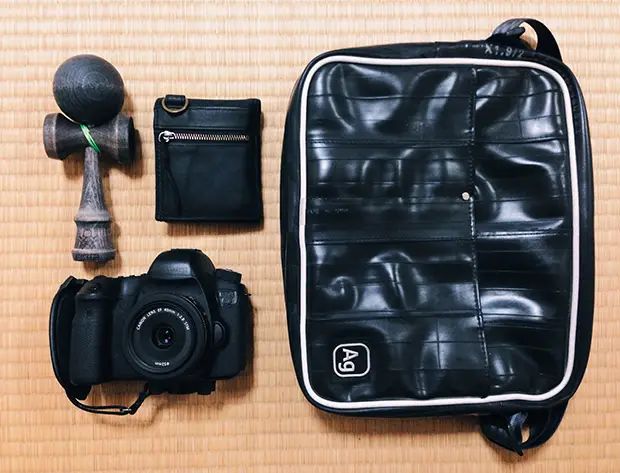 In your bag 875, Andrew Bangs
A super simple bag coming from the delightful city of Kyoto for you all today. Come and check this beauty out.

My name is Andy Bangs, and I'm a Seattle native currently teaching English in Kyoto. I've developed an interest in street photography and street portraits since moving to Japan last year, and it has really increased my desire to go out and shoot often.
My wife, Charissa, and I are both photo enthusiasts, and we've accumulated a good deal of gear over the years. We still take out a big bag with multiple cameras and lenses on occasion, but this is what I'm most likely to leave the house with these days. My natural tendency is to overpack and take as much gear as possible, so the forced simplicity of this particular setup has been incredibly freeing. My introduction to film was a recent purchase of a Minolta Hi-Matic E rangefinder, and I fell in love with that 40mm focal length. We bought the Canon 40mm pancake lens for our DSLR shortly after, and I'm convinced that it's the best $150 we've ever spent on camera gear.
Bag & Contents:
Alchemy Goods Mercer iPad Shoulder Bag
Canon EOS 6D with Canon EF 40mm f/2.8 STM
Sweets kendama
Takeo Kikuchi wallet
(iPhone, which I used to take this shot, usually slips into an outer pocket of the shoulder bag)
Thanks for running this blog, Bellamy! Would love to buy you a drink the next time I make my way up to Tokyo.
You can find our work here: www.bangsphoto.com
We're also on Instagram: @andybangs & @cjbangs
#bangsinjapan
Thanks for sharing your bag with us, Andy. Nice けん玉 (kendama).
Check out the links and make sure you come and comment.
Keep them coming folks, we need more submissions, so get your bag on Japancamerahunter.com. Send me a hi resolution image of the bag (please make sure it is horizontal) and its contents, with some details about yourself and what you shoot. Oh and don't forget your contact details (twitter, flickr, tumbler et al). Send the bag shots here. Please understand that there is a long wait now as there is a backlog of submissions. Not all make the cut, so make sure yours is funny/interesting/quirky. And please make sure the shot is of good quality, as the ones that are not do not go up.
Cheers
Japancamerahunter